Custo the Bichon x Cocker
Custo suddenly became seriously ill, and when vets detected a lump on his spleen his owners were faced with everyone's worst nightmare – cancer.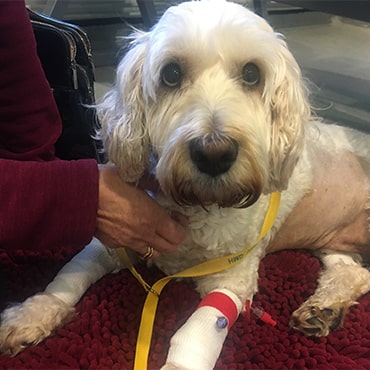 Pet Survivor case file
My breed: Cocker Spaniel x Bichon Frise
Date of incident: 20 September 2018
My age at the time: 10 years
Where I live: Camberley in Surrey
My humans are: Beth Day and her mum Cathy
I was treated by: Windlesham Vets in Surrey, and the Small Animal Hospital at the Royal Veterinary College in Hertsfordshire.
Custo suddenly stopped eating and had no energy, at the vets they could feel some kind of a mass on his spleen. He urgently needed surgery to remove his spleen and the attached mass, but Custo's red blood cell count was so low at 7% he was unlikely to survive the operation.
His life was hanging in the balance, he was referred for specialist treatment at the RVC. En route, he kept losing consciousness and his distraught owners feared they were losing him.
At the hospital, Custo received a blood transfusion and tests revealed it was bad news – they suspected cancer. The difficult decision was made to go ahead with the surgery. It was high risk, but it was his only chance of survival. The family waited nervously at home for news and were overjoyed to hear the surgery was successful, but Custo was still a whisker from death.
The vets believed the cancer had caused Custo's body to attack his red blood cells, resulting in the severe anaemia. He had repeated blood transfusions over the next week, but each time his blood count dropped back down within 12 hours. Vets were unsure if they could stop or reverse this autoimmune reaction. It was decided to give him one more night, but if his levels didn't improve then everyone was prepared to make the difficult decision to put him to sleep. The next morning unbelievably his cell count improved to 20%, meaning he could start further treatments.
Over the following days poor Custo didn't seem to respond to the treatment. His family visited daily, encouraging him to eat, but things weren't looking good for Custo. Eventually it was decided he should go home to be with his family in his final days. He wasn't expected to survive the weekend, so armed with medication and with their local vet ready to make one last home visit, they knew they could at least make him comfortable and fill his remaining time with love.
But Custo had other ideas – being home gave him renewed hope. Not only did he survive the weekend, but continued to fight for life over the coming weeks and months. It was a long and difficult recovery – his family had a rota to cover his care, fitting this around their busy jobs to ensure he wasn't left alone.
His local vets did regular tests to send to the RVC for analysis and day-by-day Custo slowly improved. Beth and Cathy gradually started to build up his walks again as he regained strength. Custo's vet felt that Christmas time was a good time to try reducing his medications – it was the first glimmer of hope for the Day family that he might make a full recovery. He very gradually came off all his meds over the next few months, and by July he was fully recovered, and bounding around with so much energy people couldn't believe he was the same dog!
Tests on the lump confirmed Custo had a very aggressive type of cancer, which had a high chance of re-appearing within 12 months. But 13 months later, thankfully Custo is still cancer free!