Jacob the cat
Loveable Jacob suddenly started vomiting blood and was diagnosed with a potentially deadly combination of a serious abdominal infection and pneumonia.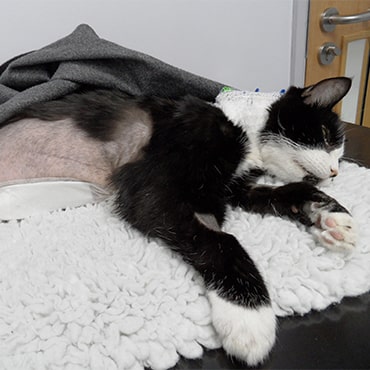 Pet Survivor case file
My breed: Domestic shorthair cat
Date of incident: 18 March 2019
My age at the time: 16 years, 11 months
Where I live: Tilford, Surrey
My human is: Suzân Lewis-Jones
I was treated by: Pet Doctors in Elstead, Guildford & Woking, and Lumbry Park Vet Specialists in Alton
Black and white cat Jacob suddenly started vomiting blood, he was taken straight to his local vets who were able to stabilise him. But his condition was extremely serious and he needed further tests, so he was referred to specialists.
Scans showed a build-up of pus and gas in his belly – he had septic peritonitis, which is a severe infection in the abdomen, caused by a burst stomach ulcer. He needed an urgent operation and intensive care but his case became even more complex with a further diagnosis of pneumonia, which also caused heart complications. On top of all this, he'd developed diabetes five years previously, for which he was given regular insulin.
Jacob was high risk for the surgery and his chances of surviving the operation were slim, but it was his only chance. Incredibly, Jacob came round ok, but it was still touch-and-go. He became anaemic and needed a blood transfusion. He also had a feeding tube fitted to ensure he got enough food as he was unable to eat while his stomach healed.
Suzân travelled in every day to visit, which wasn't easy as she suffers from health problems herself and uses a powered wheelchair. Staff gave them extra time together, and she tried desperately to encourage him to eat. Every 24 hours she faced the possibility of Jacob having to be put to sleep, but each day she could see him fighting and knew she had to give him a chance. He remained at the hospital for 10 days, but eventually started to show signs of improvement.
He was finally able to come home a week before his 17th birthday, but still needed round-the-clock care. Suzân gave him regular feeds through his tube, and worked tirelessly to keep the tube and his wounds clean, alongside his regular twice daily insulin injections. He needed regular check-ups at the vet too, to change his bandages. It was incredibly challenging for her, but she didn't leave him alone once.
Little by little Jacob improved and after six weeks vets were able to remove his feeding tube. Seven months on, he's now well on the way to a complete recovery and is on a special food to help manage his diabetes.
Jacob wasn't covered by insurance, so Suzan took out loans to cover the cost of his care. But she says her cats have been there through all her difficult times, so she will always be there for them.