Mother Duck the Cayuga Duck
Mother Duck suffered a suspected fox attack leaving her with a horrific neck injury that she wasn't expected to survive.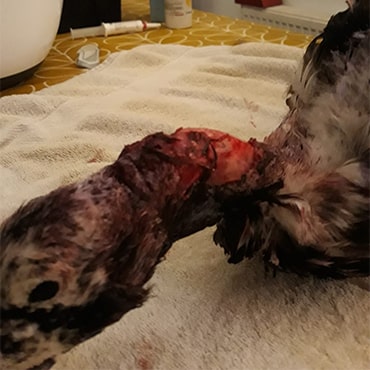 Pet Survivor case file
My breed: Cayuga Duck
Date of incident: 7 July 2019
My age at the time: 5 Years
Where I live: Rye, East Sussex
My humans are: The Colley family
I was treated by: Westpoint Farm Vets, Westerham
The Colley family came home one evening and found their beloved pet Mother Duck lying bleeding and half dead outside the coop. Her neck was ripped, possibly by a fox, and she'd lost a lot of blood. They rang their vet for advice, brought her inside and bandaged her to make her comfortable. They held her close, expecting her to slip away quietly, but this plucky duck had other ideas!
Mother Duck kept trying to get up and flap her wings – her will to live was clear and Phil was determined to respect it. He couldn't contemplate losing the matriarch of their duck family when she was fighting for life, so they called their vet again. Now late at night they discussed the options. The vet advised that she was an hour away, and by the time she arrived Mother Duck may have died.
But Phil and Katy knew they had to try and give her a chance, so they decided to go ahead with the callout and their vet arrived a little after midnight. However, the wound turned out to be even worse than they had first thought: the injury wasn't just skin deep, but had torn her throat open.
Neck injuries are very difficult for birds to recover from, so even if she was fixed up she may still not survive. The family decided they had to do whatever they could – she was the mother of four of their four other ducks and was a very much-loved member of their family.
The surgery went ahead, right there on the kitchen table, with Phil assisting. Two hours later she was all sewn up, but still not out of the woods. Mother Duck was kept in the bath for a week, enabling the Colleys to keep her wound clean and provide round-the-clock care for her. But she refused to eat, so her life still hung in the balance.
The family tried everything to coax her to eat, and were in touch with their vet daily for advice and support. They worried each day that she would lose her battle, but Phil's mantra was 'where there's life, there's hope,' and so they persevered.
Finally, after a week, Mother Duck finally ate some ground up mealworms mixed with water. From there she started to improve and she was able to move outside for recovery but isolated, as they needed to keep her separated from their other animals. She looked a little like a 'frankenduck' with a 90 degree bend in her neck, but her 'husband' duck would visit her daily and sit by her pen for hours.
It was a long road to recovery for Mother Duck, but months later you'd never know she'd suffered such a horrific and life-threatening injury. She wasn't covered by insurance, so the family paid for all her treatment.  Her vet even praised this 'brave duck' for her resilience, and her owners for their dedication.