People's Postcode Lottery
Players of People's Postcode Lottery are fantastic supporters of PDSA. The support we receive from players is invaluable and as a result thousands of pets in need across the UK are now living healthier, happier lives.
In 2020 your support will:
Continue to fund our 'Pet Health Hub' – a vital online resource for pet owners with condition information, videos and blogs on key conditions
Help keep our PetWise on Tour vehicles on the road and touring the country to spread our pet health messages, including our 'PetWise Mobile Unit' built and on the road thanks to the generosity of players in 2018.
Deliver Pet First Aid courses to help owners learn vital life-saving skills and what to do in emergency situations
Continue to fund our PetWise for Schools programme and PetWise School Award – helping us teach children about the 5 Welfare Needs of pets and responsible pet ownership.
Case study
Scrabble
Rescue dog Scrabble was given another turn at the game of life after a chance visit to our PetCheck tour helped detect a tumour.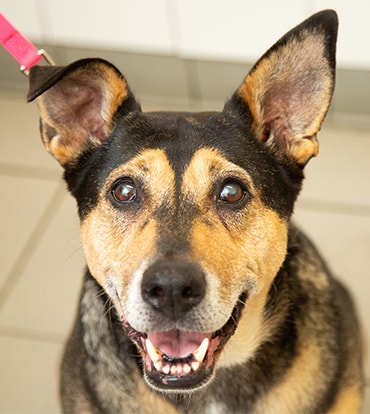 The 12-year-old German shepherd cross was brought along to our mobile tour in Erewash, Derbyshire, by her owner Collette Harrington, after she spotted we were offering free health checks for local dogs.
During the check-up, vet nurse Kaya Hawrylak identified a large swelling in Scrabble's mammary gland. With Scrabble being unneutered, Kaya feared it could be something very serious.
On Kaya's advice, Collette (52), took Scrabble in for an urgent appointment at her local vets and was horrified to learn that the lump was a tumour. The vets confirmed Kaya's suspicions and carried out surgery to remove the potentially cancerous lump and all Scrabble's other mammary glands on the same side to try to stop the tumour from spreading.
Collette, from Cotmanhay, Ilkeston, who adopted Scrabble from a local animal shelter when she was nine-months-old, said: "I'm so glad I took my beloved girl to PDSA PetCheck that day. If it hadn't been picked up then, she probably wouldn't be here today.
"My vets told me it was likely to be an aggressive cancer so she is very lucky indeed. I think the PetWise tour is a great idea and the free health checks they offer are very thorough. I'm incredibly grateful to PDSA for everything they've done for Scrabble and can't thank them enough."
Our PetWise tour visits communities across the length and breadth of Britain, offering free dog health checks. This year it received a huge boost thanks to funding from players of People's Postcode Lottery. Our nurses provide expert pet care advice and aim to improve pets' lives by increasing owners' understanding of their pet's needs.
About People's Postcode Lottery
People's Postcode Lottery manages multiple society lotteries promoted by different charities. A list of the charities who fundraise with People's Postcode Lottery is available here. Of every £1 spent on lottery tickets, a minimum of 32p goes directly to these charities, 40p is used for prizes and 28p is paid to us to cover the expenses in running the lotteries.
Sign up today to play with your postcode for the chance to win!
Sign up today and join the fun!
If you would like to play People's Postcode Lottery, have the chance of winning big and help support PDSA, visit postcodelottery.co.uk or call 0808 10 9 8 7 6 5.

PDSA is regulated by the Gambling Commission under licence: 000-004769-R-324664-003 and 000-004769-N-302832-006. People's Postcode Lottery manages lotteries promoted by different charities. For details of each week's society lottery visit: www.postcodelottery.co.uk/society. Players must be 16 years or over. Only available to play with postcodes in England, Scotland and Wales. Not available in NI. Conditions apply. Ticket price £10 for 10 draws paid monthly in advance, a minimum of 32% goes to charities. For a full list of prizes visit www.postcodelottery.co.uk/prizes Maximum ticket prize is 10% of draw proceeds up to £400,000. Postcode Lottery Ltd is regulated by the Gambling Commission under licences 000-000829-N-102511-014 and 000-000829-R-102513-013. Registered address: 2nd Floor, 31 Chertsey Street, Guildford, Surrey, England, GU1 4HD. Company reg. no. 04862732. VAT reg. no 848 3165 07.
See our Lottery policies: Self-Exclusion, Social Responsibility, Complaints.