How to make tuna treats for cats
These tasty tuna treats are the ideal way to spoil your cat without spending too much! Cats will go crazy for these little biscuits.
Homemade treats are a great way to show your cat you love them. You can easily make them at home with only three ingredients!
Ingredients
You will need:
1 tin of tuna in water (undrained)
1 egg (beaten)
250g plain flour (can be gluten-free)
Extra water
Biscuit cutters (they'll need to be fairly small for your cat)
Method
Preheat your oven to gas mark 4 or 180°C (160°C for a fan oven) and line a baking tray with baking paper.
Blend the tuna until it is smooth (you can use a hand blender for this if you don't have a food processor).
In a large mixing bowl, combine the tuna and egg. Add in the flour and mix thoroughly to form a dough. If the mixture is too dry, add a little water. We recommend sifting the flour but this isn't necessary. 
Once you've made your dough, roll it out on a lightly floured surface to about ¼ inch thick.
Cut out your biscuits and put them on the lined baking tray. We recommend using a small cutter if you can.
Bake in the oven for 20 minutes or until the biscuits are crunchy. 
Let the biscuits cool and store them in an airtight container for up to two weeks. 
Remember that these are treats and should only be given to your cat in moderation. As this recipe makes a lot, you might want to give some to friends and family who have cats. Always reduce your cat's daily food allowance accordingly if they have treats. 
Check out our video for how to make these tasty treats: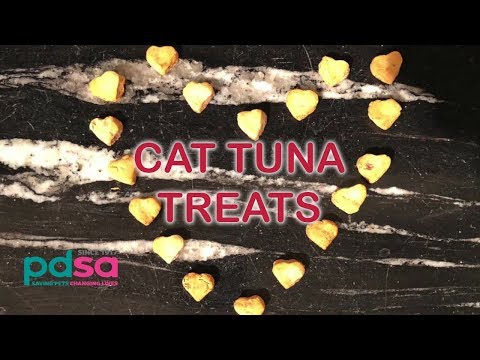 Video found at youtu.be/RfYP8RQDxdU
Treats should always be given in moderation as too many can pile on the pounds! Check out our vets' advice.
Read more
Want to make more treats for your cat? Check out our homemade cat toys for budget friendly ideas you can make at home.
More info
Read our vets' advice on the different types of diet for cats and how to find the perfect one for your feline friend.
Find out more