Exercising with your dog
We all know dogs need lots of exercise to keep them active and happy. Having a dog can be a great way for owners to get in shape, too.
Obviously it's important to make sure your furry friend gets their daily exercise, but it doesn't have to be all about your dog! We know that having a pet has loads of great benefits and exercise is a great way for the two of you to bond. It'll help to keep you both happy and in shape. There are loads of things you and your dog can do together to keep you both fit and healthy – take a look at our tips below
Walking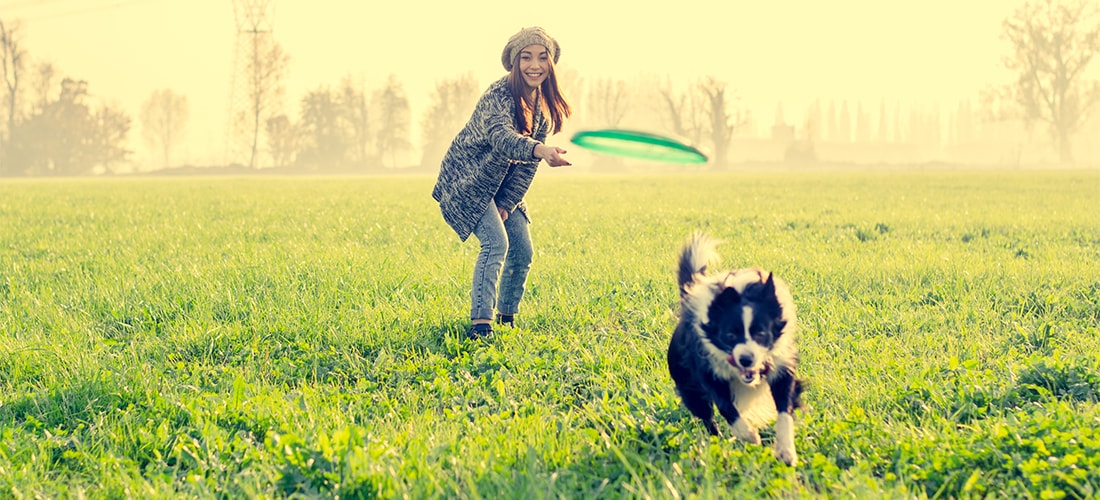 While it doesn't replace a good walk, playing fetch or other games outdoors can be really good exercise for you both. It gets you and your dog moving. It's also a really good opportunity to work on a bit of training, including calling your dog back to you. Remember to avoid throwing sticks as your dog could hurt themselves, but instead opt for pet-safe Frisbees and toys.
Jogging and running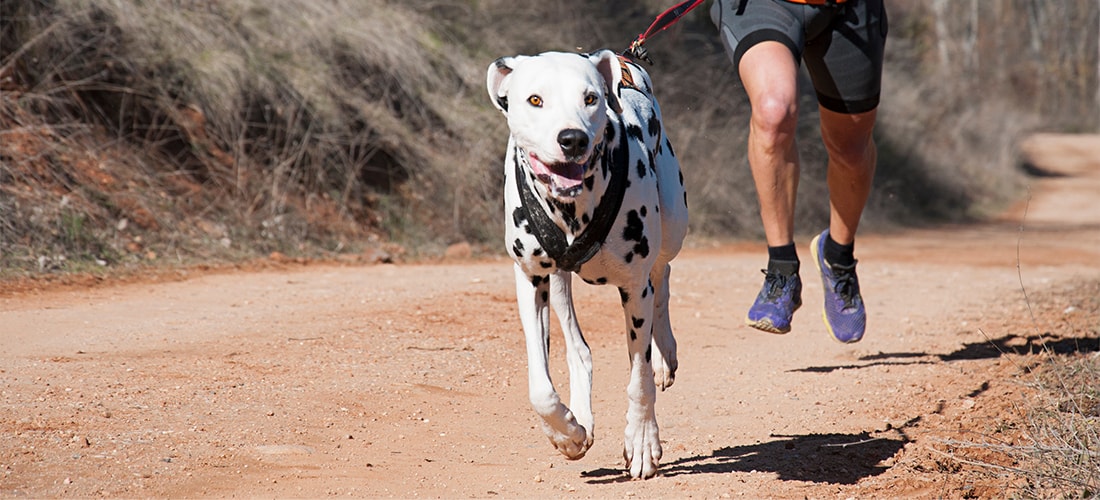 If you want to get your heart rates up a bit more, jogging and running can be great to do with your dog. Build up exercise slowly, as overdoing it with an unfit dog can cause injuries just like in people. Try short routes at first using short bursts of gentle jogging throughout your walk. This way you'll both get used to it. If you need extra tips, check out our page on running with your dog.
Hiking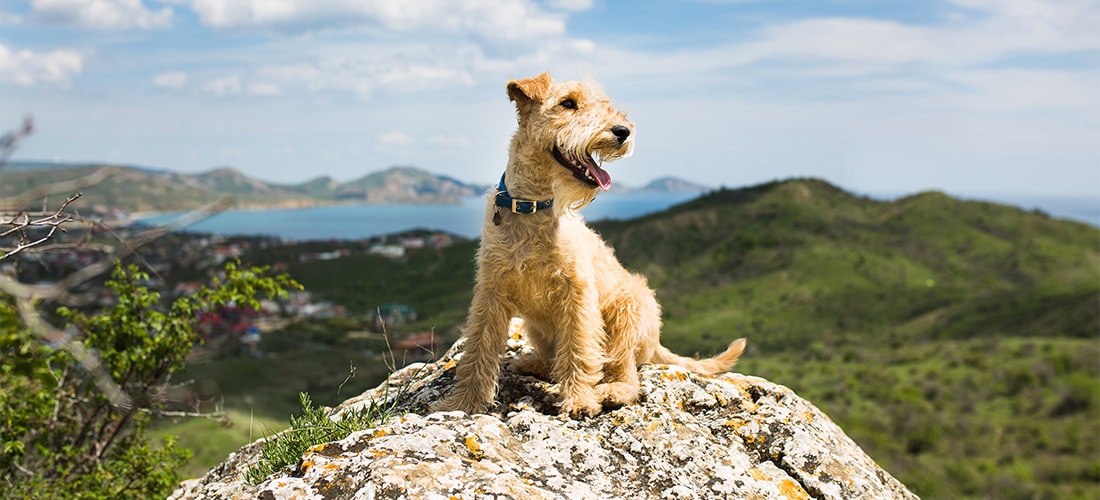 Adventurous owners may love a longer hike with their dog. Before going on more challenging walks, it's important to check out the route first to make sure it's not too steep for your dog and you both can manage it. Keep an eye on the weather before you go and check whether your route will take you near any busy roads or livestock in fields. Remember to plan plenty of breaks for water and keep an eye on your dog to make sure they have enough energy for the whole journey.
Flyball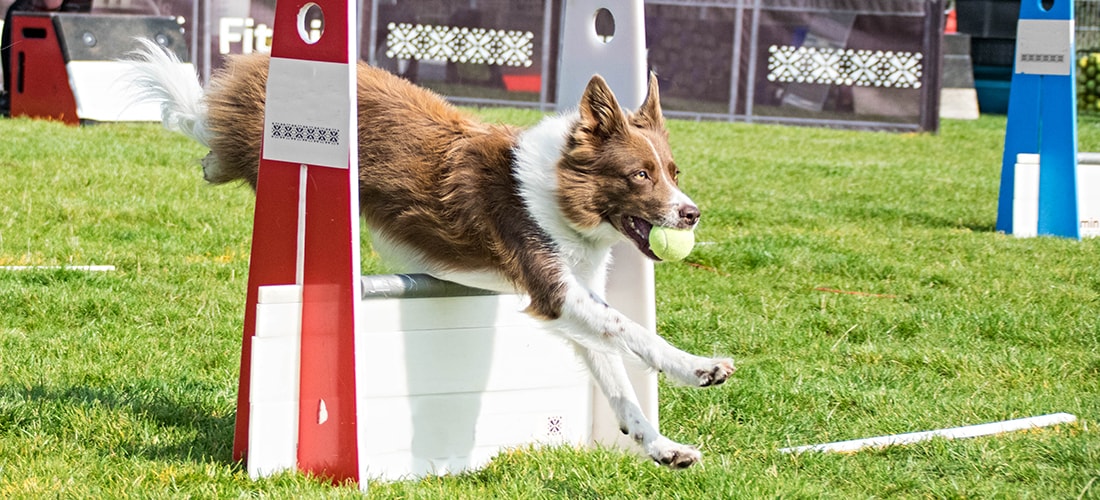 Flyball is great for particularly energetic dogs. Dogs run down an obstacle course and release a ball, which they then need to catch. Training your dog to do flyball also keeps their brain active so they don't get bored. Flyball isn't a good idea for dogs with joint problems so it's important to speak to your vet for further advice before starting training. It's also a great way to meet other dogs and their owners.
Cycling with your dog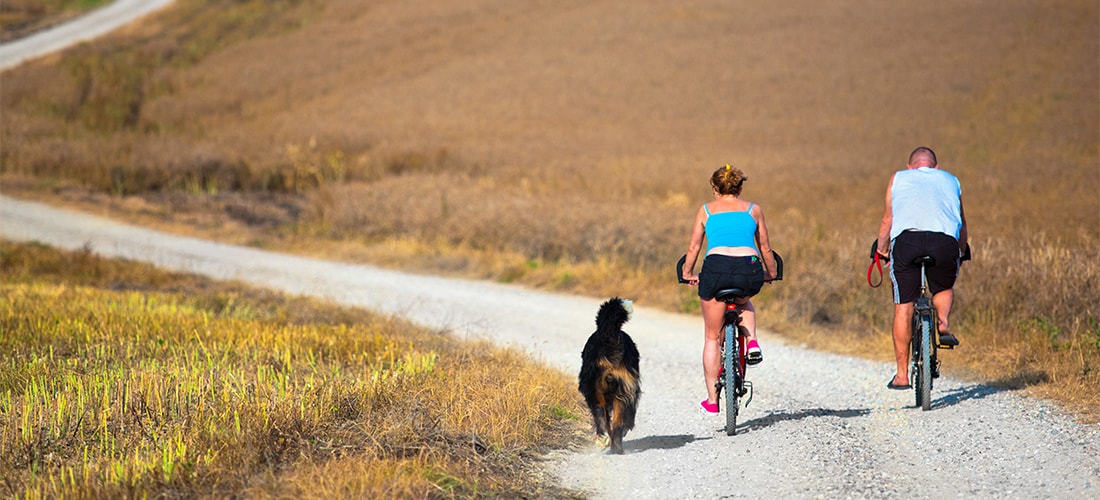 Cycling with your dog can be a great way to exercise some higher energy dogs such as Huskies, Dalmatians or Pointers. Your dog will love the faster pace and getting out covering bigger distances. You'll need to plan well ahead to make sure you're carrying enough water and supplies for you both and to check the route is manageable. It's really important that your dog has an excellent recall and it's best to train your dog to stay within a safe distance of your bike. Remember to take regular breaks and start with gentle short rides at first.
Agility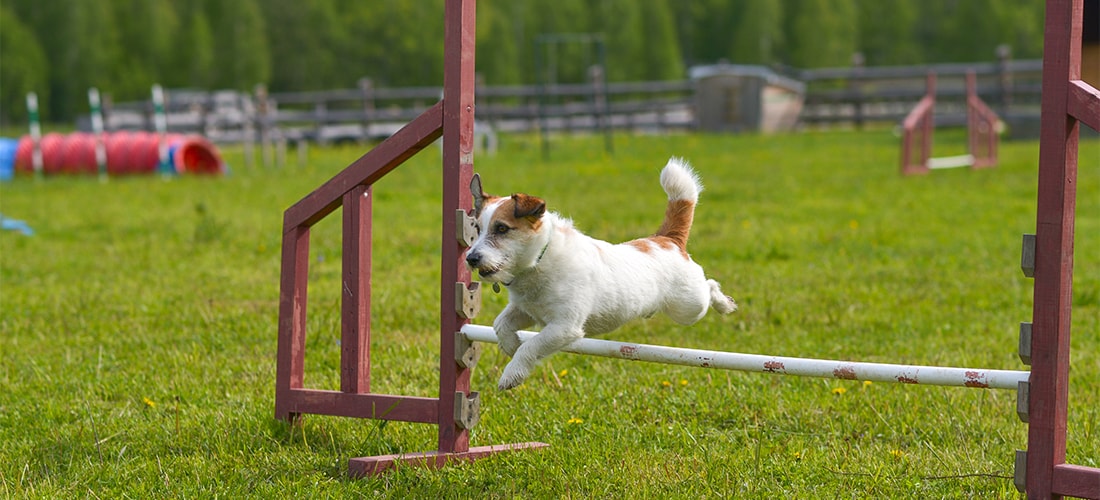 Agility is perfect for clever dogs with a lot of energy. It involves training your dog to do a number of obstacles on an agility course, such as hurdles, going through tunnels and even going across a seesaw. You and your dog will be fit in no time running around an agility course and joining a local group can be a great way to meet other dogs and their owners. You'll find local agility clubs online. It's best to learn the basics from a professional first before trying this at home so neither of you gets injured!
Yoga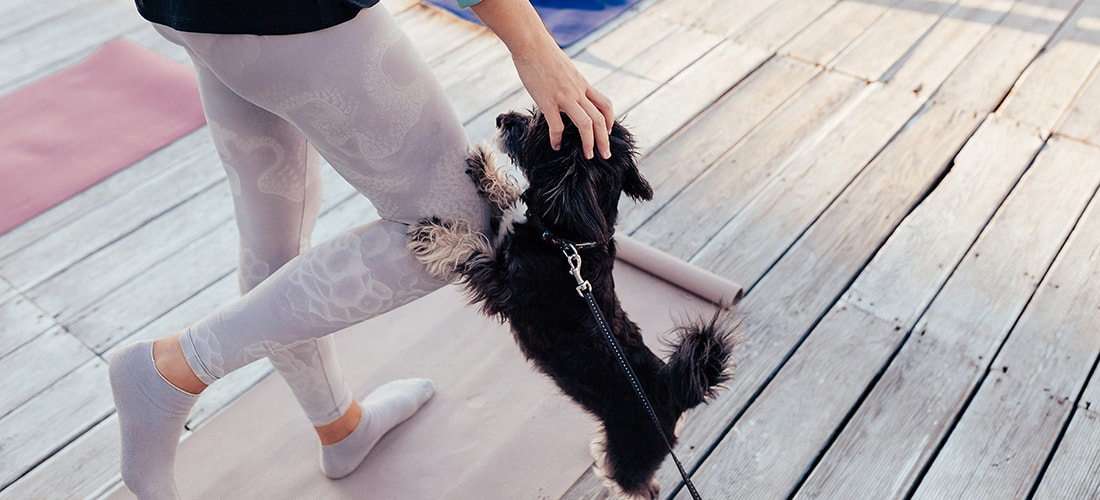 Yes, you can do yoga with dogs. Also known as 'doga', it's great exercise to relax and calm you both. You can either do it at home or look to see if there are any local classes. Dogs also get lots of mental stimulation as you'll teach them lots of new tricks.
Don't overdo it
Exercising with your dog is a great way to bond, but don't overdo it. Make sure you're both ready for different levels of exercise first.
Not all dogs can cope with a lot of exercise in one go. Take breaks when you need to and make sure there's lots of water available. Some breeds need more or less exercise than others so keep this in mind. You can get an idea of how much exercise your breed needs on our breed pages. Remember every dog is an individual so this is only a guide. It's best to speak to your vet for advice on their exercise needs.
Road safety tips for dog owners
Every year our vets see dogs that have been injured in road accidents. With a few precautions, you can help keep your dog safer around roads