Cumbrian Canines Honoured
20 August 2018
Max and Paddy receive a PDSA Commendation
Two support dogs-turned social media stars have been honoured with a PDSA Commendation, for providing support, comfort and joy to thousands of people.
Kerry Irving from Keswick, the proud owner of English Springer Spaniels Max (11) and Paddy (18 months), credits the two pooches with helping him overcome crippling depression after a car accident left him in chronic pain.
But when Kerry decided to journal the boys' exploits on social media, the healing power of the plucky pooches spread across the world, with over 70,000 Facebook fans now checking in to enjoy their photos, stories and adventures.
Kerry was accompanied by Vi Todd, who nominated Max and Paddy, at the award presentation at the North Lakes Hotel & Spa in Penrith. PDSA Principal Vet, John Faulkner, made the presentation in the company of a crowd of Max and Paddy's fans – all of whom had their own stories to tell about how they had helped them personally.
Max and Paddy's Story
In 2006, Kerry's car was hit by a truck, leaving him with chronic neck and back pain. The accident left the active, outdoor-loving 53-year-old house bound and on 27 tablets a day.
Kerry explains: "The change in my lifestyle and the constant pain plunged me into a deep depression. I had six spinal injections and two operations to try and relieve my suffering. I don't say this lightly, but I was on the verge of suicide. It was an extremely difficult time for my wife Angela too.
"When I was at my lowest point, I met Max and there was something very special about him. We immediately gelled and getting out to walk him, even if it was just to the end of the road and back, helped me to get out. I gradually started walking further and further with him, although it was six years before I could make it up a hill again."
Although Kerry still suffers with the pain from his back injury, he credits Max with helping him to get his life back on track. Kerry has since retrained as a locksmith and Max is always with him. "He makes me smile every day. He gave me a reason to get up in the morning in those early days after my accident and something else to focus on, other than the pain."
In 2017, Kerry and Angela adopted puppy, Paddy – named after Padawan from the Star Wars films. He became Max's 'apprentice' and joined him and Kerry on their regular walks around the Lake District and in the van to work.
Kerry and Angela have always had an interest in amateur photography and happily snaps away as they walk the fells around Keswick with the boys. Bowing to pressure from friends who saw the beauty in their work, Kerry started the Facebook page 'Max and Paddy out in the Lake District'.
Just over two years later, the page has almost 70,000 fans. Kerry said: "We receive daily messages from people all over the world, saying how the boys make them smile and bring joy to their life. Each has their own personal story. I have met soldiers who have served in Afghanistan who say they used to look at Max and Paddy's page to remind them of home.
"Lots of people have asked to meet the boys and many who we've met have very sad stories to tell: terminal illness, anxiety, depression, chronic pain, bereavement, loneliness."
Kerry and Angela have held dog walks to give people the chance to spend time with them and help raise money for local rehoming centre, Eden Animal Rescue, for whom Max and Paddy are patrons. North Lakes Hotel & Spa was chosen as the location for the award presentation as the team there have named Eden Animal Rescue as their charity for the year – and they too have joined Max and Paddy's growing fan club.
John Faulkner, Principal Vet from PDSA, said: "Max and Paddy's story shows the fantastic impact that animals have on our lives. Kerry describes Max and Paddy as 'virtual therapy dogs', given the thousands of lives they have touched with their beautiful photos and heart-warming stories. I am thrilled to meet this formidable duo and present them with their PDSA Commendation for their unparalleled devotion and the enrichment they have brought to Kerry and so many more around the world."
Vi Todd nominated Max and Paddy after experiencing their healing powers on social media. Vi said: "Max and Paddy have succeeded in not only being a huge comfort to Kerry, they have also helped people struggling with personal problems through the Facebook page and by meeting them in person. Their impact is nothing short of amazing and I am so thrilled to see them honoured by PDSA."
On their award, Kerry said: "I was speechless when Vi told me what she'd done. I am full of gratitude to my dogs for helping me and intensely proud of the positive impact they have on the people they meet along the way. The PDSA Commendation is a huge honour – I can't wait to share the news with Max and Paddy's adoring fans!"
The PDSA Commendation is part of PDSA's Animal Awards Programme, which comprises the PDSA Dickin Medal – the animal equivalent of the Victoria Cross, the PDSA Gold Medal, known as the animal's George Cross and the PDSA Order of Merit, the animal's OBE.
To date, the PDSA Commendation has been awarded to dogs, horses, cats and a rabbit.
Celebrating its centenary this year, PDSA is the UK's leading veterinary charity and strives to improve the wellbeing of all pets' lives through providing preventive care, educating pet owners and treating pets when they become sick or injured. 
The day-to-day lives of two of PDSA's busiest Pet Hospitals have been documented in a brand new Channel 4 TV series. The 20-part series captures all the drama as the charity's vet teams deal with hundreds of cases every single day – ranging from routine check-ups to extraordinary life-and-death.
The People's Vet airs Saturday afternoons on Channel 4.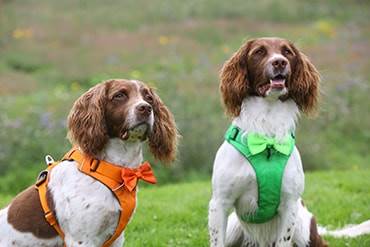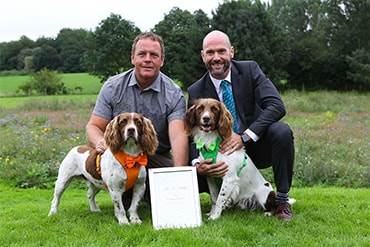 The PDSA Commendation was instituted in 2001 to recognise acts of animal devotion or bravery.
find out more