'Gentle giant' Pablo is home for Christmas
22 December 2017
'Life-saver' support dog nearly killed in horror crash
A faithful dog who acts as an unofficial support dog for his disabled owner nearly died in a terrifying hit-and-run accident. But now gentle giant Pablo is home with his family for Christmas, thanks to PDSA.
The two-year-old Dogue de Bordeaux was rushed to Aston PDSA Pet Hospital after being hit by a car outside his Birmingham home. Pablo required a six hour operation, plus two further surgeries and months of intensive nursing, but will be enjoying Christmas at home with his owner Stacey Rassul (27) and her family, who have all fallen in love with him.
When Stacey first rushed Pablo to PDSA she was told he had several serious fractures and, due to his size, he may not survive his injuries. PDSA Vet Hannah Gritti explained: "Most concerning was the nasty break on his elbow. Ordinarily, we would consider amputation with three fractures in one leg, but as he is such a large breed carrying a lot of weight on his front legs, this wasn't an option for Pablo.
"During surgery we placed two bone plates, pins and wire at first, to fix the breaks in the bone, but the pins soon had to be replaced with another metal plate as the strain from his size was too much. He has more metal in his leg than I've ever placed – it's a bionic leg! He needed months of cage rest, plus regular physio – it would be a long road to recovery."
Stacey said: "Pablo has changed my life; he helps me physically and emotionally. I suffer from Dystonia, which is a neurological movement disorder similar to Parkinson's disease. Some days are very hard – I can't get out of bed or even feed myself due to the tremors, and I can only walk very short distances, so I use a wheelchair a lot of the time.
"But Pablo just knows when I'm having a rough day or when I'm about to have a "dystonic storm" [similar to a fit] and he sits by my side. He's always there for me, so I knew I had to do everything I could to save him.
"I slept on a mattress in the living room for three months to be close to him, I had to hold his bowls up for him to eat and drink, and do his physio. It was a very challenging time – I put my own needs on hold and it was heart-wrenching to see him go through so much. But it was all worth it to see him slowly recover, and when he started putting weight on his leg again I was overjoyed."
Thankfully Pablo is nearly fully recovered, with just a slight limp the only sign of the terrible trauma he suffered. Hannah added: "Pablo has a slightly limited range of motion in his front leg, but it is better due to the dedication of his owners; he's such a happy dog."
One-in-ten pet owners have faced an emergency trip to the vets over the Christmas period, according to new research from PDSA*. The charity expects to see around 50,000 pets at its pet hospitals during December.
Stacey added: "Pablo means everything to me and PDSA have saved his life. The care Pablo has received has been amazing and I'm so grateful for everything they've done. Pablo loves going there too – he seems to be a favourite with all the vet nurses who love giving him a cuddle. He's a big gentle giant and such a happy boy, I don't think I could've coped with losing him. I can't thank PDSA enough."
PDSA is the UK's leading pet wellbeing charity, providing free and reduced cost vet care for the pets of owners who receive a wide range of benefits. Many of the charity's 48 hospitals remain open 24 hours a day, even on Christmas Day.
Animal lovers can help PDSA's #SaveAStar campaign at www.pdsa.org.uk/star or by texting STAR to 70020 to give a one-off donation of £5 (you'll also be charged one standard rate message - full terms and conditions here).
* All figures are from the Christmas Pets survey, conducted by YouGov on behalf of PDSA. Fieldwork was undertaken online between 22-23 November 2017. Total sample size was 2,082 UK adults. Figures of vet visits are for dog, cat and rabbit owners, with a sample size of 973. 11% of dog, cat and rabbit owners have had to visit the vet over the festive period because their pet was ill or injured. The Christmas period was defined as the beginning of December to the beginning of January.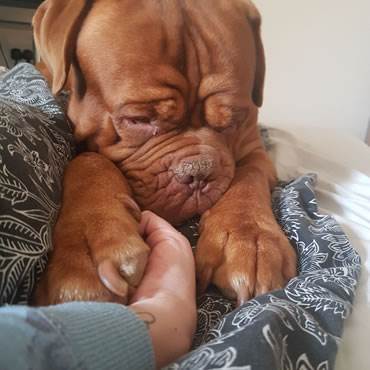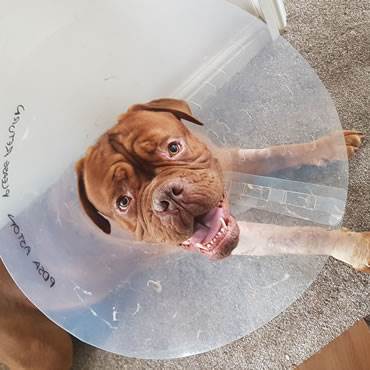 Your donation today will help us stop pets suffering. Will you save a star this Christmas? 
Donate