Heatwave warning as dog swallows discarded BBQ skewer
29 June 2018
Emergency surgery saves dog's life
Vets are warning about the dangers leftover barbecues pose to pets after a Bristol dog needed life-saving surgery to remove a kebab skewer.
Five-year-old Labrador-cross Mutley is credited with changing the life of his owner, who has anxiety. But he almost lost his own life when he came across the remains of a barbecue while walking in woods on 18 June.
Thankfully, owner Amanda Lawrence spotted Mutley wolfing down a sausage and skewer so acted immediately. He was rushed to vets at Bristol PDSA Pet Hospital for emergency surgery and is now recovering back at home.
Amanda said: "I was walking Mutley and my other dog Kia in local woods. All of a sudden I saw him pick up two sausages on a skewer from the ground. I tried to get them out of his mouth but could only get one of the sausages out. It was all over in a flash, I couldn't believe what had happened."
It was only the second time that Amanda, who has anxiety, had walked her dogs on her own.
Amanda added: "Mutley means everything to me. He is a huge part of my life and the reason I have managed to get my confidence back to be able to leave the house. Since we rescued him, my life has changed for the better. Life without Mutley is not worth thinking about, but here I was, facing the prospect of losing him.
"I called my partner, Lee, and we took Mutley straight to PDSA. It was the longest 30 minutes of my life. I was in tears all the way there."
At PDSA, vet Simon Wheeler performed an emergency operation to remove the skewer.
Simon said: "Mutley was actually quite bright and lively when he came to us. Amanda's quick reaction undoubtedly prevented the skewer from causing serious internal injuries or an infection. If she hadn't spotted it happening, the skewer could have been inside his body for days and even pierced his organs which could have been life-threatening.
"This could have ended very differently for Mutley. It's one of the reasons why it's so important to tidy up any kind of litter. And with the sun set to continue shining this weekend, anyone enjoying a barbecue should be extra vigilant if there are pets around."
Amanda concluded: "The care from PDSA has been excellent. Mutley has changed my life, but with being out of work due to illness I wouldn't have been able to have him in my life without PDSA. I could have lost him because of someone's carelessness."
For more tips to keep your pet safe in the sunshine visit www.pdsa.org.uk/summer.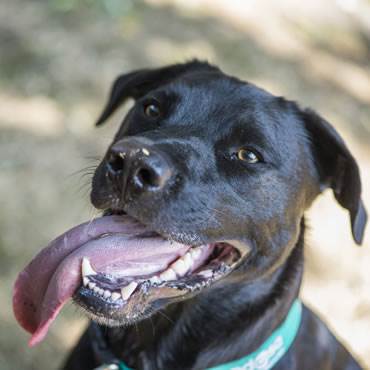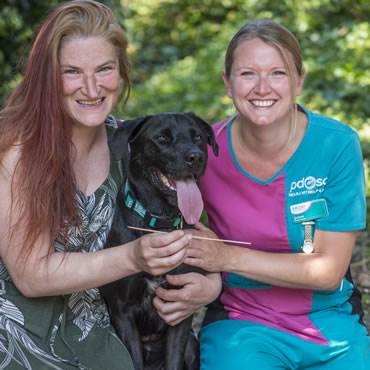 Worried about keeping your pet cool in the heat or how to host a pet-friendly BBQ? Our vets have lots of tips on how to keep your pet happy and healthy this summer. 
Read our tips