Landmine Detection Rat receives animals' George Cross
25 September 2020
Cambodian HeroRAT Magawa awarded the PDSA Gold Medal for his life-saving work
A landmine detection rat, whose work in Cambodia has transformed the lives of the country's citizens, has been awarded the PDSA Gold Medal* for his life-saving bravery and devotion to duty.
HeroRAT** Magawa is a giant pouched rat, trained to detect landmines by charity APOPO. He has discovered 39 landmines and 28 items of unexploded ordnance to date, making him the charity's most successful HeroRAT. During his career he has helped clear over 141,000 square metres of land (the equivalent of twenty football pitches), making it safe for local people.
Magawa was formally presented with his unique miniature PDSA Gold Medal – the animal equivalent of the George Cross – via a live link between Cambodia and the UK today (25 September 2020) by the vet charity's Director General. He is the first rat in the charity's 77 year history of honoring animals to receive a PDSA Medal – joining a line-up of brave dogs, horses, pigeons and a cat.
Meet Magawa and watch him receive his PDSA Gold Medal.
Commenting on the award, PDSA Director General Jan McLoughlin, said: "The work of HeroRAT Magawa and APOPO is truly unique and outstanding. 
"Cambodia estimates that between 4 and 6 million landmines were laid in the country between 1975 and 1998, which have sadly caused over 64,000 casualties.
"HeroRAT Magawa's work directly saves and changes the lives of men, women and children who are impacted by these landmines. Every discovery he makes reduces the risk of injury or death for local people.
"The PDSA Animal Awards programme seeks to raise the status of animals in society and honour the incredible contribution they make to our lives. Magawa's dedication, skill and bravery are an extraordinary example of this and deserve the highest possible recognition. We are thrilled to award him the PDSA Gold Medal."
Magawa's story
HeroRAT Magawa is a Landmine Detection Rat. Trained by APOPO in Tanzania, a charity that trains rats to save lives, Magawa – an African Giant Pouched Rat – detects landmines and other unexploded remnants of war, which blight the landscapes of Cambodia, where he now lives and works.
HeroRAT Magawa was trained to detect the chemical compound within explosives, Trinitrotoluene (TNT) and alert human deminers to its presence. Because he completely ignores any scrap metal lying around he is much faster at finding landmines than the conventional method of using a metal detector. Magawa can search the area of a tennis court in 30 minutes, something that would take a human with a metal detector up to four days.
On a daily basis, HeroRAT Magawa's work is life-saving and life-changing and has a direct impact on the men, women and children in the communities in which he works. For every landmine or unexploded remnant he finds, he eradicates the risk of death or serious injury in locations already suffering significant hardship.
Cambodia suffered from several internal conflicts between 1975 and 1998; an estimated 5 million landmines were laid across the country, mainly in the northern parts along the border with Thailand, which account for the great majority of mine casualties. The notorious K5 mine belt, which was installed along the border in the mid-1980s in an effort to block infiltration by armed opposition groups, ranks among the densest contamination in the world.
Cambodia has the highest number of mine amputees per capita in the world – over 40,000 people. For each landmine HeroRAT Magawa finds, he saves a life. The testimonials of those who have seen him work show the immense difference that APOPO's HeroRATs make to the communities they serve and to their human deminer colleagues.
For his vital, life-saving work, Magawa is a thoroughly deserving recipient of the PDSA Gold Medal.
Award reaction
Christophe Cox, CEO of APOPO, said: "APOPO's HeroRATs significantly speed up landmine detection using their amazing sense of smell and excellent memory. We use clicker training to teach rats like Magawa to scratch at the earth above a landmine. During training they hear a 'click' and receive a tasty food reward for finding the correct target scent. Unlike metal detectors, the rats ignore scrap metal and only sniff out explosives making them fast and efficient landmine detectors. This not only saves lives but returns much-needed safe land back to the communities as quickly and cost-effectively as possible. This in turn will allow the families living around the minefields to improve their livelihoods and get their lives back on track."
Instituted in 2002, the PDSA Gold Medal is awarded to civilian animals for life-saving bravery and exceptional devotion to duty. The Medal is now recognised worldwide as the animals' George Cross. Magawa is the 30th recipient of the PDSA Gold Medal, and the first none-canine to receive it. Find out more about previous recipients.
PDSA's Animal Awards Programme was instituted in 1943 by the charity's founder, Maria Dickin. She believed that, if animals were recognised for their heroic actions, it would help to raise their status in society, ensuring they were better treated. The charity continues this legacy today by honouring animals with the PDSA Dickin Medal, PDSA Gold Medal, PDSA Order of Merit and PDSA Commendation.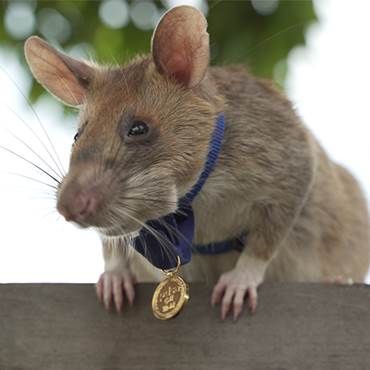 Landmine detection rat Magawa received the PDSA Gold Medal for his life-saving work in Cambodia, making him the first rat to receive a PDSA award.
Watch his story