Four-legged fundraisers take the plunge for PDSA
16 July 2019
Max, Paddy and Harry live stream jetty-jump in aid of charity
Celebrity spaniels, Max, Paddy and Harry, have raised an incredible £4,256 for the UK's leading veterinary charity, PDSA, in a jetty jump that was streamed live on Facebook.
The English Spring Spaniel trio, who are well-known for their love of the outdoors, including launching off jetties at their favourite lake, Derwentwater in Keswick, Cumbria. Their recent fundraising triumph came about when followers of the social media stars said they'd pay money to see their owner, Kerry Irving (54) join in the fun.
Kerry jumped at the chance and set about organising the challenge. He asked people to make their donations in aid of PDSA, a charity which provides veterinary care to the sick and injured pets of people in need.
The event was live streamed to followers on the 'Max Out in the Lake District' Facebook page, and was watched by thousands of people around the world.
Kerry said: "It was suggested by some of Max, Paddy and Harry's followers that I join the dogs jumping in the lake. I thought OK, and hoped it might raise a few hundred pounds for PDSA. I was completely amazed at how that amount suddenly hit a thousand pounds, then two, then three and ended up at a staggering £4,256. It was also good fun! PDSA is an amazing cause, and I've seen first-hand the great work its vets and nurses do, caring for people's pets when they can't afford the vets' bills. I'm extremely grateful to everyone who donated to this wonderful charity."
PDSA Community Fundraiser, Sally Prior, said: "A big round of 'ap-paws' to Max, Paddy and Harry for their fabulous fundraising efforts – and a special thank you to Kerry for leading the way! Thousands of people follow the dogs' amazing adventures, which bring so much joy every day. On behalf of PDSA, I'd like to thank everyone who donated to their jetty-jumping jaunt, your support means so much. The charity doesn't receive government funding, so we rely on the generosity of animal lovers to help run our vital veterinary services."
Max and Paddy were awarded a PDSA Commendation last year for bringing support, comfort and joy to thousands of people. Their story demonstrates the fantastic impact animals have on our lives. Described as 'virtual therapy dogs' given the thousands of lives they have touched with their beautiful photos and heart-warming stories, they continue to provide huge comfort to those in need.
To watch the jetty jump, and to make a donation to PDSA, click here.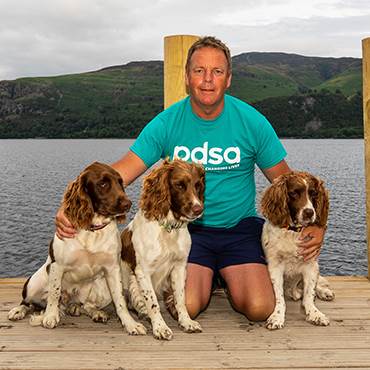 Why not fundraise for PDSA yourself? There are tonnes of exciting fundraising opportunities.
Get involved