National award for hero Police Dog
08 November 2019
German Shepherd Axle receives PDSA Commendation after tackling armed criminal.
A hero Police Dog (PD) is being honoured by PDSA after he sustained life-threatening injuries tackling an armed criminal whilst on duty with Derbyshire Police.
PD Axle, a seven-year-old German Shepherd, attended a presentation in his honour today (Friday 8 November) at Derbyshire Police Headquarters in Ripley with his handler, Police Constable (PC) Dean Allen.
PDSA's Area Veterinary Manager, Robert Haselgrove, presented PD Axle with his PDSA Commendation for his devotion to duty and bravery during the incident, which occurred last year
PD Axle and PC Allen were called to help apprehend a man who was armed with a hammer and knife.
Matthew Stretch had smashed the windows of a police vehicle and tried to assault the officer inside.
Stretch then ran from the area while still in possession of the knife, triggering a search that involved firearms officers and the police helicopter.
He was eventually cornered in woodland by PD Axle. During the incident, Stretch stabbed Axle three times, before he was quickly confronted by armed police. After threatening another officer with the knife, he was subdued with a taser and arrested.
PC Allen said: "It was only we had detained the suspect that we were actually able to see Axel's stab wounds.
"The biggest concern was the position of the stab wounds, you don't know how deep they are, and they were very close to the spine. With the blood vessels running down the spine in German Shepherds it can be life threatening."
PD Axle was rushed to a local vet where he received emergency treatment for wounds to his neck and body. He returned home following an operation and after a well-earned spell of recuperation, re-joined PC Allen at work.
PDSA Area Veterinary Manager Robert Haselgrove said: "The PDSA Commendation recognises the outstanding devotion that animals display and celebrates the amazing ways they enrich our lives. PD Axle showed remarkable bravery in tackling an armed criminal that night.
"His story really highlights the vital role that Police Dog teams play and demonstrates the perils they can face. I'm honoured to present him with his PDSA Commendation, which celebrates his vital contribution to Derbyshire Police."
Discussing PD Axel's award, PC Allen said: "I couldn't be prouder of Axle. He is an exceptional Police Dog who has displayed great courage and skill throughout his six years' of service with Derbyshire Police. I was worried he wouldn't make it after that night, so to see him not only make a full recovery, but return to duty as well shows how special he is. It is a real honour to see him receive this award."
In June 2019, new legislation was passed giving protection to service dogs such as PD Axle. "Finn's Law" is named Police Dog Finn, who was awarded the PDSA Gold Medal in 2018 after he was stabbed whilst pursuing a suspect with his handler PC David Wardell.
The PDSA Commendation is part of PDSA's Animal Awards Programme, which also includes the PDSA Dickin Medal – the animal equivalent of the Victoria Cross, the PDSA Gold Medal, known as the animal's George Cross and the PDSA Order of Merit, the animal's OBE.
The PDSA Animal Awards Programme was instituted in 1943 by the charity's founder, Maria Dickin. She believed that, if animals were recognised for their heroic actions, it would help to raise their status in society, ensuring they are better treated.
Axle's story
On Wednesday 4 July 2018, police officers were called to reports of a domestic disturbance in the village of Riddings, Derbyshire. On arrival at the scene, two officers were confronted by 28-year-old Matthew Stretch, who attacked their police car. Stretch smashed the driver's window and threatened the officers with a knife and hammer.
Back-up officers were summoned and Stretch ran from the scene. Police began a search of the area, conscious that their suspect was armed and dangerous. Resources deployed included a firearms unit, a helicopter and PC Dean Allen with his dog, Axle.
Stretch was eventually located by PC Allen and Axle in nearby woodland next to a disused canal. PC Allen instructed Stretch to stand still or Axle would be deployed. This warning was ignored and Stretch was pursued into the canal. There, PC Allen attempted to detain the suspect but he managed to climb out of the shallow water.
During the struggle, Axle was stabbed three times in his neck and body by Stretch, though PC Allen was not physically hurt. Officers armed with baton rounds and a taser subsequently detained Stretch, who was arrested.
Axle was rushed to a local veterinary surgery where he received emergency treatment for his wounds. Following surgery, Axle was reunited with his handler. Thanks to what officers describe as his 'remarkable commitment', Axle resumed his police duties following some rest and recuperation. No officers were injured during the attack but the incident has had a lasting effect on those involved.
During the violent struggle, PD Axle was instrumental in protecting the life PC Allen.
On 8 October 2018, Matthew Stretch was sentenced to six years and seven months in jail for threatening with a blade, two threats to kill and two counts of criminal damage. The trial was told he has 13 previous convictions for 28 offences including robbery and burglary.
Axle, PC Allen and other officers attending the incident have since been commended, in November 2018, for outstanding bravery by The Chief Constable of Derby Constabulary – an event broadcast on BBC and ITV television news. The case has also been widely reported in the press and online, where it generated thousands of goodwill messages, from as far afield as USA and Australia.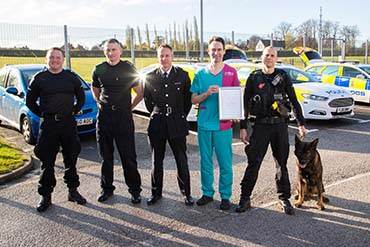 Through these awards we recognise acts of extraordinary animal bravery or exceptional devotion to duty.
Read the stories