PDSA at the Lord Mayor's Show 2017
10 November 2017
As we celebrate our centenary, PDSA is thrilled to be taking part in the Lord Mayor's Show parade in London on Saturday 11 November 2017.
It's 100 years ago this month that, from a cellar in the Whitechapel district of London, Maria Dickin CBE, established the People's Dispensary for Sick Animals.
Our entry in the parade reflects our past and present-day charitable services. A restored horse-drawn carriage represents our early mobile dispensaries that were seen throughout the country, providing vital veterinary care and transporting sick animals.
As well as celebrating our past, we're showing how times have changed over the last 100 years. One of our PetCheck vehicles will also feature in the parade. The modern-day equivalent to the early horse drawn carriages, the vehicle will be flanked by some of our dedicated veterinary staff. Our PetCheck vehicles visit communities across the UK, offering free health checks for dogs and expert advice to pet owners, on how to keep their pets healthy and happy.
Through PDSA's Animal Awards programme, we have long championed the role of animals in society. Two horses who received PDSA Order of Merit awards (known as the animals' OBE) will represent all the valiant animals that have received our awards, which also include the PDSA Dickin Medal and PDSA Gold Medal.
PDSA's two custom-designed PetCheck vehicles have been kindly donated to the charity by benefactors Julie and Robert Breckman. The vehicles are named after Robert and his late wife Julie, whose love of animals and support of PDSA has helped to make the PetCheck tour a reality.
PDSA doesn't receive government funding to provide its charitable services and relies on the generosity of animal lovers. If you would like to support PDSA today you can donate online. Your donation will help a pet in need. Thank you.
Watch the restoration of our carriage: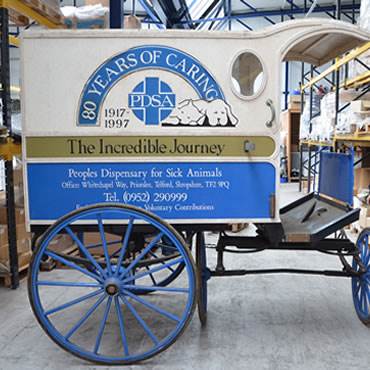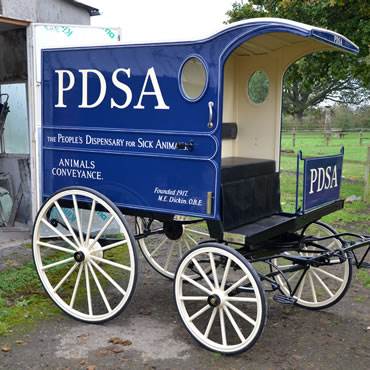 Your donation will help us carry out life-saving operations and ongoing treatments to stop pets suffering.
Donate