Thamesmead pets receive funding boost
29 November 2017
Poorly pets at our Thamesmead PDSA Pet Hospital have been given a huge boost after receiving a new £6,000 ultrasound scanner.
The high-tech machine is now in use at the hospital on Eynsham Drive, thanks to funding from players of People's Postcode Lottery.
David Mills, Vet Surgeon Team Leader at Thamesmead PDSA Pet Hospital, said the new scanner was desperately needed.
He said: "Our old ultrasound machine was over 10 years old and after so many years of use the probe stopped working as well as the viewing screen.
"An ultrasound scanner is a vitally important piece of equipment that we use to scan areas of a pet's body such as the abdomen and chest, as well as the heart. It can be particularly useful in diagnosing conditions and saving lives."
Anita Brett, Client Services Manager added: "Our vets and nurses were ecstatic to receive the new machine, which is already making a huge difference. We are hugely grateful to players of People's Postcode Lottery for the support."
The new machine has been allocated to the hospital as part of a National Emergency Equipment Fund run by PDSA thanks to support from players.
Earlier this year, Thamesmead Pet Hospital received a £545 microscope through the fund after the parts to repair its previous one became obsolete.
Laura Davey, Pet Hospital Lead, said: "Being able to use such state-of-the-art equipment means we can make accurate diagnoses and prescribe the correct treatment to help pets recover as quickly as possible."
Find out more about the support players of People's Postcode Lottery are providing to PDSA.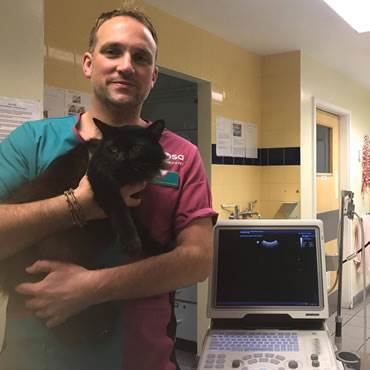 Read more about how the player of the People's Postcode Lottery support our work. 
Find out more