PDSA veterinary team take to the skies for poorly pets
17 October 2019
A team of thrill-seekers from our Middlesbrough PDSA Pet Hospital are preparing to take to the skies this weekend for a group skydive, all to raise vital funds for sick and injured pets.
The group of adrenaline junkies will be taking the leap of faith on Saturday 19 October, in hope of raising £4,000 for our busy Pet Hospital located on Acklam Road, which sees over 10,000 poorly pets through its doors every year.
PDSA Head Nurse, Steph Williams, said: "Jumping out of a plane and falling over 10,000 feet is an incredibly scary thought, but it will be a huge personal achievement for all of us. Knowing we each have the support of our fabulous veterinary colleagues will make the fundraiser all the more special.
"We all see first-hand how our service is a lifeline to so many pets and their owners in the local community which is why we all feel so passionately about fundraising for PDSA.
"We're also jumping in memory of a special pet called Max. We all became very fond of Max during his many visits to PDSA. He needed ongoing care and treatment for a testicular abnormality, detected during a PetCheck on board of one of our PetWise vehicles. He sadly passed away last year but his owners, who are also taking the leap, continue to raise funds for him, and we'd like to help to raise funds for much-loved family pets, like Max, who need our vital care."
The team of six PDSA veterinary staff, including Heather MacQueen, Chloe Stoddart, Julie Robinson, Steph Al-Qazzaz, Karen Nicolson, Stephanie Williams, and two passionate PDSA fundraiser's, Laura Marshall and Emma Athey, will be taking on the hair-raising challenge on 19 October from Peterlee Parachute Centre and are urging local animal-lovers to support them by donating to their fundraising page.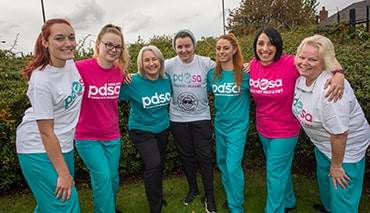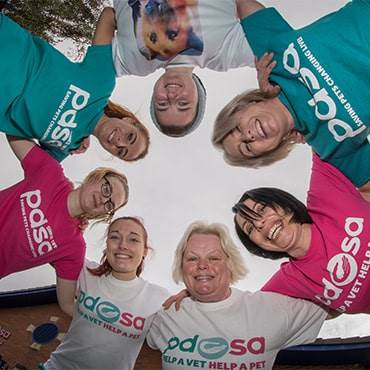 ... and support our fantastic, flying vet team by donating to them and help raise funds for sick and vulnerable pets across the UK.
Support them