Chance PDSA check-up saves dog from cancer
07 August 2018
Mystery swelling spelt danger for Scrabble the dog.
Rescue dog Scrabble was given another turn at the game of life after a chance visit to our PetCheck tour helped detect a tumour.
The 12-year-old German Shepherd cross was brought along to our mobile tour in Erewash, Derbyshire, by her owner Collette Harrington, after she spotted we were offering free health checks for local dogs.
During the check-up, vet nurse Kaya Hawrylak identified a large swelling in Scrabble's mammary gland. With Scrabble being unneutered, Kaya feared it could be something very serious; around half of breast lumps in unneutered female dogs are cancerous and the bigger they get, the more likely this is.
On Kaya's advice, Collette (52), took Scrabble in for an urgent appointment at her local vets and was horrified to learn that the lump was a tumour. The vets confirmed Kaya's suspicions and carried out surgery to remove the lump and all Scrabble's other mammary glands on the same side to try to stop the tumour from spreading.
Collette, from Cotmanhay, Ilkeston, who adopted Scrabble from a local animal shelter when she was nine-months-old, said: "I'm so glad I took my beloved girl to PDSA PetCheck that day. If it hadn't been picked up then, she probably wouldn't be here today.
"I had noticed a swelling on her underside but she didn't seem to be in any pain and I presumed it was just a fatty lump as she was getting older.
"My vets told me it was likely to be an aggressive cancer so she is very lucky indeed. I think the PetCheck tour is a great idea and the free health checks they offer are very thorough. I'm incredibly grateful to PDSA for everything they've done for Scrabble and can't thank them enough."
Vet nurse Kaya said she was delighted that Scrabble had made a full recovery.
She said: "During the free MOT I could feel a swelling that concerned me. Scrabble is an older female dog and wasn't neutered so that increases the risk of mammary cancer.
"Scrabble's story really highlights the importance of regular check-ups with a vet or vet nurse, even if nothing is concerning you, to ensure your pet is in full health. Scrabble has also been neutered now, which will help reduce her risk of developing further breast cancer and will also ensure she won't be at risk of a life threatening womb infection in the future either."
Our PetCheck tour visits communities across the length and breadth of Britain, offering free dog health checks. This year it received a huge boost thanks to funding from players of People's Postcode Lottery. PetCheck nurses provide expert pet care advice and aim to improve pets' lives by increasing owners' understanding of their pet's needs. Find out when PetCheck is coming to a town near you.
Our vets recommend neutering as it helps to prevent serious diseases such as testicular cancer in male dogs and pyometra – a potentially fatal womb infection – in female dogs. Neutering also prevents unwanted litters.
More information and advice about the benefits of getting pets neutered.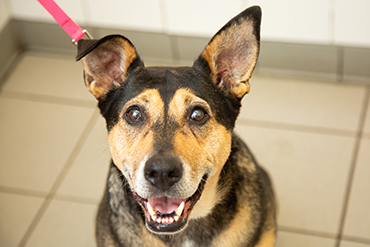 Find out more about People's Postcode Lottery and how they support charities like PDSA.
Find out more