Father's guiding paw for blind dog
17 September 2015
A Border Terrier who was born blind is now living life to the full, thanks to his faithful father taking on the role of guide dog.
Two-year-old dog Lucky was born without retinas, which means he's never been able to see. But thanks to his father Scruff and support from vet charity PDSA, the cute canine is now a confident, happy family pet.

When Lucky first started venturing outside his Glasgow home he had some difficulty getting around and would often run head-first into things, resulting in lumps and bumps. But thanks to the protective instincts of his dad, Scruff, he is coping amazingly well with his disability and it's a bond that cannot be broken.

Proud owner Jim Leonard, 65, from Glasgow, said the pair were "inseparable" and claims the older dog would do anything he could to protect his son from any harm: "Lucky was blind from birth and it seemed that as a pup he was always running or knocking into something and hurting himself. We were really worried about how he was going to cope.

"But we started to take Lucky and Scruff on walks together and it was amazing to see Scruff starting to take charge, looking after Lucky and checking he was okay. Now Scruff licks him on the face and Lucky uses him as a guide. If they are separated for a little while, Scruff will rush over to Lucky and lick him as if to say 'sorry I had to leave you'."

After discussing the situation with PDSA vets, Jim and his family also made changes to help Lucky around the home when he was very young, including keeping furniture in the same place and not leaving things lying around that could be a trip hazard.
Jim explains 'we're extremely grateful to the PDSA vets and nurses at Tollcross Pet Hospital for the help and support they have given us, which helped Lucky blossom into a loving, confident dog."
Vet Nurse, Katy Orton added: "If you are worried your dog has a problem with their sight, your vet will be able to assess their eye function and discuss possible treatment options. They can also offer support and guidance in dealing with sight-loss, to help give your pet the best quality of life possible. Caring for a pet with a disability is incredibly rewarding and blind dogs generally adapt very well. They are able to live very normal, happy lives with just a little bit of help from their owners."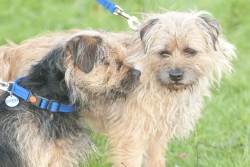 Your donation will help us treat more pets like Lucky and give the ongoing care they need.  
Donate