Tiny Trinny saved by PDSA vets after violent attack
30 January 2019
Eleven-year-old crossbreed Trinny was out walking with her owner when they were viciously attacked by a large dog.
Trinny was left in severe shock fighting for her life, having suffered horrific puncture wounds on her chest and sides, and two deep lacerations to her shoulder.
Trinny's owner rushed her to Manchester PDSA where our vets began urgent treatment to save her life. After being stabilised and given pain relief, her deep wounds were cleaned and stitched back together, but the prognosis was extremely poor. The wound on her shoulder and front right leg was so severe it was at risk of being amputated.
Trinny's condition meant she needed constant care, so she was kept in the hospital and closely monitored by our vet team. Her wounds were regularly checked, cleaned and re-dressed, and she was hand-fed by our nurses.
After over a week of intense nursing and wound care, Trinny started showing signs of recovery and she was finally able to go home.
It will take months for Trinny to fully recover from her horrific ordeal and injuries. She still needs regular check-ups at our Pet Hospital in Manchester to clean and re-dress her wounds and avoid dangerous infections. So far, this treatment has cost the charity £1,400 and this figure will continue to grow in 2019 as her recover continues.
Our Pet Hospitals treats thousands of pets like Trinny, whose owners have fallen on hard times and can't afford the veterinary care their pets needs and deserve.
Trinny's owners have made a contribution of what they can afford, but we'd be incredibly grateful if you can donate today to help us continue to provide our vital service as we build a new Pet Wellbeing Centre in Manchester. Our Manchester Pet Hospital in Old Trafford currently cares for more that 150 sick and injured pets every day, providing over 78,000 treatments a year.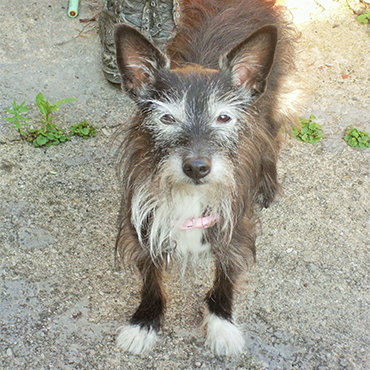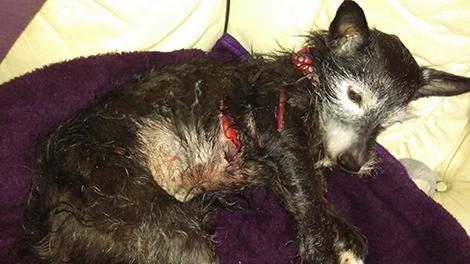 A well-trained, well-socialised dog will not normally be actively aggressive towards other dogs. But any dog can become aggressive if they are afraid and feel there is no other way out of the situation.do
Find out more