Jerry - PDSA Order of Merit
PTSD Assistance dog, Jerry, received the PDSA Order of Merit in July 2022 for helping to transform veterans' lives.
The PDSA Order of Merit celebrates extraordinary animals who demonstrate the unique bond between animals and humans – a bond that is PDSA's mission to protect.
Jerry was formally awarded the PDSA Order of Merit at a special ceremony in London on 14 July 2022.​
Watch his inspiring story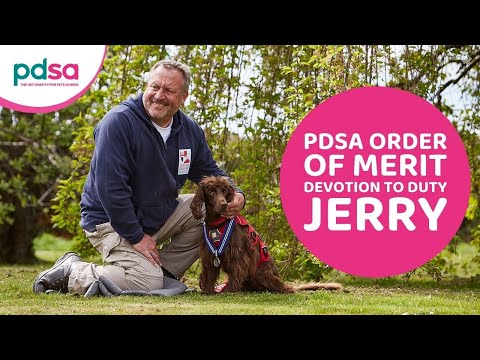 Video found at youtu.be/JbLGlA4sMvo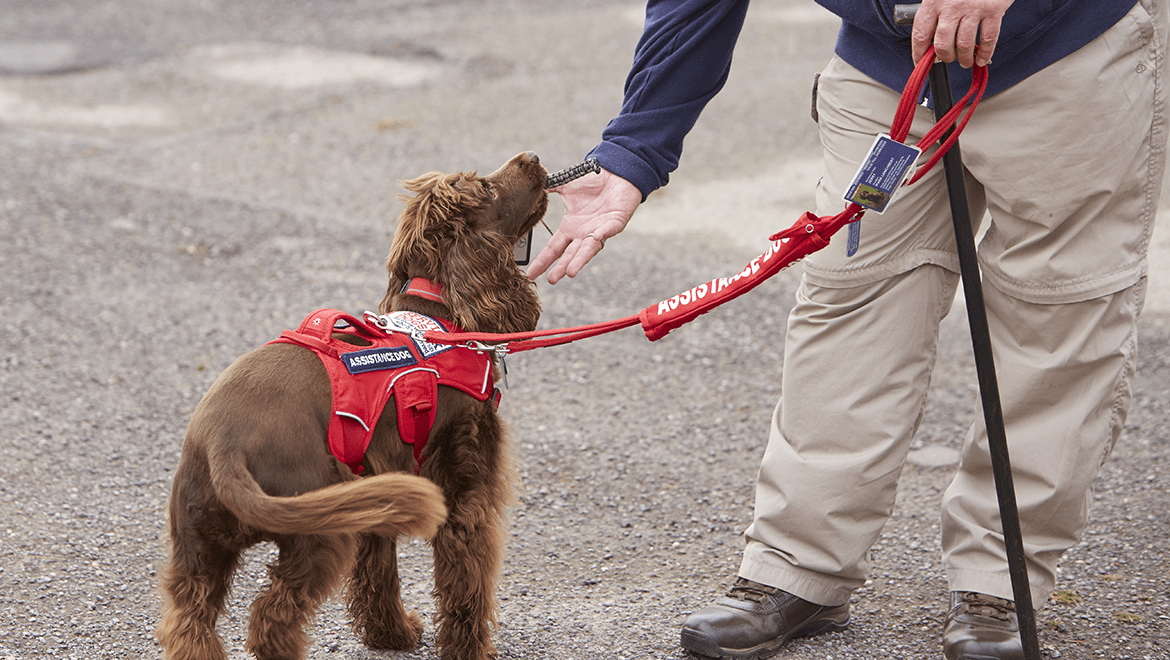 Mark Lanchbery, 60, suffered serious, life-changing injuries in 2008, while serving with the British Army. With the onset of PTSD, Mark began a downward spiral and he was struggling to cope.  
Soon after a visit to a Help the Heroes recovery centre, Mark met a friend with a PTSD Assistance Dog, leading him to investigate a support dog of his own. This is where Jerry came into his life.  
Jerry had no training in PTSD assistance when Mark first met him in 2015, so Mark applied for the Service Dogs UK (SDUK) programme, a charity which trains and provides PTSD Assistance Dogs for veterans of the Armed Forces and Emergency Services.  
After nine months of intensive training, Mark and Jerry became a fully qualified assistance dog team.  
The incredible bond between Mark and Jerry helps to create emotional and mental wellbeing for Mark, transforming his quality of life.  
Jerry is trained to wake Mark if he is having nightmares so he can control his anxiety attacks, take clothes to the washing machine, switch lights on and off, and fetch medication, waiting patiently by Marks side until he has taken it.  
Following training with Service Dogs UK, Mark and Jerry now mentor other service dogs and veteran pairings, helping to encourage and put them at ease, acting as a standard that every veteran wishes to achieve with their dog. Seeing how Jerry assists Mark helps them realise what can be achieved.  
Their exemplary partnership has made them a beacon of hope in the recovery of veterans who share similar experiences. 
The difference Jerry has made to Mark's life is remarkable. But the contribution that Jerry is making to the recovery of other veterans in a similar position to Mark is very special indeed, which makes him a worthy recipient of the PDSA Order of Merit.