PDSA Order of Merit - Horses
Find out about the the 12 horses that have been awarded the Order of Merit:
Metropolitan Police Horses – Grace and Keston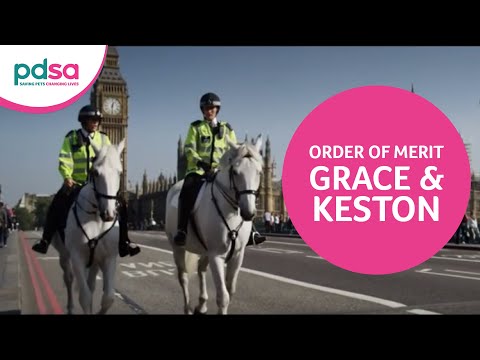 Video found at youtu.be/ADrY0na_btA
Grace and Keston joined the Metropolitan Police in 2004 and 2007 respectively, and were trained to perform a host of public order and specialist roles.
Horses used for such duties must have a unique set of skills. They must be unwavering when surrounded by other horses, able to cope with the most extreme nuisance and noise, fit and willing to react without question to their rides and, hardest of all, possess the ability to work independently of other horses.
Many horses have been tested and found to be unsuitable for such roles, but Grace and Keston were unique in that they performed impeccably, year in, year out, for over a decade.
After completing her training in 2004, Grace was posted to Lewisham Police Stables. She carried out various duties, including escorting the military, public order policing at football matches and other sporting events, crime patrols and public disorder incidents - including providing support during the London riots in 2011. Grace also carried out reassurance patrols and school visits and was a huge fan with children that she met.
She retired from regular patrols in 2019 but continues to be stabled at Imber Court, where she provides training and support to the younger horses.
Keston was posted to Hammersmith Stables following his training and took part in high profile public order policing, including the London Olympics, Notting Hill Carnival and numerous high profile football matches.
He was involved in the serious disorder at a Millwall versus Birmingham football match, where the Mounted Unit went in to support and protect foot duty officers. His rider received a commendation for his actions.
He was also present at the Million Mask March, where a number of horses and officers were seriously injured. Keston behaved honourably throughout the incident, despite the chaos, and was a rock to the other horses.
The two horses also worked together during the Gaza demonstrations in Kensington High Street in 2009, where barriers and other objects were thrown at the horses.
Keston sadly passed away in January 2019, shortly after being retired from regular patrols.
Grace and Keston's extraordinary work warrants the highest recognition, making them worthy recipients of the PDSA Order of Merit.
Metropolitan Police Horses – London Riots
On 6 August 2011, the ten horses and their mounted officers were deployed to Seven Sisters Police Station, where buildings and vehicles were alight. Their role was to protect fellow officers, dressed only in their normal patrol uniforms from an encroaching crowd, armed with firework-type rockets.
The horses were surrounded by burning buildings and falling debris, with missiles being launched at them and their officers – a situation far more extreme than any training could have prepared them for. The horses stood their ground, despite being struck on their chests, hindquarters and, on one occasion, the head. Their unwavering determination led to a visible retreat by the crowd which enabled the foot-duty officers to do their job.
Deats
From when he first strode out onto the London streets, Deats seemed born for the job and has always worked with enthusiasm and relish. Rode by mounted officer, Constable Nick Amos, Deats proved to be a brave and capable horse during the Tottenham riot.
Hector (Posthumous)
Hector's rider, Constable Matt Meadows remembers him as a handsome horse with a great personality that worked well with riders he could trust. Hector was present during the Tottenham riot, and with buildings burning and missiles flying, Hector stood firm. His memory lives on and he is a worthy recipient of the PDSA Order of Merit.
Boris
Constable Paul Copeland describes Boris as "as brave as they come, with a lovely calm nature and willingness to work." Boris is known for his perfect knowledge of every single route back to each police stable and is always eager to return for his hay.
Laurel
Laurel was still in training when she and her rider, Constable Lynne Frearson,were redeployed to the disorder on the streets of Tottenham. This was the first time she had experienced such violence and hostility but, leading from the front alongside her mentor and stable buddy, Boris, she proved just how brave she is.
Defender
Defender and his rider, Sgt Joel Gray, share a very special bond and when they attended the troubles on the streets of Tottenham, Defender helped Sgt Grey perform his duties and protect the public to the best of his ability. He is a trusted companion and a worth recipient of this award.
Intrepid
Intrepid is a popular and much-loved horse at the stables, and has a reputation for being courageous and friendly. At the time of the Tottenham riots he was ten and had six years of duty experience behind him. He serves alongside Constable John Pitt.
General
General is loved by officers and staff for his kind temperament and gentle manners. General's rider, Constable Ben Jones describes his valour and the sterling service he provided in protecting the public during the disturbances.
Judge
Constable Gary Smith (Retired) calls Judge the best horse he's ridden in the job, and described him as reliable and brave "to the point where I would have trouble stopping him from going forward, no matter how dire the situation."
Kensington (Posthumous)
On the night of the Tottenham disorder, 'Kenny' was actually a replacement horse for Constable James Foley. Shortly after the unit was deployed in the front line, a large firework rocket was fired directly at Kenny and passed through his legs under his belly. Had the rocket found its target, both horse and rider would have been badly injured. Kenny was astounding that night; he held his ground and barely flinched.
Livingstone
Livingstone was a regular and popular sight in South East London and attended most high-profile events across the capital, including the annual Notting Hill Carnival. Livingstone worked with now-retired Constable Jeff Cowling during the Tottenham riots, who said: "Livingstone is a gentle and trusting animal, full of honesty and great fun to ride."
The remarkable actions of Metropolitan Police horses that safeguarded life and property during the London riots made them worthy recipients of the inaugural presentation of the PDSA Order of Merit.
Find out more about our Animal Awards programme and how they honour the contributions animals make to society.
Find out more