Skye - PDSA Order of Merit
Border Collie Skye received the PDSA Order of Merit in March 2022 for her service as a Mountain Rescue Search Dog

.
The PDSA Order of Merit is known as the animals' OBE. It recognises animals that display outstanding devotion to their owner or wider society, above and beyond companionship.
At 14 and a half years old, Skye retired from her role after an incredible 11 years' service. She was believed to be the oldest working Search Dog in the UK. Watch her inspiring story: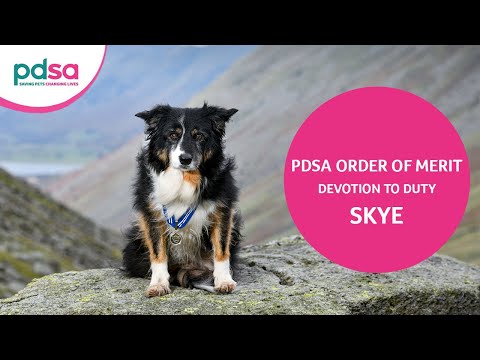 Video found at youtu.be/PBrdNSzsLQU
Skye's story
Skye was born in 2006 and served as a puppy trainee with Bowland Pennine Mountain Rescue Team (MRT). After qualifying as a Mountain Rescue Search Dog in 2009, she went on to serve with Duddon and Furness, Langdale and Ambleside, and finally, Kendal MRT, where she finished her career.
Skye and her handler, John Leadbetter, also attended searches outside their MRT areas in Lancashire, the Pennines, and Scotland. Skye joined around 200 search callouts during her 11-year career and completed her last search on 11 September 2020. 
Skye has searched day and night in all kinds of weather, even in the face of 70 to 80mph winds. She has worked in the highest Lake District Mountains, some of the remotest valleys, and Morecambe Bay's coastal expanse. 
Some of Skye's notable work includes:
In September 2012, a family were reported late on their return from a walk as weather conditions worsened. The Search Team assembled a strategy, which saw Skye and her handler John search a remote valley. Skye headed into the terrible weather conditions and searched for 20 minutes before finding the family. Skye had ended what could have been a long and complex search.
In November 2014, a family became disoriented on a mountain summit as darkness fell. The MRT searched the summit, and thankfully, one of the team members found the family. Skye supported one of the children as they descended the mountain. The light on Skye's harness and her gentle nature helped the child to remain calm.

In January 2018, Skye assisted in a 72-hour search for a missing lone walker on Scafell Pike. She helped clear and discounted vast areas in treacherous conditions, which thankfully resulted in the team finding the walker. Without her and the MRT's efforts, the outcome would have been very different.
Local Police also used Skye's skills to support semi-rural and urban searches, including searches for young people, the elderly, and those missing from care homes.
Skye has also provided valuable community outreach, acting as a Search Dogs ambassador. She has helped raise vital funds for the Search and Rescue Teams, met people at talks, and demonstrated her skills. She has also visited schools, youth groups, scout groups, and outdoor education centres and attended Women's Institute and Rotary Clubs' events.
Skye is a worthy recipient of the PDSA Order of Merit for her long and distinguished career of outstanding service to society.