Our Patron
PDSA has enjoyed Royal patronage since 1919. Currently we are very proud to have HRH Princess Alexandra, the Hon. Lady Ogilvy, KG, GCVO as our patron. Her patronage recognises the work we do for pets and their owners in the UK.
HRH Princess Alexandra, the Hon. Lady Ogilvy, KG, GCVO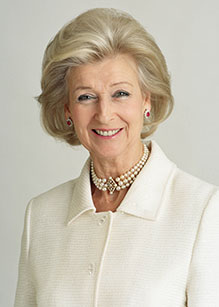 HRH Princess Alexandra has been PDSA's Patron since 1973, when she assumed the duty following the death of her mother, HRH Princess Marina, Duchess of Kent.
The Princess is Patron or President of numerous organisations, reflecting her wide-ranging interests. She was created a Dame Grand Cross of the Royal Victorian Order in 1960 and made a Lady of the Order of the Garter in 2003. Princess Alexandra married in 1963 and her husband, the Rt. Hon. Sir Angus Ogilvy, died in 2004.
During HRH Princess Alexandra's long association with PDSA, she has visited many PDSA Pet Hospitals, attended fundraising events, presented medals and awards, and has hosted receptions at St James's Palace.
What we do
We want a lifetime of wellbeing for every pet. Every day, vets in our 48 Pet Hospitals care for sick and injured pets - saving lives, and keeping pets happy and healthy.
About PDSA
Our Directors
Our directors make up our senior management team and bring their professional expertise and significant leadership experience to the charity.
Meet our Directors
Our Trustees
PDSA is governed by a Council (composed of Trustees) which approves all policies and major expenditure programmes within the charity.
Meet our Trustees