PDSA Enterprise Day
Why is PDSA so important?
At PDSA, we believe that every pet deserves to live a happy and healthy life. As the UK's leading vet charity, everyone working in our UK-wide network of Pet Hospitals, charity shops and offices work tirelessly to improve pets' lives, through prevention, education and treatment.
Every year our dedicated teams carry out over 1.8 million treatments.
What is an Enterprise Project?
Children are tasked with starting up their own 'company'. They follow a business-style timetable in order to design and make their own products, which they can sell to their friends and families or online to raise money for the charity. The idea is that they learn how to be entrepreneurs, a skill that may help them later in life when choosing which career path to follow.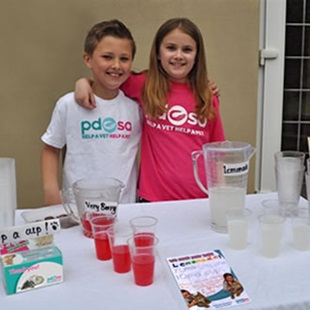 Why hold a PDSA Enterprise Day?
Ofsted have made it clear that careers learning is now receiving a much higher priority in their inspections, as 1 in 8 young people believe they are likely to become self-employed when they leave school.
The Government believe children should learn about enterprise from an early age when children are more open to the ideas and influences which will shape their futures.
By holding a PDSA Enterprise Day or taking part in a longer Enterprise Project, not only are you helping raise money for sick and injured pets, but the activities also help to develop children's social, economic, communication and inter-personal skills, while enhancing their interest in the STEAM subjects.
The project is designed to give children an insight into how the business world works using a hands-on approach that also promotes teamwork.
What will you get from us?
a PowerPoint presentation with videos and activity ideas
a school certificate of thanks.
We're also happy to support you with resources or ideas in any way we can. Just email us at education@pdsa.org.uk.
How do you donate the money you've raised?
Once you've held your event, please send a cheque made out to 'PDSA' to the following address:
PDSA Education Team
Head Office
Whitechapel Way
Priorslee
Telford
TF2 9PQ
Don't forget to send us photos of your projects in action! Email us at education@pdsa.org.uk or tag us on Facebook, Twitter or Instagram.
Download your free resources:
Fancy adopting PDSA as your charity of the year? Have other great fundraising ideas? Contact us for more information.