PDSA vets fight to save Coco the cat after she is injured by a fox
When Coco, a five-year-old housecat, was seriously injured by a fox in her secure back garden, her owner Michelle (55) brought her to our Brighton PDSA Pet Hospital.
Michelle, a dance teacher from Brighton, explained: "Coco is vulnerable as she was born completely deaf. We don't let her out on the streets but we have secured the garden so she can play outside without going far. We try to protect her as much as we can."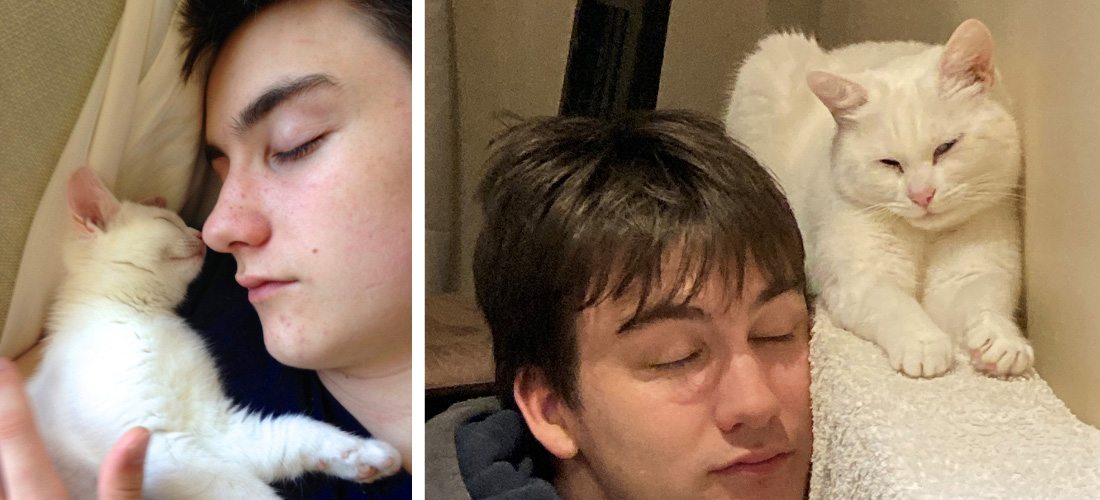 While Coco was out in the back garden, which is closed off with fence netting, Michelle's son (20) heard a strange noise which sounded like a nasty catfight. Alarmed, he ran to the back door to find out what was happening and scared away the animal that was attacking Coco, which he believed to be a fox. Sadly, he found Coco with a large injury on her leg which was bleeding profusely. 
Horrified, Michelle brought Coco to our Brighton PDSA Pet Hospital where vets examined her severe injuries.
Katerine Burfield, Veterinary Surgeon at Brighton Pet Hospital, explained: "On examination, we found large, deep wounds on Coco's front right leg. We could see right down to the bone and immediately knew this was a serious injury."
Coco was admitted straight away so she could be quickly started on fluids and given pain relief to treat the shock caused by her traumatic experience. Once the team were happy that she was stable, they anaesthetised her to take X-rays of the leg to assess the extent of the damage. While they found no fractures, the wound was very contaminated with dirt and had to be extensively cleaned and flushed.
Katerine continued: "We were very concerned about how Coco's wounds would heal – due to both their depth and the contamination of dirt, but also because the blood and nerve supply had been badly damaged."
Over the next few days, Coco's wound was managed with regular bandage changes and medications. Unfortunately, despite the team's best efforts, the wound became infected and it was clear that the blood supply had been damaged. The decision was made to amputate her leg to give her the best chance of survival.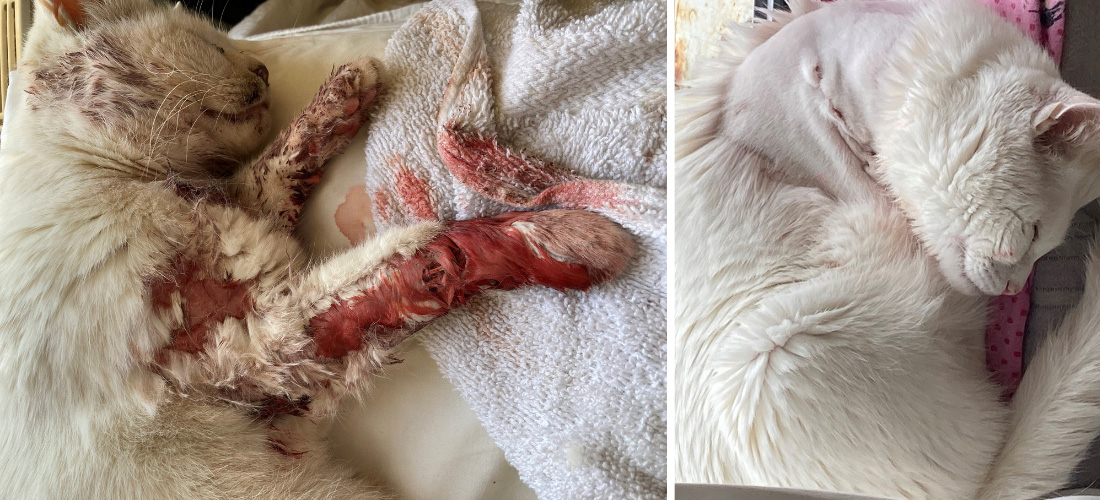 Michelle said: "We all felt extremely sad and shocked that this had happened to her. She is a massive part of our family, and we all do our best to protect her.
"The vets at PDSA were brilliant. When we collected Coco from the Pet Hospital, the team gave us a personalised sheet with easy-to-follow aftercare instructions, which was really helpful. When you're overcome with emotion, it's really difficult to take in all of the information from the vet. The team also let us borrow a crate to ensure Coco would get plenty of rest at home, which she wasn't a fan of, but it was definitely needed."
Coco was discharged with pain relief, antibiotics, and strict instructions to rest.
Michelle continued: "Now, thanks to PDSA, Coco is slowly adjusting to life on three legs. We're still making sure she gets lots of rest so that she can return to her old self soon. Her check-up appointments have gone very well, and our little family is so relieved that Coco is on the mend.
"Without PDSA, I don't know what I would have done. The team were so kind and efficient; they provided us with advice to help make Coco's recovery as easy as possible. I can't thank them enough!"
Total cost of Coco's treatment: £1,472.38

PDSA is the UK's leading veterinary charity. Through our 48 Pet Hospitals and Pet Care scheme, we save the lives of poorly pets who would otherwise be left untreated.
Every year, we helped over 388,000 pets. Without us, emergency cases like Coco's would be left untreated and many pets could lose their lives or be separated from families who love them.
We wouldn't be here for cats like Coco without your support. Please consider donating today.

Keep pets like Coco together with their owners
As many families like Coco's struggle to pay unexpected vet bills, they need our urgent support to provide their pets with life-saving treatment before it's too late
Will you help save Coco's life?
Every £1 donated will help us make sure sick and injured pets get the treatment they desperately need.
Donate to PDSA
First aid advice
Knowing what to do in an emergency can be the difference between life and death. Our vets' advice will help you deal with a range of common situations.
Find out more
Sign up to our newsletter
Want to read more stories like Ginge's, keep up with the latest pet wellbeing news, or perhaps you just want to support PDSA? Get your latest PDSA news with our Newsletter.
Sign up today