CupCake, a three-year-old cat, was severely injured after she was trapped in a rabbit snare.
When CupCake, fondly known as C.C., went missing from her home in Canterbury, her loving owner, Karen, was very concerned. When C.C. came home five days later, something was clearly wrong. She was very lethargic, and Karen could see something was caught on her body.
Karen immediately took C.C. to PDSA's out-of-hours provider. Once there, the vets made a horrific discovery – C.C. was caught in a rabbit snare (a thin wire noose used for wildlife management). When an animal steps into the trap, the noose tightens around them, trapping them in place.
Sadly, the snare had wrapped so tightly around her waist that it was hard to see it buried underneath her fur. As C.C. battled to free herself, the snare cut deeper into her, resulting in deep, painful wounds. It was a miracle C.C. could move, let alone struggle her way home to Karen.
Luckily, thanks to Karen's quick thinking and the emergency treatment PDSA funded, vets were able to save C.C.'s life. The snare was carefully removed from C.C.'s body, and her wounds were cleaned, dressed, and treated with antibiotics.
Karen said: "I don't bear to think about what would have happened if C.C. hadn't managed to get herself home. We don't know for sure, but it's possible she spent five whole days trapped in that snare, trying to wiggle herself free."
As part of her recovery, C.C. needed regular check-ups at Margate PDSA Pet Clinic to monitor her wounds and ensure they were clean and infection-free.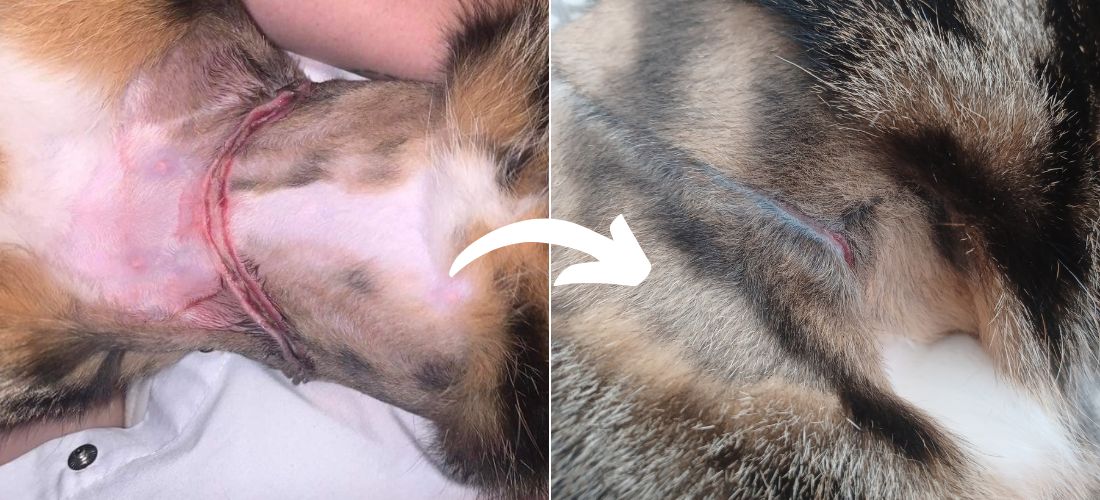 Karen added: "C.C.'s wounds are now fully healed, and she's back on her paws again. She has a big scar, and her fur is yet to grow back fully, but she's a real fighter. We can't thank PDSA enough for ensuring C.C. got the treatment she needed to make a full recovery."
As the UK's leading vet charity, we're extremely pleased that Wales has committed to a full ban on all snares. This is a great step for animal welfare in Wales due to the suffering these devices cause to wild, farmed, and companion animals.
PDSA supports a ban on the manufacture, sale, possession, and use of all snares – not just in Wales but across the whole of the UK – and is now looking towards England and Scotland to follow suit and join Wales with a complete ban on snares.
PDSA Veterinary Surgeon, Lynne James, said: "Unfortunately, we do see cases like C.C.'s across our 48 Pet Hospitals, and we firmly believe there needs to be a ban on snares. Snares are inhumane, catching a range of wild and domestic animals, including protected species and beloved family pets, often resulting in severe injury or death.
"Animals caught in snares naturally panic and struggle to break free. This causes the snare to cut deeper into the skin and flesh, seriously harming the animal. Unless found, animals suffer horrendously, possibly for many hours, before they die."

PDSA is the UK's leading veterinary charity. Through our 48 Pet Hospitals and Pet Care scheme, we save the lives of poorly pets who would otherwise be left untreated.
Every year, we helped over 388,000 pets. Without us, emergency cases like CupCake's would be left untreated and many pets could lose their lives or be separated from families who love them.
We wouldn't be here for cats like CupCake without your support. Please consider donating today.

Give pets like CupCake a fighting chance
Pets who have been there for us during the pandemic deserve somewhere to turn when they need life-saving treatment.
Your help will save pets like CupCake
Every £1 donated will help us make sure sick and injured pets get the treatment they desperately need.
Donate to PDSA
First aid advice
Knowing what to do in an emergency can be the difference between life and death. Our vets' advice will help you deal with a range of common situations.
Find out more
Sign up to our newsletter
Want to read more stories like CupCake's, keep up with the latest pet wellbeing news, or perhaps you just want to support PDSA? Get your latest PDSA news with our Newsletter.
Sign up today