Ellie needed emergency surgery after falling ill
Ellie was weeing blood. Her owner was worried and had no idea what could be wrong as Ellie became more reserved to hide her pain. At twelve-years-old, Ellie was struggling and needed help.
Without PDSA, Ellie could've suffered a fatal blockage.
Little Ellie might have been old, but the Chihuahua was still going strong. She loved spending time with her owner, Sharon, and being involved in anything going on at home.
So when Ellie started to become quiet and reserved, Sharon knew something was wrong. She wasn't herself. She was struggling to wee, and when she did it was filled with blood.
A worried Sharon called their local PDSA, who advised her to come in straight away. Despite the coronavirus pandemic, the PDSA staff were still working hard to provide emergency care to poorly pets in need.
Help couldn't come soon enough for poor Ellie.
Ellie needed urgent help
Ellie was seen straight away when they arrived at the PDSA Pet Hospital and taken for examinations and scans while a nervous Sharon waited to hear news of her beloved dog. Vets found little Ellie had bladder stones, causing her a lot of pain, which needed removing.
The tiny dog was rushed into surgery where the team worked hard to remove over 20 bladder stones. Left untreated and they could have caused a fatal blockage.
Due to her age and size, it was touch and go as to whether Ellie would pull through, but she was a fighter. Once she'd recovered from her surgery, she was sent home with a very relieved Sharon for plenty of TLC.
Little Ellie was on the mend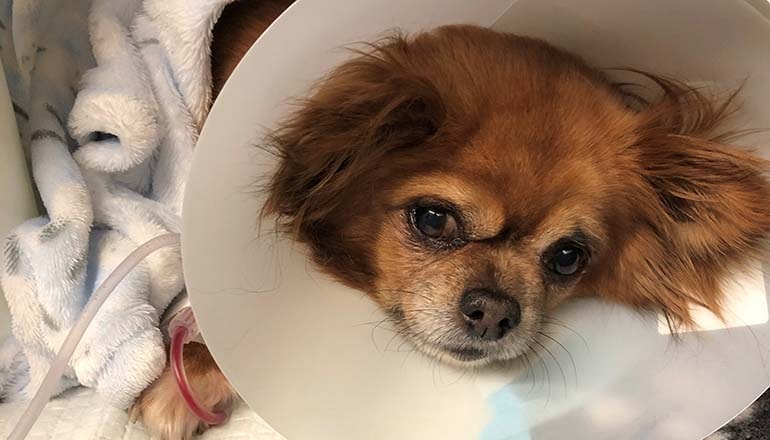 Thanks to the actions of the team at PDSA, Sharon got her best friend back. Her recovery has been slow, but Ellie is on the mend and gradually getting back to her old self.
Sharon said that without PDSA, little Ellie would have lost her life. Our vets are still working every day to save so many more pets like Ellie.

PDSA is the UK's leading veterinary charity. Through our 48 Pet Hospitals and Pet Care scheme, we save the lives of poorly pets who would otherwise be left untreated.
Every year, we helped over 388,000 pets. Without us, emergency cases like Ellie's would be left untreated and many pets could lose their lives or be separated from families who love them.
We wouldn't be here for dogs like Ellie without your support. Please consider donating today.

Give pets like Ellie a fighting chance
Pets who have been there for us during the pandemic deserve somewhere to turn when they need life-saving treatment.
Your help will save pets like Ellie
Every £1 donated will help us make sure sick and injured pets get the treatment they desperately need.
Donate now
Gut blockages in dogs
Dogs are curious creatures that explore the world with their mouths – unfortunately, this means that they sometimes swallow items that they shouldn't.
Find out more about gut blockages
A little treat
Looking to pamper your pet? Why not shop some of our vet-approved products! When you buy with us, you'll help pets like Ellie.
Shop now