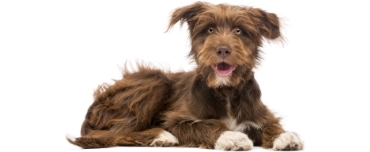 Overview
Dogs are curious creatures that explore the world with their mouths – unfortunately, this means that they sometimes swallow items that they shouldn't.
Having a gut blockage is a very serious and painful condition that can kill.
One of the first symptoms of a gut blockage is often vomiting.
If your dog develops a gut blockage, it's likely that they will need an emergency operation.
Contact your vet immediately if you think your dog has eaten something that they shouldn't have.
Symptoms
Common symptoms include:
A painful tummy – yelping or growling when you touch their tummy or sitting in a "prayer position" with their front legs on the floor and their bum in the air
Constipation (not being able to poo)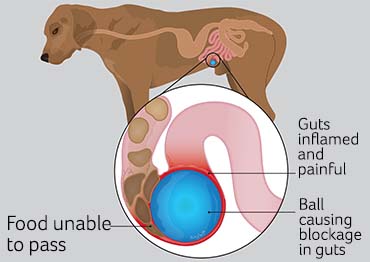 Causes of gut blockages
PDSA vets see over 2,700 pets a year that have eaten something they shouldn't have. Dogs swallow the strangest things including bones, corn on the cob, socks, underwear, children's toys, dummies / teats and bouncy balls!
Treatment
If you manage to get your dog to your vet very quickly after they have swallowed something that they shouldn't have, they may be able to give them an injection to make them sick. This does however, depend on what they've swallowed – your vet wont do so if it isn't safe. Never try to make your dog sick at home.
If your dog has developed a gut blockage, it's likely that your vet will admit them into the veterinary hospital for x-rays, a scan and possibly surgery. It's likely that your dog will need to be put on a fluid drip and given other medications such as pain relief and antibiotics. Your dog may need to stay in the veterinary hospital for a few days while they recover. If the item they have eaten is very large, sharp or spiky their guts may tear and cause an infection (peritonitis) - see image below.
When to contact your vet
Contact your vet immediately for an emergency appointment if your dog has swallowed something they shouldn't have or are showing any of the symptoms above. Never wait to see if a problem develops - your dog could become very ill, or even die without treatment.
You know your dog best. If they don't have the symptoms listed above but you are still concerned it's always best to contact your vet.
Is it safe to give bones to my dog?
No, never feed bones as treats. Bones can easily damage teeth, block guts and cause gut tears. If you want to give your dog something to chew, choose a safe, indestructible toy to keep them entertained.
Did you find this page useful?
Tell us more
Please note, our vets and nurses are unable to respond to questions via this form. If you are concerned about your pet's health, please contact your vet directly.
PetWise Pet Health Hub – brought to you thanks to support from players of People's Postcode Lottery 
Written by vets and vet nurses. This advice is for UK pets only.
Illustrations by Samantha Elmhurst