A-Z of fundraising ideas
Whether you're doing your own fundraiser, planning something with school or work, or are looking to do something simple, there are lots of ways you can fundraise to help pets in need.
Key: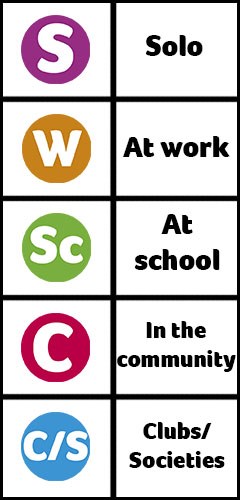 A l B l C l D l E l F l G l H l I l J l K l L l M l N l O l P l Q l R l S l T l U l V l W l X l Y l Z
- A -
Apple bobbing. Sounds silly, but bear with us! Apple bobbing is a fun activity to do at Halloween parties – why not ask for a small donation to bob for an apple?



Arts and crafts fair. Arts and crafts fairs are a great way to help local people promote their handmade items and sell them. If you ask for a small entry fee, you can donate this to PDSA!




Auction. Hold a charity auction with money raised going to PDSA! You could ask local businesses for item donations to auction off, or even do a silent auction at work for extra days off.






- B -
Bake sale. A bake sale is a great way to raise money for charity! You can go it alone and make your own cakes at home, do it at school or work and ask for donations, or even do one out in the local community!






Beard shaving. If you happen to have a particularly spectacular beard – or you feel like growing one – why not ask for sponsorship to shave it off? All the money will go to helping the nation's poorly pets!


Bingo night. A bingo night can be a great way to get together with friends and raise money for charity. Just ask for a small entry and put half towards prize money (unless you can get local business to donate prizes!) and donate the other half.


Birthdays. Instead of birthday presents, why not ask friends and family to donate money to PDSA? You could also set up a birthday fundraiser on Facebook and encourage your Facebook friends to donate.


Bring and buy sale. With bring and buy sales, it really is as easy as it sounds! People bring items that can be sold, then look around at what everyone else had brought along for them to buy! This can be pre-loved items or even cakes.





- C -
Car wash. Whether you want to do a community event and get customers to bring their car to you, or you just go around your neighbourhood asking to wash people's cars for a small donation, this is a great quick fundraiser.




Carol singing. At Christmas, why not go around your neighbours carol singing? You can ask them for a small donation to give to PDSA and help poorly pets over Christmas!





Casino night. A community casino night can be a fun way to raise money if you want to bring a taste of Vegas to your home!


Cheese and wine night. Hosting a cheese and wine night instead of going out is a great fundraiser – you get to get together with friends and donate the money you would have spent on a night out to PDSA!



Coffee morning. You could host a charity coffee morning anywhere! Ask for cake donations and sell cake and coffee, or just ask people who attend to leave a donation.





Comedy club. Organising a comedy club event is great to give local comedians a stage and raise money for a great cause.


Community BBQ. Whether you're in a club or society, or you just fancy getting together with friends, a community barbecue is a nice easy way to have fun and raise money.



Cycling. If you want to cycle for charity, you could either enter a challenge event or just set yourself a route and ask for sponsorship. You can even get friends involved and cycling with you!



- D -
Dangerous dinner. Gather friends, family and people in your community for a dinner like no other! The idea is that they pay for a three course meal, but won't know what that meal is before the night itself!


Dinner party. Dinner parties are a fun and easy way to raise money for charity. Have a great evening with friends and simply ask them for a donation!


Dog show. If you're a dog lover, why not host a dog show? It's the perfect excuse to gather lots of stalls and local businesses together (and pet dogs!) while raising money and a bit of awareness for PDSA.


Dress-down day. Strict dress-code at work? A dress-down day is ideal for raising money quickly and easily (and getting to wear what you like to work for a day).


Duck race. If you have somewhere you can do this safely, a local duck race can help raise money for PDSA! Remember to number your ducks and make sure you collect them all from where you do your race afterwards!


- E -
Easter egg hunt. Easter egg hunts are great fun for families and even better if you donate the entry fee to charity!



Egg and spoon race. Whether it's as part of an activity day, or a standalone event, an egg and spoon race is both fun and a simple way of raising money for charity.



- F -
Fancy dress. Organising a fancy dress day at school or work is a chance for fun, silliness and raising money for charity. You could even make the theme animal related!




Fete. Planning a local fete might seem like a big task, but you might find lots of local businesses want to get involved. People can even bring pre-loved items and sell those! All entry money raised can go to helping PDSA.




Football tournament. Think you could be the next Ronaldo? Or maybe you just really love having a kick about. Either way, a five aside football tournament can be a lot of fun and a great way to make some money for charity from happy spectators and sponsors!





Fun run. If you're not quite ready for a marathon, a fun run can be a great way to get the whole community involved in running without feeling the pressure! You can either ask for participants to raise sponsorship money or pay a small fee to enter.




- G -
Give it up. If you want a simple fundraiser you can do yourself, why not give something up for a month? Maybe you love chocolate, or can't get enough crisps – challenge yourself to give up something you love and raise money for the nation's pets!


Guess the… These games are great fun, whether you're asking people to guess the name of a teddy bear, the number of sweets in a jar or the weight of a hamper. They get to win a great prize if they're right and you can donate the cost to enter to charity.






- H -
Hairdressing. Whether you're a trained hairdresser, or just have a talent you love to share, why not offer to do your friends' hair for a small donation?



Head shave. Got long locks and been considering a dramatic new 'do? A head shave could be the ideal solution! Get friends and family to sponsor you to cute your hair or shave it all off. You can even donate your hair to another charity.


- I -
Ice cream tasting. Sometimes, you need to turn something fun that you really want to do into a charity event. Because then you can do it more! Having an ice cream tasting event is a great excuse to eat ice cream and raise money for charity. It's win win!


International evening. Hosting an international evening is a great opportunity to learn more about a different culture (or teach others about one you love!). Ask for a small donation to PDSA from your guests.


- J -
Jazz night. If you love jazz – and know other people who do – holding a jazz night is a good community event with the advantage of raising money for charity. You could ask performers to make a free appearance to save on extra costs – after all, it is all for a good cause!


Jewellery making. If jewellery making is a secret talent of yours, or you want to learn how, why not turn your hobby into a charity fundraiser? Sell your creations and give your profits to a worthy cause.


- K -
Karaoke. We know karaoke nights aren't for everyone, but if you're a secret shower singer this is the ideal opportunity to show the world your singing talents. If you wanted to go one better, you could even host an open mic night.


- L -
Lawn mowing. If you want a fundraiser you can do on your own, why not offer to mow the neighbours' lawns for a small donation? They'll be thankful that someone else is doing the task and you'll get to raise money for charity.


Lottery. Why not run a lottery at work or with friends? Half the money made can be for prize money and the other half can be donated. Alternatively, you could sign up to PDSA's own weekly lottery!




- M -
Magic show. Everyone loves a magic show (well, almost everyone!). It's a great event for all ages whether you're an amateur magician or a total pro. Donate everyone's entry fees to charity and have a great time!


Murder mystery evening. This is a great one to do with friends and you can even host it from the comfort of your own home! Have fun and ask for a small donation from attendees.


- N -
Name the… These games are fun and super easy! Just pre-select the name then put this with other names. Get people to select a name and pay a small donation. The winner gets to keep what they've named!






Non-uniform day. Who not hold a non-uniform day at school? Get everyone to come in in their own clothes and give a small donation to charity. Nice and easy!


- O -
Obstacle course. Not ready for tough mudder? Why not have a go at setting up your own obstacle course? You can either raise money by charging a small entry fee or get participants to collect sponsorship. Always make sure your course is safe before letting people loose on it!


Office fundraising. There are lots of ways you can fundraise in the office (a lot of which are listed here!). From bake sales and sweepstakes to fancy dress days. Get the whole office involved!


- P -
Pancake Day. Pancake Day is, arguably, one of the best days of the year. Why not make it even better by turning it into a fundraiser? Get flipping and sell your delicious pancakes! Alternatively, you could have a flipping competition and get a small donation for entry!



Pantomime. Know a lot of budding actors and actresses? Or maybe you just want to have a bit of fun and put on a show. Organise a pantomime and donate ticket profits to helping some of the nation's most vulnerable pets.




Party. Parties are great fun, whether they're with work, friends or school. You can have a party at any time of the year! Charge a small entry fee and donate profits from the evening to charity.





- Q -
Quiz night. Test your knowledge (and everyone else's!) with a quiz night. Pull together a variety of questions and charge a small entry fee per person in each team. Then, split the money so half can be won and the other half donated!



- R -
Raffle. A raffle is a great way to get lots of people involved in a nice and easy fundraiser. You can ask local businesses for prize donations so you can donate entry fee to charity. You could even enter PDSA's own raffle!



- S -
Scavenger hunt. Get friends and the community together to take part in a scavenger hunt! Whoever can collect all the items on a list first, wins! Charge a small entry fee for each team and donate the money.


Sponsored silence. This is another easy fundraiser that you can do alone, or get other people involved! Have a whiteboard at the ready and do a sponsored silence for a day at work or school!




Swear box. Got a bit of a potty mouth? Having a swear box at home or work is a great way to train that tongue and raise money! Set a price for a swearword (or maybe a different price depending on the word!) and make sure everyone sticks to it.



Sweepstakes. Whether you're doing sweepstakes for the name of the next royal baby, or which characters will survive in your favourite TV show, this is another easy fundraiser. Donate half the money to charity and the other half can be the winnings!




- T -
Talent show. Talent shows are lots of fun and can certainly reveal some surprising talents in your community! Donate profits from the ticket fees to charity and prepare to be entertained!




Teddy bear's picnic. This is a great one for kids! Get each person coming to bring along some food from a list, and charge a small entry fee to be donated to charity. Kids will love sitting down together with their favourite teddies!



Three-legged race. Yes, it's daft. Yes, it's fun to watch. Yes, you'll need a first aider on standby! Three-legged races are great for a bit of silly fun and super simple to arrange. Get entrants to donate a small amount and watch them go!





Tug-of-war. You don't necessarily need a stream or brook to have a game of tug-of-war – a paddling pool will do nicely! Get lots of teams together and have them battle it out. You can ask for a small entry fee from participants and/or spectators to donate to charity.


- U -
University challenge. Hosting your own university challenge is a good opportunity to let teams test their knowledge, and show you're the best university (or school!) in the area. Battle it out against your rivals and raise lots of money for charity.




- V -
Variety show. Host a local variety show and give the people in your community the chance to shine. Remember to donate profits from tickets to charity!



- W -
Walk. A sponsored walk – no matter what length – is a great way to raise some money by getting sponsored. You could go it alone or get your friends involved – it's up to you. Make your route a personal challenge.






Window cleaning. This is a nice and easy fundraiser you can do on your own. Get your sponges and squeegee at the ready and see who wants their windows cleaning! Ask for a small donation from them and remember to be safe.


- X -
X-box competition. Mad about gaming? This is the fundraiser for you! Why not host an x-box tournament? Ask for a small entry donation from participants – the winner will get ultimate bragging rights and confirmation they're the best at that game!


- Y -
Yoga classes. If you're a yoga teacher, why not use your talents to raise money for charity? You could run a one-off community class and donate the money made from entry fees. It's also a great way to introduce people to your amazing classes!



- Z -
Zip wire. Scared of heights? Just a thrill seeker? Get a group together to take on a zip wire challenge! Get everyone to raise sponsorship money for charity and have a lot of fun on the zip wire itself. Don't forget to film it and share it with your sponsors after!



Zumba class. If you're a Zumba teacher or know someone who is, holding a one-off charity Zumba class is a great way to fundraise and introduce some new people to your classes who might not have known about them.



Don't forget to register your event with our team - we'd love to know what you're up to.
Register your event
Need a helping hand getting your event off the ground? Get our free guide.
Get the guide
An important part of planning, is knowing how to pay in the money you've raised.
How to pay in