The PAW Report
The PDSA Animal Wellbeing (PAW) Report is the UK's largest annual assessment of pet wellbeing.
The 2020 Report marks a milestone 10 years of tracking trends and providing insight into animal welfare issues, estimating pet population numbers and understanding how people care for their pets.
Each year PDSA works with leading market research company, YouGov, to survey nationally representative samples of pet dog, cat and rabbits owners.
The Animal Welfare Acts introduced a 'duty of care' for all pet owners to meet their pet's 5 Welfare Needs. When the PAW Report launched in 2011 it became the first overarching means of identifying, assessing and monitoring the wellbeing of companion animals.
Over the years, this unique research has found that millions of UK pets are not having their health and welfare needs met. We have tracked improvements such as better diets for rabbits and greater provision of preventive care, but the health and wellbeing of the pet population could still be improved through increasing owner understanding of pet needs.
PDSA's aim is to identify the welfare issues that need addressing and help tackle them.
2020 focus
The initial dataset had been collected from both a representative sample of UK pet owners and the veterinary profession in February. However, it quickly became clear that the COVID-19 pandemic and UK-wide lockdown were likely to have an impact on the wellbeing of our nation's pets.
The PAW Report methodology provided a robust, reputable and validated surveillance model through which to monitor these impacts and compare them against trends across the past decade. A second survey of pet owners was conducted in August 2020 predominantly focused on areas thought to be most affected by restrictions: pet population, pet acquisition, diet, preventive healthcare and behaviour.
Our pre and post-lockdown research findings are presented within the context of the last 9 years of PAW Report findings and alongside the reported concerns of the veterinary profession. This allows us to provide a contextualised evidence-base for ongoing work to maintain and improve the wellbeing of pets in the UK as we continue to navigate the COVID-19 pandemic.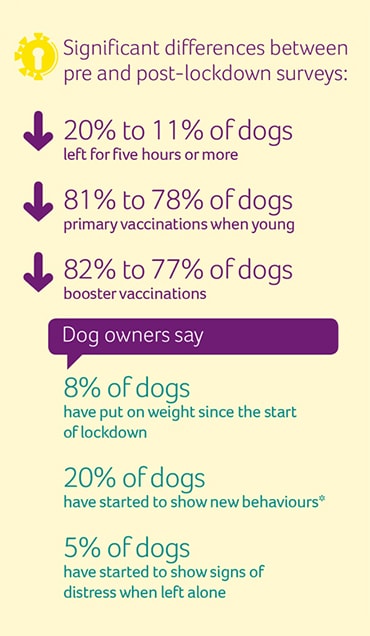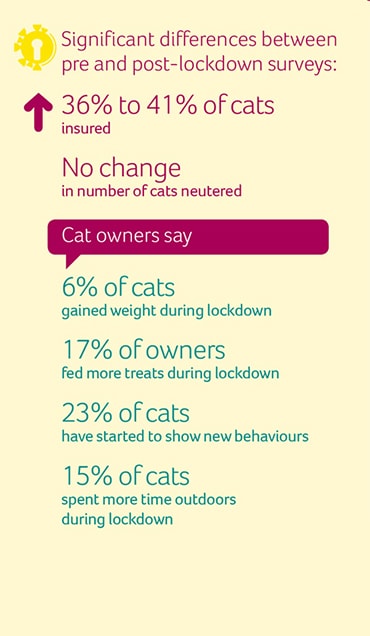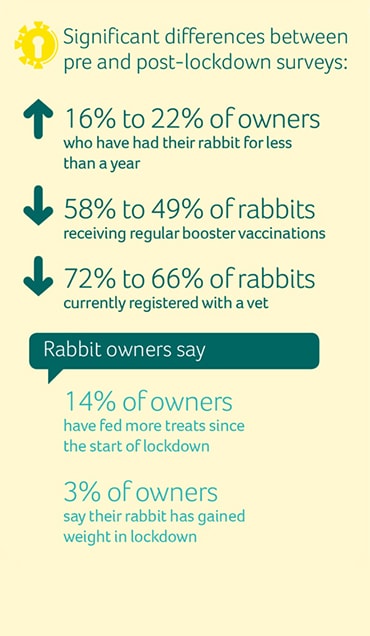 Why does PDSA produce the PAW Report?
The purpose of the PAW Report is to provide an in-depth analysis of current welfare issues and overall pet wellbeing in the UK. This provides an evidence-base, and impact measure, for any activities or initiatives which tackle these issues, both for us and for those we work with from the veterinary profession and across the animal welfare sector, to local, devolved and central Government.
We also produce mini-reports and regional summaries so you can find the important facts quickly, but please get in touch if we can help with anything specific.
The PAW Report's 10 years of monitoring and tracking trends in pet welfare in the UK has now been peer-reviewed and published in the Vet Record. 'Driving evidence‐based improvements for the UK's 'Stressed. Lonely. Overweight. Bored. Aggressive. Misunderstood…but loved' companion animals' (Wensley et al, 2021) is available via open access.
Have your say!
Are your pet's having their 5 Welfare Needs met? Tell us about how you care for your pet in our survey!
A nation of animal lovers
So many problems seen by animal welfare organisations across the UK are entirely preventable. Despite being a nation of animal lovers, who love their pets and treat them as valued family members, the PAW Report shows that many owners misunderstand their pet's welfare needs which can impact on their long term health and wellbeing.
Working with pet owners, the veterinary profession and fellow animal welfare organisations, together we can make a better life for all our pets.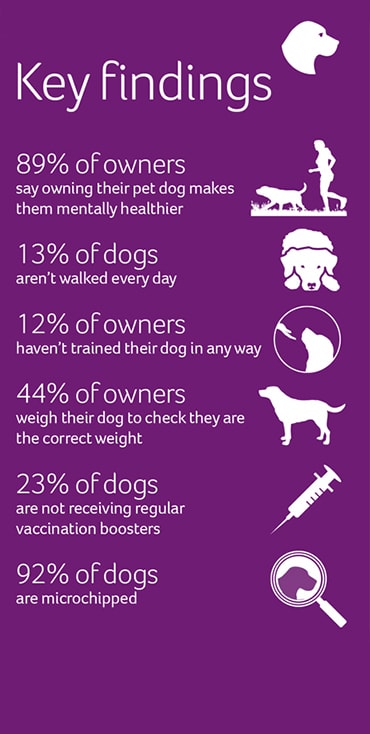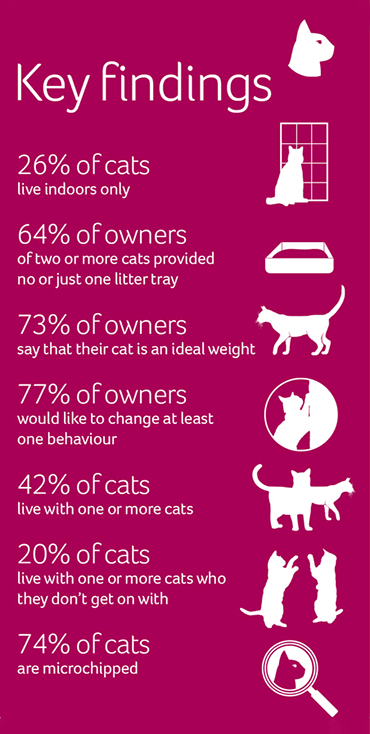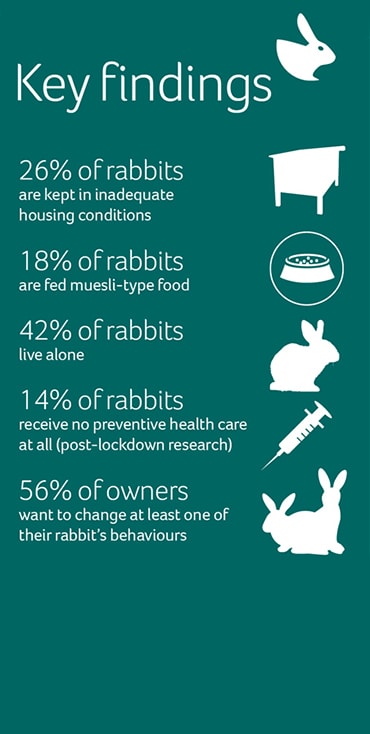 The online launch for the PAW 2020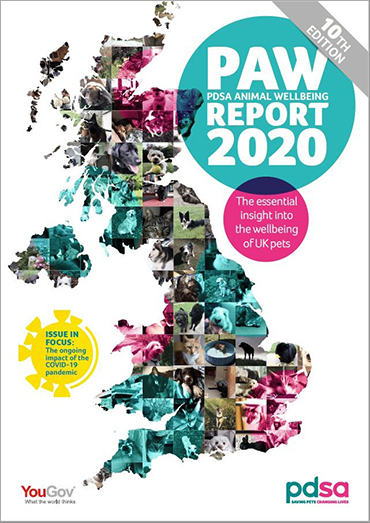 The PAW Report, the largest and most comprehensive report into the wellbeing of the UK's pet dogs, cats and rabbits, has reached a milestone year, marking a decade of monitoring and analysing crucial trends in pet welfare.
Our expert panel were joined for a live Q & A as they reviewed and discussed these trends, with a focus on obesity, preventive healthcare, pet behaviour and pre-acquisition preparation, as well as highlighting early indicators of potential impacts of the first national Covid-19 lockdown, and actions needed from across the veterinary professions and animal welfare sector to drive positive change.
Chaired by Vicki Betton, PAW Report project lead at PDSA, the panel featured keynote speakers from across the profession:
Richard Hooker, PDSA Director of Veterinary Services
Daniella Dos Santos, BVA Senior Vice President
Jo Oakden, BVNA President
Chris Laurence, Chair of the Canine and Feline Sector Group (CFSG)
Sarah Heath, RCVS and European Veterinary Specialist in Behavioural Medicine
Alex German, Professor of Small Animal Medicine, University of Liverpool
Sean Wensley, PDSA Senior Vet (Communication & Education)
Laura Piggott, Associate Director, YouGov.