Police Dog awarded animals' George Cross
26 July 2019
Hero dog Bacca receives PDSA Gold Medal for life-saving actions
A courageous Police Dog, who was brutally slashed eight times while protecting his handler from an armed assailant, has been awarded a Medal for bravery from leading vet charity, PDSA.
Police Dog (PD) Bacca, who is now retired from West Mercia Police, sustained multiple injuries from the attacker, who was armed with a 10 inch knife. His handler, retired Police Constable (PC) Mike Davey, was also injured in the incident.
PD Bacca was presented with his PDSA Gold Medal – the animal equivalent of the George Cross – by leading vet charity at a ceremony at Birmingham Repertory Theatre today (26 July 2019).
Commenting on the awards, PDSA Director of Veterinary Services, Richard Hooker, said "Bacca's unstinting devotion to duty and determination to protect his handler, despite sustaining serious injures, makes him a worthy recipient of the PDSA Gold Medal.
"The PDSA Animal Awards programme seeks to raise the status of animals in society and honour the incredible contribution they make to our lives. Bacca's heroics are an extraordinary example of this and his bravery deserves the highest possible recognition.
"We are also thrilled that the Animal Welfare (Service Animals) Act, widely known as Finns Law, after a fellow PDSA Gold Medal recipient, recently came into force. This gives greater protection to service animals like Bacca, who are deliberately attacked or injured in the line of duty."
Bacca's story
In the early hours of Wednesday 6 June 2018, West Mercia Police received reports of a man smashing shop windows and acting in a violent, unpredictable manner, in Bromyard High Street.
PC Mike Davey and PD Bacca arrived on the scene minutes later, along with a first response unit.
On seeing the Police arrive, the assailant began wielding a large knife. Officers noted that he appeared extremely distressed. He refused to engage with PC Davey and it was the Officer's opinion that the man was intent on inflicting serious harm to anyone in his path. Though late at night, there were several members of the public close by.
The man then started to hack at his neck with the knife, in a clear attempt to take his own life. PC Davey released PD Bacca, in an attempt to disarm him. He immediately attacked PD Bacca with the knife, slashing and hacking at his head. Officers used Parva spray to incapacitate the suspect but it had no effect and he continued his attack.
A violent struggle ensued in which both PC Davey and PD Bacca received several knife wounds.
Following the skirmish, the man managed to break free and run down a nearby alleyway. PC Davey and PD Bacca gave chase and PD Bacca wrestled him to the ground, incurring further stab wounds in the process. Again, the man freed himself but PD Bacca caught him and brought him to the ground again. PD Bacca detained him until PC Davey successfully disarmed and handcuffed him.
PD Bacca sustained a number of wounds to his head and neck, which required emergency veterinary treatment including stitches following the incident.  PC Davey also required medical attention to a deep wound on his hand.
Without question, the courageous and professional actions of PD Bacca make him a worthy recipient of the PDSA Gold Medal.
Award reaction
Discussing the PDSA Gold Medal presentation, Mike Davey, said:  "Seeing Bacca recognised with such a prestigious award is truly fantastic. A year on from the incident and I am still in awe of his actions that night. He was attacked, repeatedly, and seriously injured, yet he continued to do his job.  To me it highlights what a truly remarkable Police Dog he was throughout his career.
"He was there when I needed him – as he was for the eight years we worked together, and still is now in retirement – and I have no doubt that he saved my life that night."
Geoff Wessell, Assistant Chief Constable of West Mercia Police, said: "I am honoured to attend this event alongside PC Davey and PD Bacca to witness them receiving such a prestigious award. It's something the entire Dog Section within West Mercia Police is intensely proud of. Congratulations to PD Bacca for being awarded the PDSA Gold Medal – an award he so richly deserves. Our police dogs, although trained extensively to deal with all sorts of incidents, put their own safety on the line daily to protect the entire community. 
"Bacca, although extensively injured in the incident, returned to the scene to deal with the perpetrator and protect his handler from further injury. My thanks also go to the PDSA; the charity does so much to care for the sick and injured animals of people who struggle with the cost of veterinary bills, and their work in recognising the heroic actions of serving animals through its Animal Awards Programme is truly inspirational. 
"With organisations such as this and the recent implementation of Finn's Law, our serving animals are receiving more and more recognition for the sacrifice they make in protecting all of us. It is only right that we too protect these animals by bringing those to justice who can cause significant harm to them. On behalf of the force, thank you PDSA and thank you to Bacca and Mike."
Instituted in 2002, the PDSA Gold Medal is awarded to civilian animals for life-saving bravery and exceptional devotion to duty. The Medal is now widely recognised as the animals' George Cross. Bacca will become the 29th recipient of the PDSA Gold Medal, all of whom have been dogs.  
PDSA's Animal Awards Programme was instituted in 1943 by the charity's founder, Maria Dickin. She believed that, if animals were recognised for their heroic actions, it would help to raise their status in society, ensuring they are better treated. The charity continues this legacy today with the world's leading Animal Awards Programme.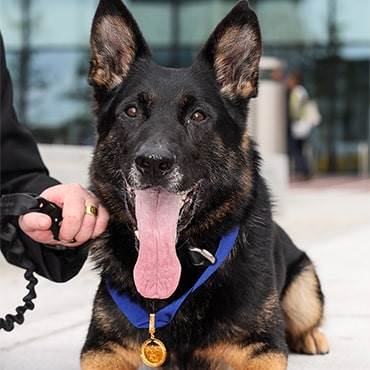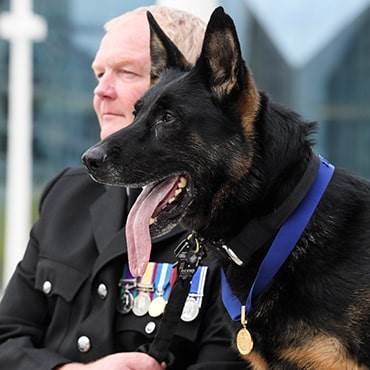 You can watch PD Bacca's full story and learn all about his incredibly heroism and bravery.
Watch now