Luna's luck almost ran out after lily poisoning
Luna is a curious kitten, but her luck almost ran out. She ate pollen from some lilies given to her owner and began to feel poorly as her kidneys started to fail.
Luna's owner came home to find the tiny kitten with pollen around her mouth. She was worried that her pet may lose her life.
Without us, Luna wouldn't have survived.
Luna, a Ragamuffin kitten, was just four months old. She was curious and determined to explore everything, much to the entertainment of her owner, Emily.
When Emily received a bouquet of flowers for her birthday, she knew the lilies in it could be toxic to Luna so put them high up, out of paw's reach. Or so she thought.
Emily came home from work one day to find Luna with pollen around her mouth. The inquisitive kitten had found her way to where Emily had put them. A worried Emily called the PDSA – money was tight and she didn't know if she could afford to take Luna to the vet, so she needed our help.
Luna needed PDSA's help to survive
Emily was told to bring Luna straight in – she needed help, and fast. After vets ran some blood tests, their worst fears were confirmed. Luna had eaten enough pollen to cause potential kidney failure.
It was now a race against time to save Luna's life. She needed round-the-clock care and intensive support to remove the toxins. It was an anxious two days for Emily, who waited to hear from the hospital to find out how Luna was.
Luna was finally reunited with Emily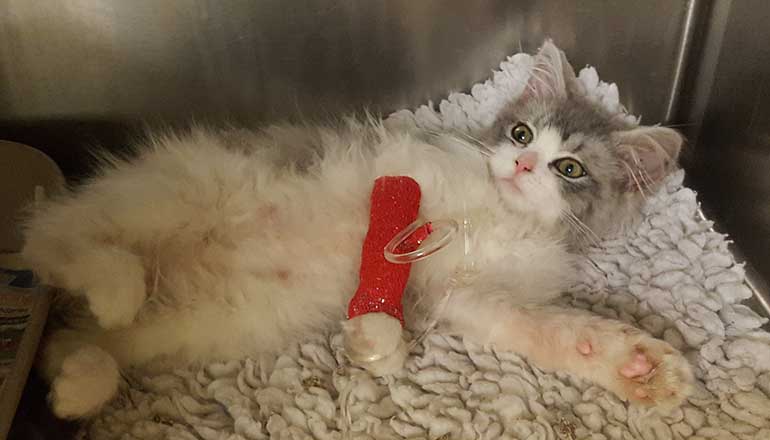 Thanks to the amazing support of the veterinary team, Luna was able to go home after a few days once they were confident she was stable.
She's now home with Emily and made a full recovery, but some pets aren't so lucky. Emily and Luna would have had nowhere to turn without PDSA.

PDSA is the UK's leading veterinary charity. Through our 48 Pet Hospitals and Pet Care scheme, we save the lives of poorly pets who would otherwise be left untreated.
Every year, we helped over 388,000 pets. Without us, emergency cases like Luna's would be left untreated and many pets could lose their lives or be separated from families who love them.
We wouldn't be here for cats like Luna without your support. Please consider donating today.

Help pets like Luna
We are doing everything we can to keep our vet services running during this difficult time. But we need your help - now more than ever before.
Your help will save pets like Luna
Every £1 donated will help us make sure poorly pets get the life-saving treatment they need.
Donate now
What to do if you cat eats something poisonous
Our vets have put together vital first aid advice for pets that have come in contact with poisonous substances like Luna did.
Visit the Hub
Sign up to our newsletter
Want to read more stories like Luna's, keep up with the latest pet wellbeing news, or perhaps you just want to support PDSA? Get your latest PDSA news with our Newsletter.
Sign up today
A little treat
Looking to pamper your pet? Why not shop some of our vet-approved products! When you buy with us, you'll help pets like Luna.
Shop now