Pet Fit Club
PDSA is launching a nationwide search to find the UK's fattest pets for this year's Pet Fit Club competition.
Since 2005 Pet Fit Club has helped 143 pets – 89 dogs, 44 cats, 8 rabbits and 2 rats – lose 513kg (80st 12lb)!
Up to 15 overweight pets (dogs, cats, rabbits and rats) from across the UK will be chosen to participate in Pet Fit Club. Selected pets are placed on a six-month diet and exercise programme, individually tailored to their needs and overseen by vets and vet nurses at their local PDSA Pet Hospital.
Participants receive free diet pet food for the duration of the competition. The overall Pet Fit Club Champ, crowned at the end of 2020, will win a year's free pet food and a pet friendly holiday.
Entries are now closed - but don't worry, owners can always register their interest for the next Pet Fit Club.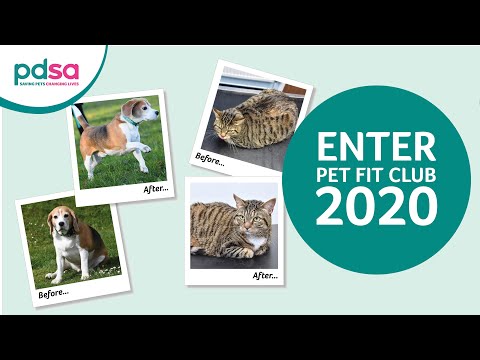 Video found at youtu.be/x-dx7a849_8