Arthur dragged himself home with an illegal animal trap clamped to his leg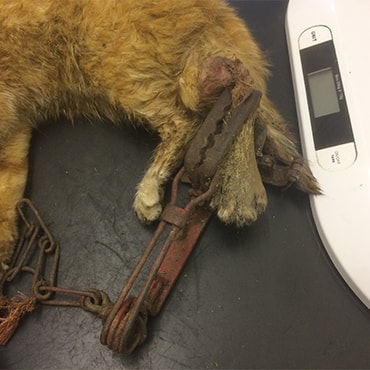 Pet Survivor Case File
My Breed: British Shorthair Cat
Date of incident: 18 June 2016
My age at the time: 1 year, 11 months
Where I live: Bures, Suffolk
I was treated by: Ardmore Vets, Sudbury
My humans are: The Harris family
Arthur had been missing for a few days; his owners were concerned so they were relieved when they heard him meowing from the bottom of the stairs one morning. But their relief quickly turned to horror: Arthur had a rusty old animal trap clamped to his mangled back leg.
Poor Arthur was in a terrible state and from the condition of the wound, the vet estimated the accident happened on the first night he'd gone missing. How Arthur had managed to drag himself home was a mystery – the trap was very heavy. His teeth and claws were also badly damaged, it looked like he'd chewed through the string that had secured the trap. He was so weak the vet worried that he wouldn't survive. But he'd battled to get home to safety that they knew they had to give him a chance.
The vets removed the trap, but were unable to save Arthur's leg so had no choice but to amputate. Following the operation, Arthur's recovery was incredible. He was soon dashing about on three legs, and is now enjoying his outdoor adventures again – it hasn't slowed him down at all!
Arthur's amazing story saw him reach the finals of PDSA Pet Survivor 2016.
Watch Arthur's story:
Check out the pets who have won previous Pet Survivors and experience their incredible stories.
Meet the survivors
PDSA's annual Pet Survivor Awards feature pets who've beaten all the odds thanks to the skill of vet teams, the devotion of their owners and their own incredible survival spirit.
Read more
Would you know what to do if something like this happened to your pet? Sign up for our free Pet first Aid guide now.
Get our free first aid guide