Darcy suffered horrific injuries after falling down a 60ft dam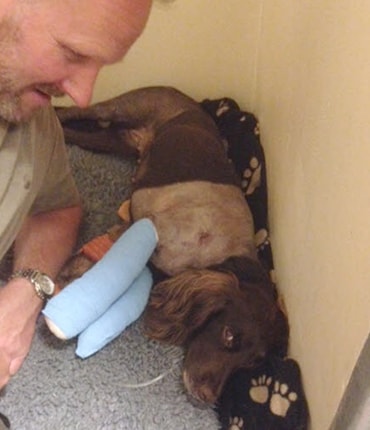 Pet Survivor Case File
My breed: Working Cocker Spaniel
Date of incident: 8 July 2016
My age at the time: 2 years, 7 months
Where I live: Kellas, near Dundee
I was treated by: Conanvet in Dingwall and Parkside Veterinary Group in Dundee
My Humans are: The Lyon Family
Darcy was walking at Glascarnoch Dam in the Highlands when suddenly she jumped over a five-foot wall, only to find a 60ft concrete slipway on the other side. Her distraught owners expected the worst, but incredibly she was alive although badly injured. It was a remote location so it took a while for the fire brigade to arrive. Darcy was becoming hypothermic and was slipping in and out of consciousness, but she still managed to nuzzle the fireman who rescued her.
She was rushed to the nearest vet in Conon Bridge where emergency surgery removed her spleen to stop the internal bleeding. But her life still hung in the balance and the next day she was transferred to Parkside Vets in Dundee for specialist surgery. She had a long list of injuries – air was leaking into her chest cavity, her liver was damaged, her pelvis was fractured, her front leg was fractured and dislocated, but worst was her back leg, which was an open wound with her femur shattered into five pieces. It was a miracle she was alive at all.
Vets were worried they might not be able to save her back leg, but after complex surgery it was pinned in place to heal. Darcy stayed at the vets for nine days, she had two more operations and then months of rest and rehab at home. It wasn't certain if Darcy would ever properly walk again, but her owners patiently nursed her and arranged hydrotherapy, physiotherapy and acupuncture. But Darcy's tail was always wagging – she is a small dog with immense determination and never once gave up. Incredibly, Darcy went on to make a full recovery, and now loves her long walks again.
Darcy was crowned PDSA Pet Survivor 2016 in tribute to her courage, her owners' devotion, and all those who assisted with her rescue and recovery.
Watch Darcy's story:
Check out the pets who have won previous Pet Survivors and experience their incredible stories.
Meet the survivors
PDSA's annual Pet Survivor Awards feature pets who've beaten all the odds thanks to the skill of vet teams, the devotion of their owners and their own incredible survival spirit.
Read more
Would you know what to do if something like this happened to your pet? Sign up for our free Pet first Aid guide now.
Get our free first aid guide