Dylan was emaciated and near to death when abandoned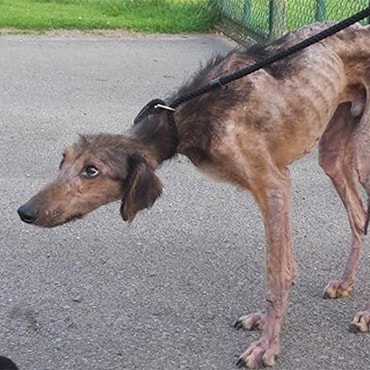 Pet Survivor Case File:
My Breed: Saluki / Lurcher Cross
Date of incident: Dylan was found in July 2014 having suffered prolonged mistreatment
My age at time of injury: 1 year
Where I live: Gloucester
I was treated by: Hounds First Rescue
My human is: Jamie Birch
When poor Dylan was found abandoned and alone in a secluded country lane in South Wales, he was in a terrible state. He was starving and suffering the effects of horrendous, long-term neglect – severely malnourished, covered in painful sores and mange.
Dylan was rescued from the roadside and taken to a local rescue kennels, where he wasn't expected to last the night.  But this brave dog defied the odds and, after being treated for mange, he was transferred to Hounds First foster home. Here, the team built up his walks, from ten minutes to an hour, which helped Dylan build muscle. His sores dried up and he started to get the sparkle back in his eyes.
They then needed to find Dylan a permanent home, which is how Jamie Birch spotted Dylan's story on Hounds First's Facebook page. It was love at first sight for Jamie but Dylan's scars were more than skin deep: he was still very wary of humans.
Jamie said: "When Dylan first came home with us he was, understandably, easily spooked. He had no muscles; his back was still marked with sores and his hair was growing back in wispy patches. But after a few weeks, his cheeky side really started to come out. He loves to steal tea towels and clothes and hide them. He loves cuddles on the sofa and often has us in stitches with his playful antics. His confidence around strangers is growing day by day."
Dylan won PDSA Pet Survivor 2014. This recognised his determination to survive the worst of beginnings in life, and is a fitting tribute to all those involved with his rescue, recovery and ongoing care.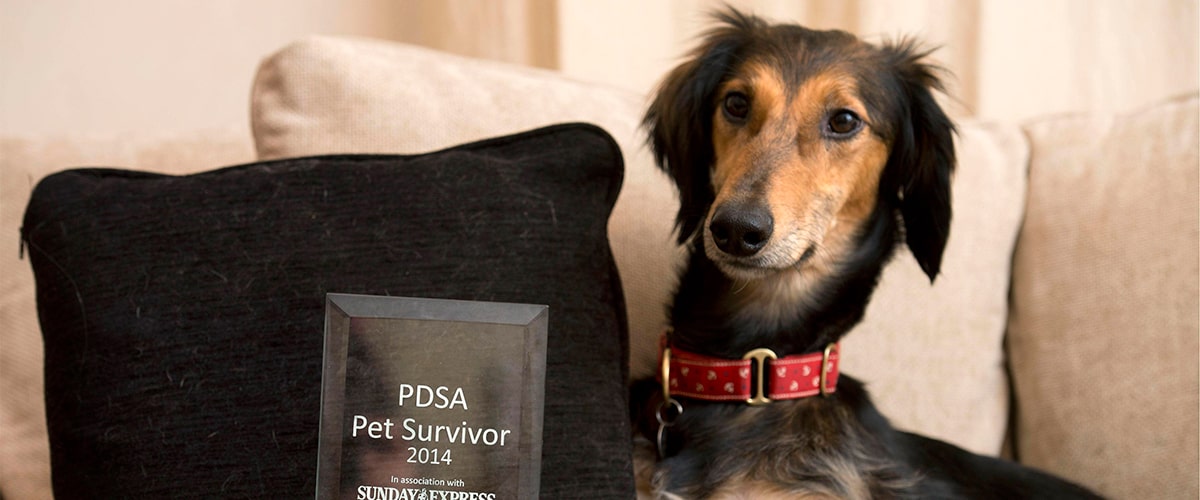 Check out the pets who have won previous Pet Survivors and experience their incredible stories.
Meet the survivors
PDSA's annual Pet Survivor Awards feature pets who've beaten all the odds thanks to the skill of vet teams, the devotion of their owners and their own incredible survival spirit.
Read more
Would you know what to do if something like this happened to your pet? Sign up for our free Pet first Aid guide now.
get our Free first aid guide