Hans was abandoned with a severely infected head injury, caused by a dog or fox attack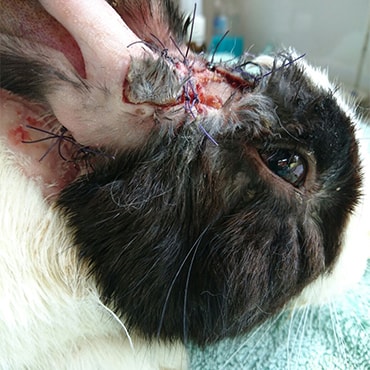 Pet Survivor Case File
My Breed: Dutch Rabbit
Date of incident: early 2016 (exact date unknown)
My age at the time: 5 (estimated)
Where I live: Richmond, North Yorkshire
I was treated by: Abbey House Vets, Leeds
My human is: Gwen Butler
Hans was abandoned and taken in by a small rescue charity run by Gwen, known for taking in small pets who would otherwise have been given up on. But Hans was gravely ill - he had a huge, badly infected wound on his head, which was later found to be a bite wound and likely caused by a dog or a fox. He was very underweight and his teeth were also in a terrible state - he would have been in a lot of pain.
Hans' condition was so bad that the vets were unsure if they would be able to save him. But Gwen knew that for a rabbit to live through an attack like that was a miracle in itself, so she was willing to do whatever it took to give him a chance. He was named Hans after the author of the fairy tales, as he was something of an ugly duckling but Gwen hoped he would eventually become a swan. At first it was thought his ear may have to be amputated, but after an operation to clean and stitch the wound, the vet team were able to save it.
Then began the long road to recovery for Hans, who was such a unique character that Gwen adopted him as her very own house rabbit. His head wound gradually healed, and with proper care Hans gained weight and his teeth were also treated. He still has a small bald patch on his ear where the fur won't grow back, but otherwise you'd never know what a horrific ordeal he's been through. Hans is such a friendly and outgoing rabbit with an indomitable spirit. Neither Gwen, nor the vet have ever met a rabbit like Hans, and he has truly transformed into a beautiful swan!
Hans' death-defying story resulted in him reaching the finals of PDSA Pet Survivor 2016.
Watch Hans' story:
Check out the pets who have won previous Pet Survivors and experience their incredible stories.
Meet the survivors
PDSA's annual Pet Survivor Awards feature pets who've beaten all the odds thanks to the skill of vet teams, the devotion of their owners and their own incredible survival spirit.
Read more
Would you know what to do if something like this happened to your pet? Sign up for our free Pet first Aid guide now.
Get our free first aid guide