Robbie suffered extensive burns after a terrible fire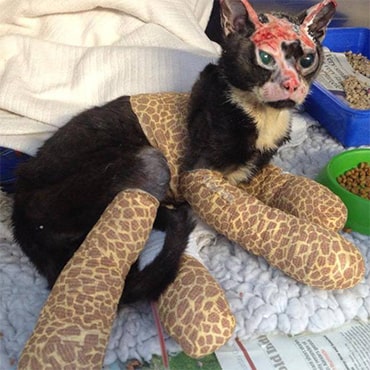 Pet Survivor Case File:
My Breed: Domestic Short Hair Cat
Date of incident: May 2013
My age at time of injury: Six months
Where I live: South Croydon
I was treated by: Broadway Vets, Herne Bay
My human is: Gill Smith
Robbie was just six-months-old and thought to be a stray when he took shelter in an abandoned sofa in the village of Ash, Kent, in May 2013. But this nearly proved his undoing when it was somehow set alight and consumed by flames, with poor Robbie still inside.
He was rushed to nearby Broadway Vets with severe burns to his face, head, legs and paws. Principal Vet Sarah Platt said: "Robbie was in shock when he arrived and needed intensive care. He stayed with us for six months, during which time he had two skin grafts and daily dressing changes. One of his back legs also had to be amputated. But Robbie always loved attention even when he was critically ill - very few animals could have coped the way he did."
Despite the pain and discomfort, Robbie was very tolerant and patient as he received thousands of pounds' worth of treatment to put him back on all-fours. Incredibly, much of this was paid for by the local community after the vet practice published appeals in the local paper.
Gill Smith was visiting Herne Bay when she saw Robbie's story in the local paper and joined in the fundraising activities to finance his treatment. She visited him regularly, despite living some distance away and, when no owner came forward, she offered Robbie a home for life.
Robbie still bears the scars from his fiery ordeal – the tips of his ears are missing, he has a 'Mohican' due to the skin graft on his head, and the toes on his remaining back leg were 'melted' together into a stump. But despite this he loves life and runs around the house like a rocket!
Robbie won PDSA Pet Survivor 2013, recognising his bravery and fortitude in overcoming such horrendous injuries, as well as the skill and dedication of all those who helped him to recover.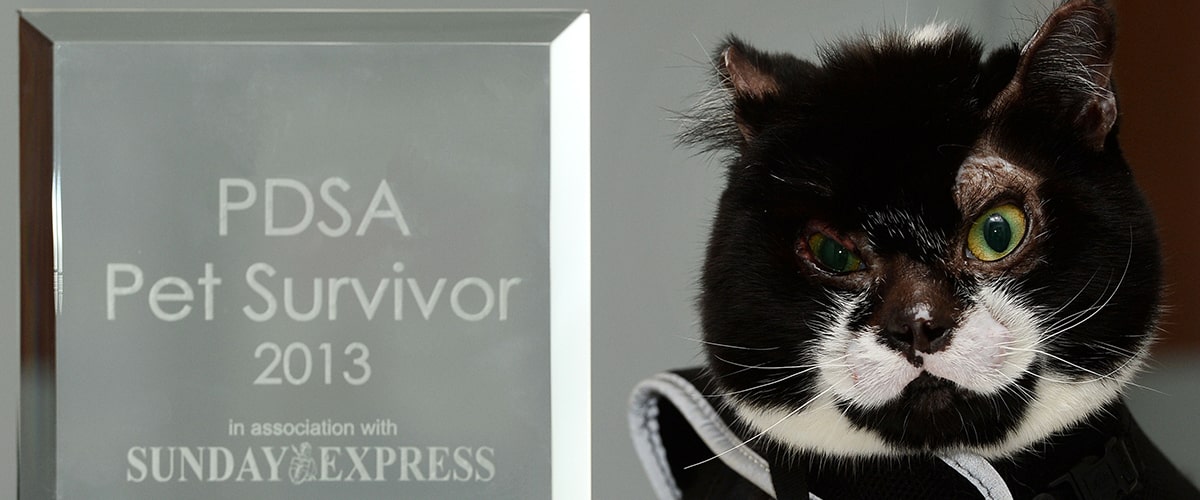 Check out the pets who have won previous Pet Survivors and experience their incredible stories.
Meet the survivors
PDSA's annual Pet Survivor Awards feature pets who've beaten all the odds thanks to the skill of vet teams, the devotion of their owners and their own incredible survival spirit.
Read more
Would you know what to do if something like this happened to your pet? Sign up for our free Pet first Aid guide now.
Get our free First Aid guide