Ziggy the Staffie was shot in the head with a crossbow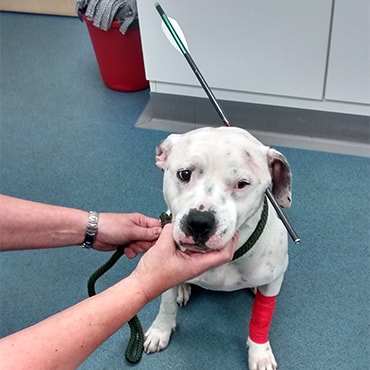 Pet Survivor Case File
My Breed: Staffordshire Bull Terrier
Date of Incident: late 2014
My Age at time of injury: Approximately 2 years
Where I live: Hertfordshire
I was treated by: Cees Bennett at Vets4Pets in Peterborough
My humans are: Dominic O'Hare and Anna Burtonwood
Ziggy was found wandering alone in woodland by dog walkers. They were horrified to see a crossbow bolt through his head and took him straight to the nearby Vets4Pets. Despite his shocking injury Ziggy was still bright, friendly and wagging his tail.
The vet estimated that Ziggy had been alone in the woods for about 24 hours after suffering his injury. X-rays revealed that the bolt had scraped the exterior of his skull, miraculously missing all vital blood vessels, nerves and his ear canal – it was a one-in-a-million chance that he had survived. The vet alerted the RSPCA.
After closely examining the x-rays the vet conducted the delicate operation to remove the crossbow bolt.  Ziggy bounced back so quickly it was like a miracle: two weeks later it was hard to tell anything had happened to him at all. Meanwhile, the RSPCA investigated the case: it's thought Ziggy was taken into the woods and shot through the back of the head, but he turned at the last minute resulting in the crossbow missing its mark and he ran off. 
Dominic and Anna saw Ziggy's story and immediately knew he was the dog for them, and as soon as he was well enough, they took him home. He is now happier than ever and, despite his ordeal, has remained incredibly trusting and affectionate.
Ziggy's shocking story and incredible recovery saw him crowned PDSA Pet Survivor 2015.
Watch Ziggy's story
Check out the pets who have won previous Pet Survivors and experience their incredible stories.
Meet the survivors
PDSA's annual Pet Survivor Awards feature pets who've beaten all the odds thanks to the skill of vet teams, the devotion of their owners and their own incredible survival spirit.
Read more
Would you know what to do if something like this happened to your pet? Sign up for our free Pet first Aid guide now.
Get our free first aid guide