What to do if you find a stray or injured animal
Coming across a stray animal can be upsetting, particularly if they are injured in any way. Your first instinct may be to help, but there are some things to consider first before you head into action.
You'll need to first check if it safe to help the animal:
Is it safe to approach the animal? Animals can be aggressive if they're in pain, especially lost and frightened pets or wild animals.
Are you putting yourself in danger? If the animal is in a dangerous situation, like they've fallen into water or they're stuck in a hole, going after them could put your life in danger too.
Call for help. If in doubt, it's best to call for professional help. The RSPCA has a 24 hour helpline (0300 1234 999).
Who can help?
If you find an injured animal and it's safe for you to approach them, you should take them to your nearest veterinary surgery so they can get help as quickly as possible. Be gentle when handling them as they may have injuries or might not be used to humans. If you can, call ahead to let the vets know you're on your way.
All vets will provide emergency care to a pet or wildlife in need. If your closest vet is a PDSA Pet Hospital, we'll do all we can to help.

We're not a rescue charity so we're not best placed to help if you find a stray animal that isn't injured or unwell and needs specialised rehabilitation. Other charities, like RSPCA, Blue Cross, Dogs Trust or Cats Protection are able to help with stray or abandoned pets. Your local animal warden may also be able to help.
What to do if you've found a stray dog
Be cautious when approaching unknown dogs, as you never know how they'll react to a strange person. Always take it slowly. Dog bites can be very serious so put your own safety first.
The dog seems friendly
If the dog is friendly, approachable and seems healthy, try and get them to a local dog warden, rescue centre or vet. They can then be scanned for a microchip, which you won't be charged for. It's the law that all dogs must be microchipped so this is the best way of reuniting them with their owner. If the dog isn't microchipped or you can't catch it, posting photos on local social media groups or lost and found pet sites can also help to reunite a lost dog with its family.
The dog is aggressive
If the dog is aggressive in any way, then keep your distance. Call the local dog warden and give them as much information as possible.
The dog is injured
Be cautious when approaching the dog. If a dog is in a lot of pain and frightened they might act aggressively towards you. In this case, don't attempt to move the dog on your own and get professional help. This may be an RSPCA inspector or dog warden, vet or vet nurse that are able to come out to the scene. If the dog is not showing signs of aggression and is calm with your approach, transporting the dog by wrapping it in a blanket or towel will help. This will be a first step in offering first aid and by keeping the dog warm to prevent shock, the blanket will be more comfortable for the dog and then you can then take them to your nearest vet. There are more first aid tips on our website. All vets will provide life-saving care in an emergency.
What to do if you've found a stray cat
Cats are wanderers and they often choose to roam quite far away from home. Many cats that wander and seem to be strays may actually have a loving family. They can also be very cheeky at begging for extra meals off well-meaning neighbours. Even if they seem hungry you may actually be providing them with a second (or third) dinner!
It's important to be absolutely sure that a cat is stray before taking it to a rehoming centre, or deciding to take it in yourself. If the cat appears to be healthy and well-groomed, try putting a paper collar on it with your phone number on asking the owner to contact you.
The cat is definitely a stray
Speak to neighbours and put up 'found' posters in your local area. There may well be someone frantically searching for their much-loved pet. Local social media groups can also be a great way of reuniting found pets with their owners. Ring local vets too – many keep lost and found lists for their areas. If they are definitely a stray and it is safe for you to transport the cat, then you can take them to your local veterinary centre to be scanned for a microchip. This service is always free of charge and you will be able to check whether they have an owner.
If the cat won't come anywhere near humans, it might be feral. This means it's grown up outdoors and isn't used to humans. If it seems to be healthy then it's best to leave it alone. You can pass details about the cat to the Cats Protection or a local cat rescue who may be able to trap, neuter and release the cat. This stops the cat from having kittens and prevents more cats from growing up without a safe, loving home.
The cat is injured
If the cat is injured or unwell, try and get it to the nearest vet if it is safe to do so. Be careful because cats who are in pain or are frightened may scratch or bite. All vets will provide life-saving care in an emergency. Use a blanket before picking them up, to protect you from sharp claws. Try and locate a pet carrier, or even a box with plenty of air holes so they can safely travel to the vet.
Download our free first aid guide for more information on taking care of a pet in an emergency.
Sick and injured wild animals
Wild animals can be very unpredictable if approached by humans. It's best to call in the experts for advice rather than attempt to capture it, especially if it is injured or a large animal. Often there are small local wildlife charities in each area which should be able to provide advice. Read our article for full advice. 
Useful links
Find your nearest PDSA Vet – www.pdsa.org.uk/near-me
Find your nearest vet - https://findavet.rcvs.org.uk/home/
Animal rescue and rehoming (including wildlife) – www.rspca.org.uk
Charity vet and rehoming service – www.bluecross.org.uk
Cat rescue, neutering and rehoming – www.cats.org.uk
Dog rescue and rehoming – www.dogstrust.org.uk
Birds – www.rspb.org.uk
If you find sick or injured wildlife, it can be difficult to know what to do for the best. Read our advice for more information.
Read more
Find out more about the benefits of getting your pet microchipped and what it involves for them.
Read more
Pets can get into all sorts of mischief so make sure you're protected with 5 Star** insurance selected by our vets.
Get a quote
Roman's story: reunited by a microchip
Roman's family were devestated when he went missing. They put up posters, contacted local vets and put out an appeal in the local newspaper but didn't hear anything. After a while, they started to fear the worst.
Four years later, a stray tabby cat was brought to our Aston Pet Hospital. He'd been hit by a car but, thankfully, he didn't have any major injuries. Our vets scanned him to see if he was microchipped and found he was registered as missing...it was Roman.
His owner were shocked but, after four long years, were delighted to be ruinited with Roman. And all thanks to a microchip!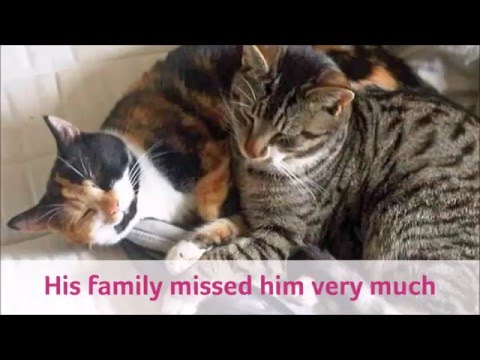 Video found at youtu.be/nJGJ88Qz3sE