Grooming your pet is essential for their health and wellbeing, and is a lovely way to bond with them too. While some pets may require professional grooming due to their coat length and type, others can be groomed at home, and some may need grooming in-between their professional sessions. Knowing which tools to use, and how often to groom your pet can feel confusing, so we've pulled some tips together for you. Always speak to your vet or a professional, reputable groomer for advice specific to your pet.
Our top tips for pet grooming
Do your research. It's important to know the grooming needs of the specific breed of cat, dog, or rabbits that you have, as they vary depending on coat length and texture.
Start when your pet is young. Grooming should ideally be introduced when your pet is young, so they are used to it and feel comfortable. Older pets can learn to enjoy grooming, but make sure it's a positive experience for them.
Get the right tools for your pet. All pets will need brushes and/or combs suitable for their coat type, plus some pet nail clippers – don't use human nail clippers.
Take it slow and make it positive. Your pet might not be used to being groomed, or being touched in certain areas. Take things slowly, and stop if your pet is worried or stressed – check out our pages on body language for dogs, cats, and rabbits. Make the grooming a positive experience, using treats and praise during and afterwards.
Always check your pet's skin for parasites. Ticks can be a common problem for dogs and cats, so check them regularly, especially after they have been outside. Fleas can be tricky to spot as they mostly live in your home, and can affect dogs, cats, and rabbits – speak to your vet about preventing them.  
Be aware of seasonal moulting. Remember that pets are likely to shed more in the spring and autumn as their coat changes in preparation for the different seasons, so they may need extra grooming around these times.
Keep an eye out for any changes. A change in your pet's skin or coat could be a sign of a problem, so always speak to your vet with any concerns. Visit our Pet Health Hub for more information on skin problems in dogs, cats, and rabbits.
Don't forget the ears! Check your pet's ears regularly to make sure they are clean and healthy. If they start to show a build-up of wax or hair, or start to get smelly or itchy, call your vet before trying to clean their ears. Visit our Pet Health Hub for more information on ear problems in dogs and cats.
Don't try to tackle matts at home.
Use a reputable groomer. Look out for a groomer that is a member of trade bodies such as the Pet Industry Federation – this is a strong indication of a well-qualified and reputable groomer.
Types of brushes and combs for your pet
There are many different types of brushes and combs, and different tools work better on different coat types. If you're unsure of which tools to use on your pet speak with your vet or a reputable groomer.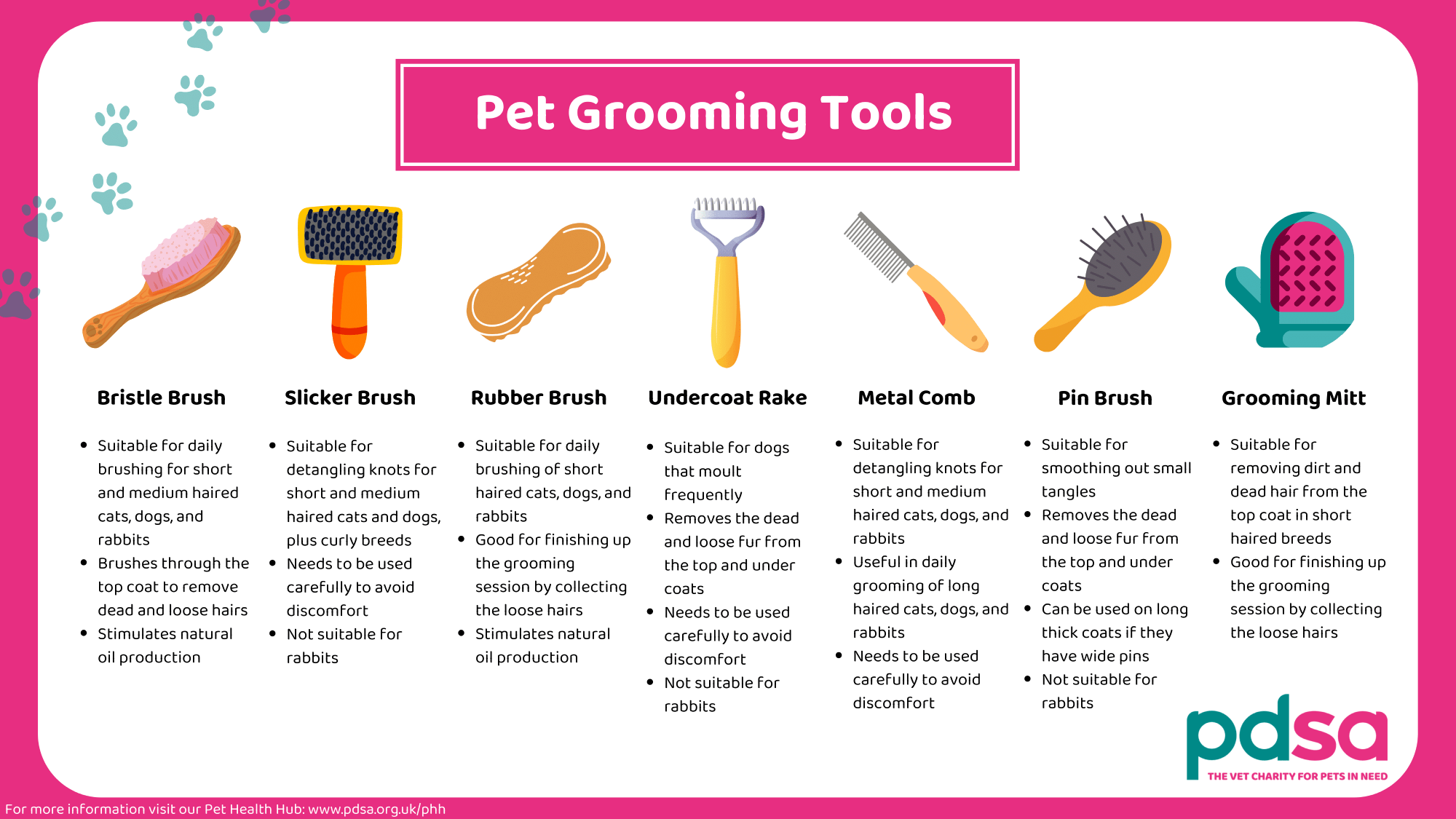 What do I need to groom my dog at home?
Dog grooming toolkit: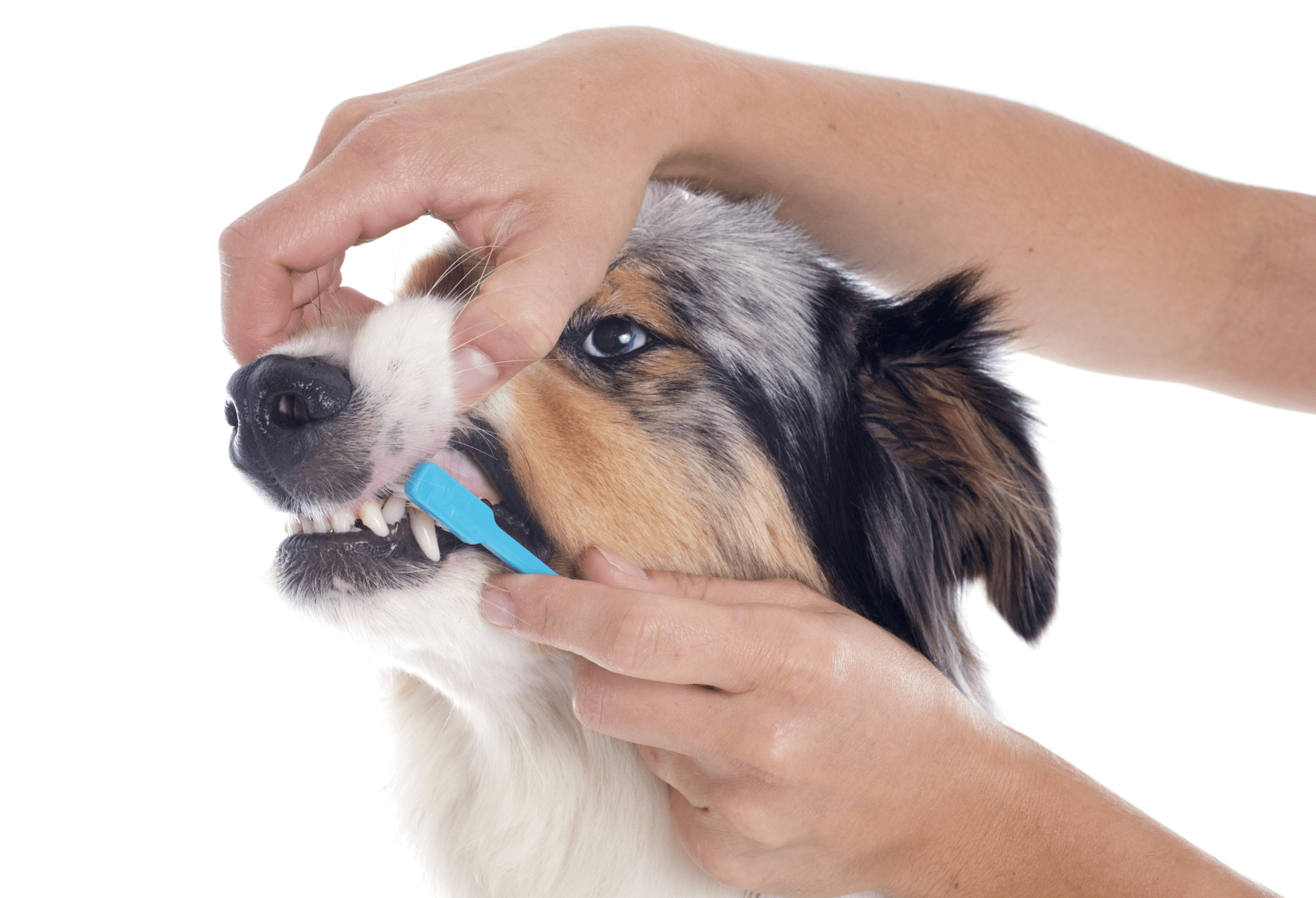 How often should I groom my dog?
Long-haired breeds e.g. Bearded Collies, Lhasa Apsos, and long-haired Yorkshire Terriers will need brushing daily to keep their coat healthy. Some breeds also need their coats trimmed or undercoats stripped around 4-6 times a year – many people prefer to ask a professional groomer to do this.
Medium-haired breeds e.g. Spitz breeds, some Spaniels, and German Shepherds will need brushing a few times a week to remove the dead hairs. Depending on the breed, you may also need to get their coat trimmed or stripped a couple of times a year.
Short-haired breeds e.g. Staffies, Labradors, and English Bull Terriers may only need brushing once a week. They don't usually need regular haircuts, though certain breeds may still need their undercoat to be stripped away.
Poodle-cross breeds e.g. Cockapoos and Labradoodles may need more grooming than you might think. These crossbreeds do shed less, but their curled coat type makes them more prone to knotting and tangling, especially if they get wet. Brushing them a few times a week should keep on top of things, and some owners may prefer having their coat clipped to a shorter, more manageable length to remove some of their tight curls.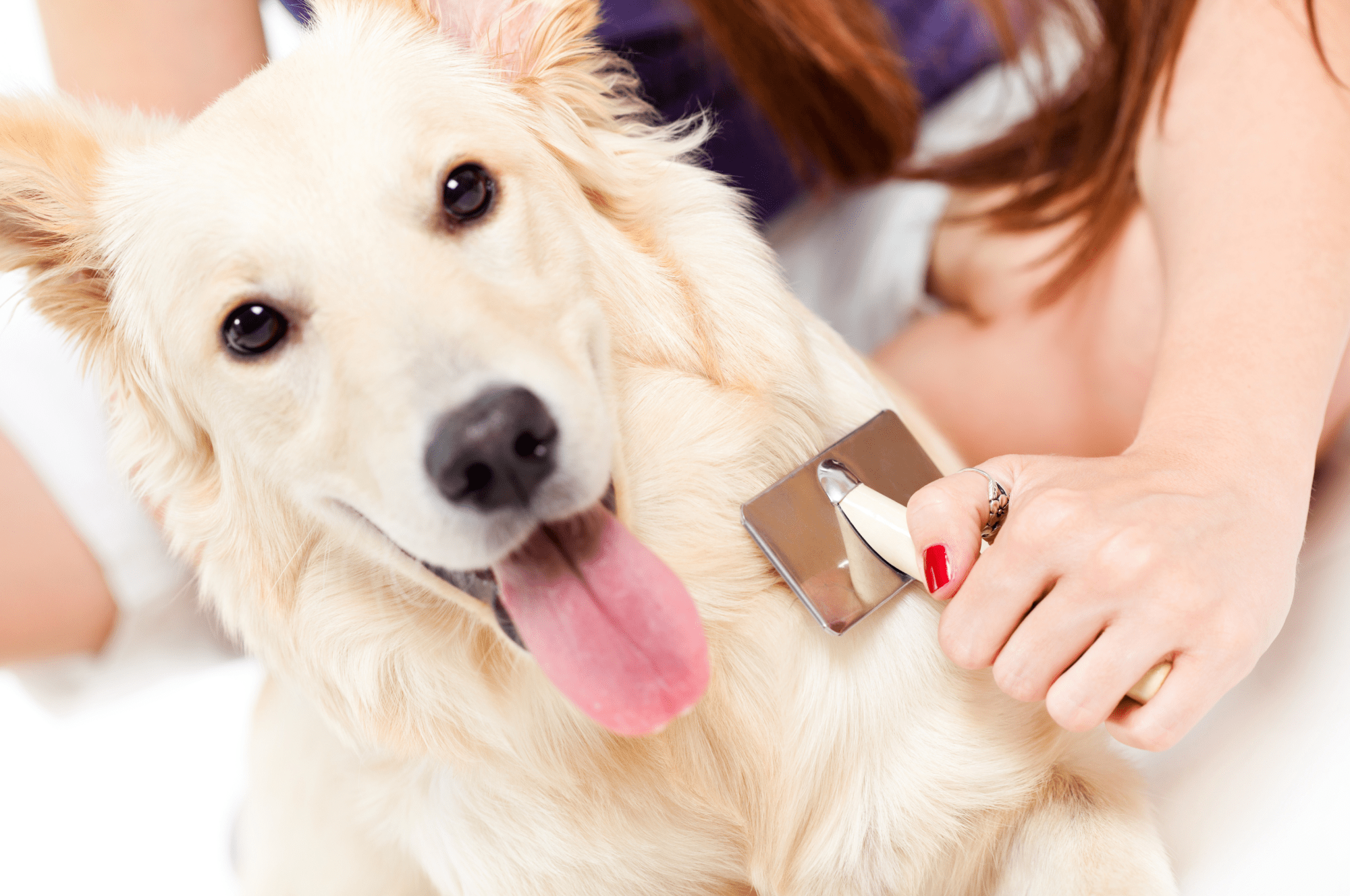 What do I need to groom my cat at home?
Cat grooming toolkit: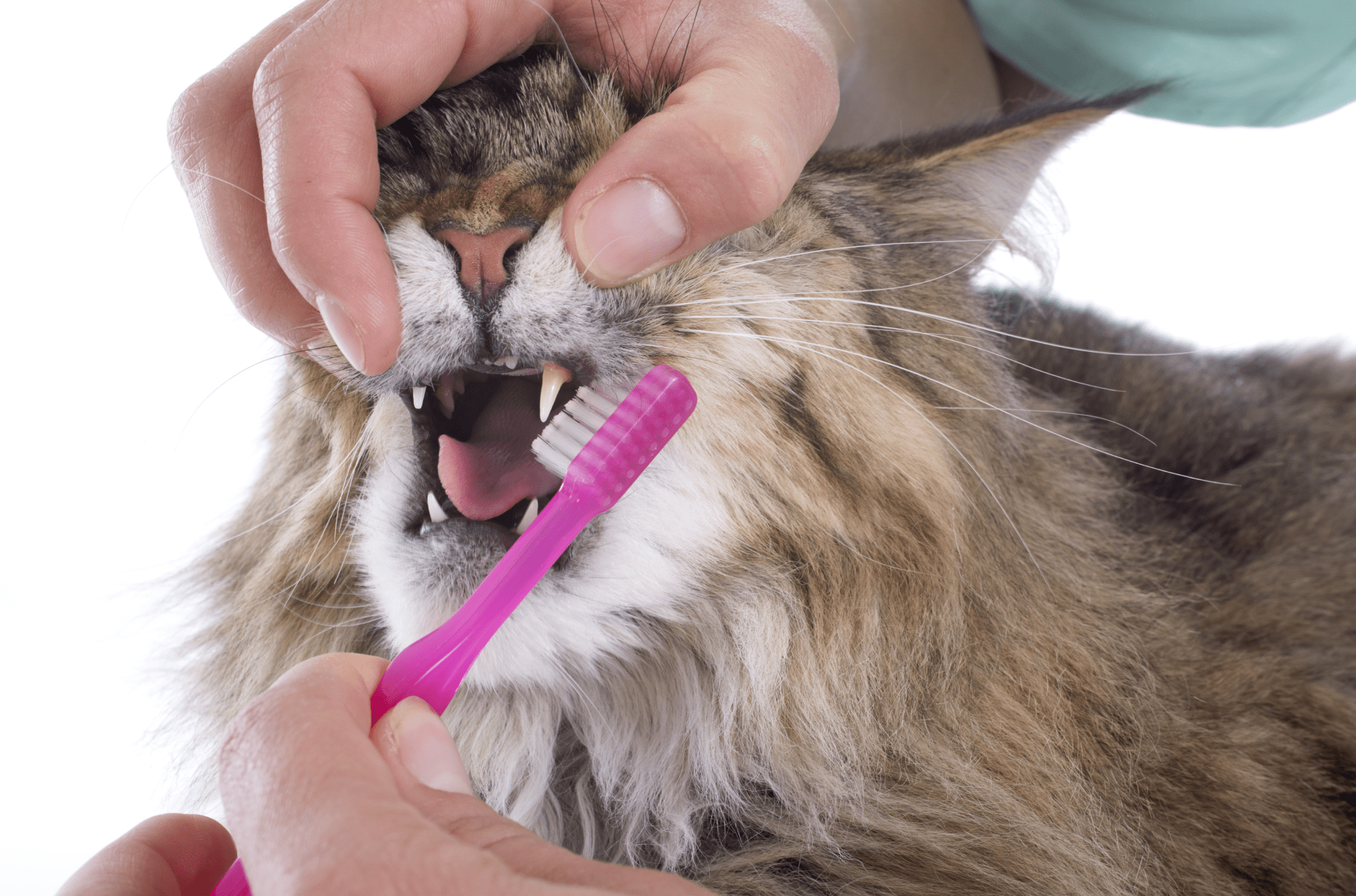 How often should I groom my cat?
Long-haired breeds e.g. Birman, Persian, and Ragdoll will need brushing daily to keep their coat healthy. Remember not to only focus on the easy parts (the back and chest), as the armpits, legs, tummy, and tail are danger zones for matting!
Medium-haired and short-haired breeds e.g. Siamese, Cornish Rex, and British Shorthair will need brushing a few times a week to remove the dead hairs. As your cat ages, and may not be able to get to those hard-to-reach spots, this may need increasing in frequency. 
Hairless and semi-hairless breeds e.g. Sphynx have their own unique set of grooming needs. These cats get a build-up of oil and sweat on their skin, which would usually be distributed by a pet's fur. This can lead to skin problems, so they will require regular bathing with a gentle cat-specific shampoo – which can be required as often as weekly.
What do I need to groom my rabbits at home?
Rabbit grooming toolkit:
Brushes and combs. Rabbits have very delicate skin, so it's important that any grooming equipment is suitable for them, and used with care. A soft bristle brush or a rubber brush are gentle on the skin but can be quite effective at removing loose hairs. A wide-toothed comb can also be used, but extra care needs to be taken with these.
Nail clippers. You may need to clip your rabbits' nails You can buy rabbit nail clippers from pet shops (or cat ones will work in a pinch). Check your rabbits' nails weekly for signs they are getting too long.
Flannels or cloths, and towels. You won't need to wash your rabbits unless they are particularly dirty. Rabbits should never be put in a bath of water – if required, wash them using a damp cloth and dry them thoroughly after getting wet, watch our video on how to do this safely.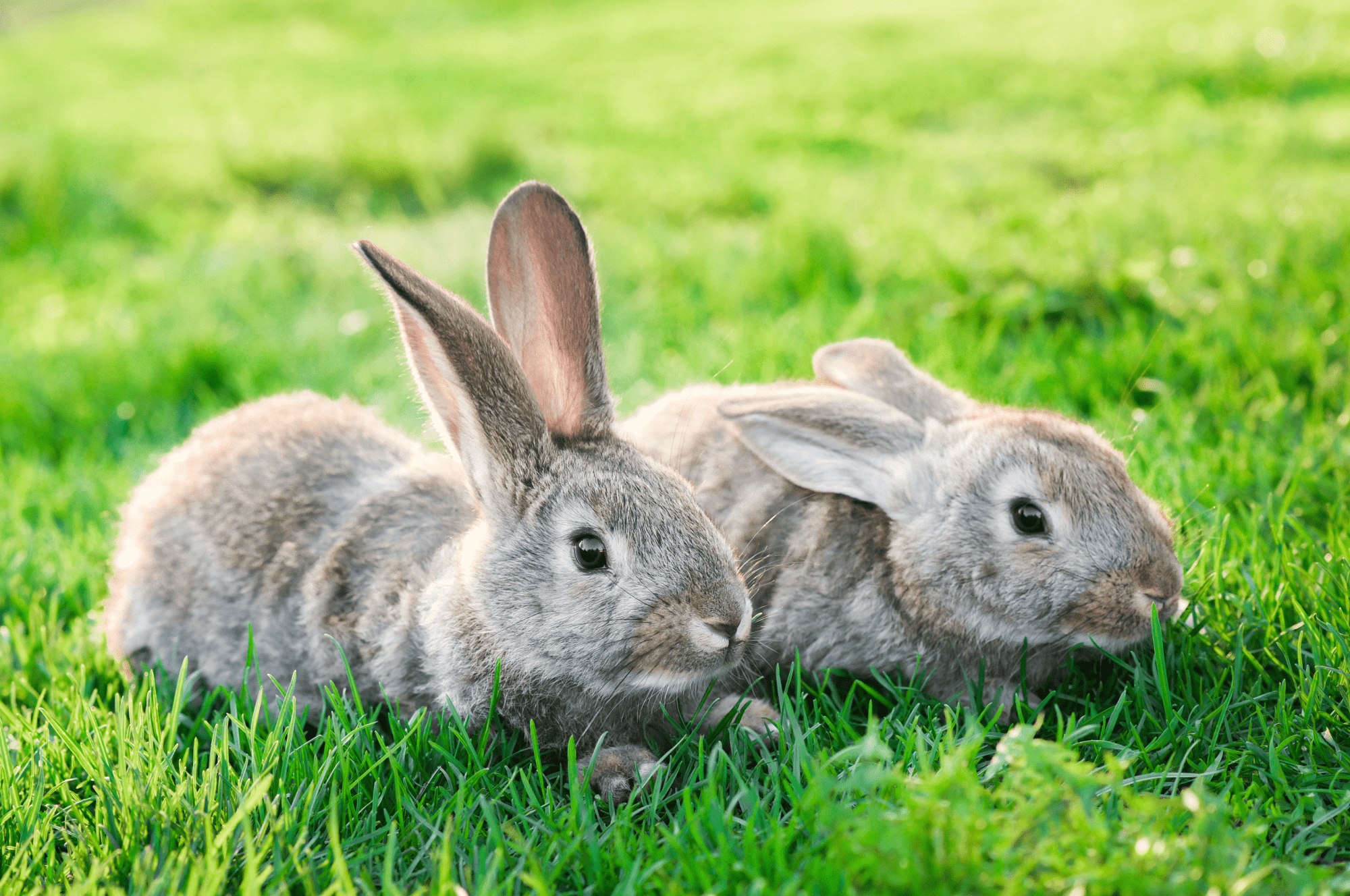 How often should I groom my rabbits?
Long-haired breeds e.g. Angora, Lionhead, Jersey Wooly will need brushing daily to keep their coat healthy, and prevent them from getting matted. When rabbits groom themselves (which they do a lot!) they swallow a lot of their fur, which can cause problems with their guts, so it's important to remove as much loose fur as possible during grooming. 
Medium-haired and short-haired breeds e.g. Dutch, Chinchilla, Lop, will need brushing once or twice a week to make sure their fur is in good condition, but more frequently when they are moulting.