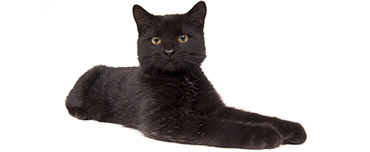 Overview
Weight loss in cats is usually a sign of a problem.
Rapid weight loss is easy to spot but gradual weight loss can be tricky, especially if your cat is fluffy.
Weight loss can be caused by many different problems, ranging from minor to serious.
Always book an appointment with your vet if you think your cat has lost weight.
Why is my cat losing weight?
Weight loss can be caused by many different problems, such as:
Is my cat's weight ok?
To check your cat's weight you should weigh them and check their 'body condition score'
Weighing your cat at home
Your vet will weight your cat at their annual health check but if you want to weight them at home check out our video 'How to: weight your cat a home'.
Body condition score 
Use our handy 'body condition score' chart below to help you decide if your cat is a healthy weight.
Other symptoms of weight loss
Rapid weight loss is often easy to spot, but slow weight loss is often much more difficult. If you suspect your cat is losing weight, keep an eye out for symptoms such as:
Eating more
Poor coat condition (untidy coat)
Being very vocal and more demanding than usual
Loss of muscle, ('looking bony') – especially around the back legs and spine
Drooling
Did you find this page useful?
PetWise Pet Health Hub – brought to you thanks to support from players of People's Postcode Lottery 
Written by vets and vet nurses. This advice is for UK pets only.
Illustrations by Samantha Elmhurst