Liam is one of our fantastic Lead Volunteers and has been at our Leeds PDSA shop since October 2021. We recently caught up with Liam to see what role volunteering plays in his life and what he enjoys most about volunteering in a PDSA charity shop.
How did you first get to know about PDSA?
I first came across PDSA when I took my pet cats to the PDSA Pet Hospitals in Leeds and Bradford. Here, I got to witness the fantastic work of PDSA first-hand.
Why did you want to become a volunteer for PDSA?
As a proud owner of cats, the cause is certainly close to my heart. From visiting the Pet Hospitals with my own pets, I realised how important the work of the PDSA is and I felt inspired to help - which is why I looked into volunteering some of my time at one of their shops!
How often do you volunteer at PDSA?
I volunteer 2-3 days a week.
What does a typical day for you look like?
Each day can be different. Usually, I will tidy the shop floor, restock the shelves and price any new stock that arrives. Throughout the day, I will also operate the till and serve customers, which I really enjoy doing.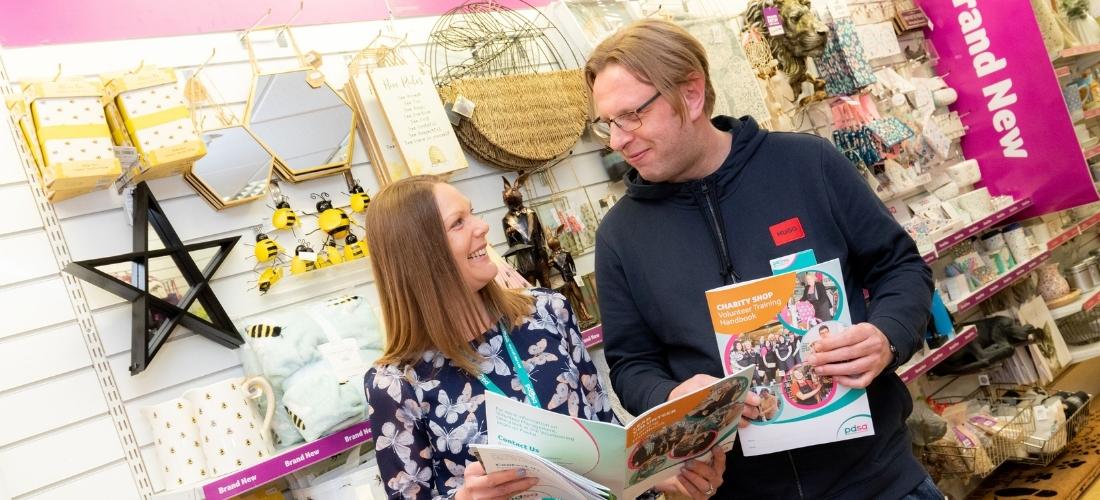 What do you enjoy most about volunteering?
One of the parts I enjoy most about volunteering is meeting new people! Lots of different people come into the shop and I like getting to know them and understanding why they choose to support PDSA. Another benefit of volunteering that I like most is the structure it provides. I'm out of employment due to health reasons, so volunteering brings an element of routine to my week.
What is the most unusual/interesting item you've come across at a PDSA shop?
The most interesting item I've come across whilst volunteering is a violin. We receive lots of clothes, books, and toys (which we're always very grateful for!), so a violin is not the type of item we'd think someone would donate.
Has Covid-19 affected your volunteering role?
I started volunteering for PDSA at the beginning of October 2021 (after the Covid-19 lockdown), but a lot of the health and safety precautions are still in place. I still sanitise my hands regularly throughout the day - we have a responsibility to protect the elderly and vulnerable who shop with us.
Would you recommend volunteering at a PDSA charity shop? If yes, why?
Absolutely! For anyone else out there that may have a mental health issue, like me, volunteering at PDSA creates a sense of belonging and is a great way to fill your time. I've developed many skills role and I've completed training in all aspects of retail – from visual merchandising to customer service. As a Lead Volunteer, I supervise and support other volunteers which has also helped to build my confidence.
I'm hoping to work full-time in paid employment again in the future and (if and when this is possible) my role as Lead Volunteer at PDSA will have played a huge part in my recovery.
Do you think PDSA is an important charity?
The PDSA is very important as it offers vet care to pet owners who may not be able to afford a private vet. Without PDSA, there would be a lot more pets who would suffer because their owners can't afford the treatment costs. As a pet owner myself, it's a cause very close to my heart and I think PDSA are simply brilliant.
What would you say to someone who was thinking about volunteering at a PDSA charity shop?
I would say to anyone thinking of volunteering for the PDSA to go for it - whether that's somebody out of work and needing something to fill their day, somebody with health problems (like myself) who is hoping to take the next step in their recovery, or students looking to develop new skills for their CV and obtain a reference for future employment. It's a great place to be, no matter your age, level of experience, or the amount of time you have to spare. Get involved - you won't regret it!
Find an exciting volunteering opportunity at a PDSA shop near you