Helen has volunteered at our Bramley PDSA Charity Shop for over seven years. During her time with us, she's tallied up countless hours of volunteering, secured our Volunteer of the Year award, and, best of all, it's improved her mental and physical wellbeing.
We caught up with Helen to find out how volunteering has made a difference in her life and what she enjoys most about working at a PDSA charity shop.
How did you first hear about volunteering at PDSA?
Since finishing work as a nurse in 2005, I've always helped organise community events in my local area. One year, I arranged the Christmas lights switch-on. We asked the local PDSA charity shop to create a Santa's grotto, and that's when I met the team at the Bramley branch and became interested in volunteering.
Why did you want to volunteer at a PDSA charity shop?
My cat, Walley, had previously been involved in a road traffic accident, and PDSA vets saved her life. I like to keep busy, and volunteering at my nearest PDSA charity shop seemed like the perfect opportunity to give something back to the amazing charity that helped me and my pet when we needed it most.
How often do you volunteer at PDSA?
At the moment, I volunteer from 9am until 5pm on Thursdays, Fridays and Saturdays each week.
However, I'm reducing my hours to 10am until 2pm for health reasons; but I'm still looking forward to volunteering three days per week!
What does a typical day volunteering at PDSA involve?
It is a varied role which includes:
Serving our lovely customers, e.g. at the till
Chatting with customers
Cleaning and tidying the shop
Accepting stock donations
Following health and safety procedures
Requesting extra stock
Stock rotation
Supporting new colleagues and volunteers in their role
What do you enjoy most about volunteering?
Mostly, I enjoy meeting new people. I like talking with our customers and getting to know my colleagues. I've made lifelong friends since volunteering at PDSA.
Volunteering has helped improve my mental and physical health. It keeps me active and keeps my mind busy – I don't know what I would do without it.
I also enjoy sorting the bric-a-brac section. I'm interested in vinyl records and help quality check and value the items sometimes. It's great when we find one which is worth something. The other day, I came across a vinyl record that sold for £28!
How has Covid-19 affected your volunteering role?
When the shop closed its doors due to the pandemic, I missed seeing my colleagues and our customers.
I was thrilled when we were able to reopen, but there were lots of changes. We introduced hand sanitiser, PPE, changed the shop layout and enforced social distancing and facemasks. There were many changes, but everyone is now getting used to the "new normal".
How did it feel to win Volunteer of the Year in 2019?
I was delighted to win Volunteer of the Year!
As well as volunteering at the shop, I've always tried to support PDSA in other ways. For example, in 2019, I raised £2,000 for the charity through tombola at events. I also ran a coffee morning at my local town hall, which helped raise money and awareness for PDSA. It started with just a couple of people attending until it grew to around 50 people!
Would you recommend volunteering at a PDSA charity shop?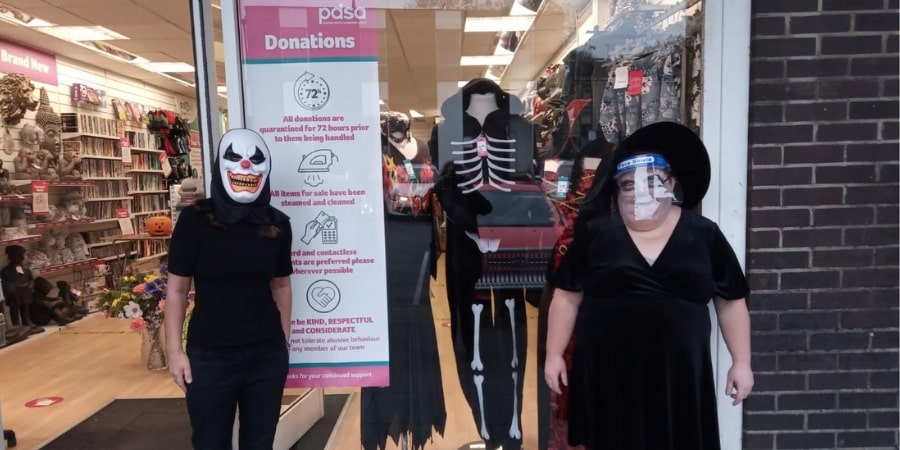 I would definitely recommend volunteering at PDSA because:
It helps improve mental and physical health
It makes you feel valued
You meet lots of new people and make friends
You can develop new or existing skills, e.g. communication, retail, leadership
You're able to give something back to an incredible charity
PDSA has also supported me and helped improve my skillset through educational courses. At the moment, I'm completing a leadership course. Previously I've done other courses, such as customer care, which has helped me provide better customer service at the shop. It is a brilliant benefit of volunteering at PDSA; they help and support you every step of the way.
Do you think PDSA is an important charity?
PDSA is a very important charity. Now, more people face financial hardship due to job losses and redundancies during the pandemic. Therefore, many pet owners need PDSA's vital veterinary support to keep pets happy and healthy.
What would you say to someone who was thinking about volunteering at a PDSA charity shop?
I would absolutely encourage anyone to volunteer at PDSA! It has changed my life for the better, and I would recommend the opportunity to anyone.
Find an exciting volunteering opportunity at a PDSA shop near you.