Brexit has been something of a sensitive issue for a few years now, with a few potential outcomes. As we are now leaving the EU at the end of January, we've pulled together various bits of Brexit-related pet advice into a handy guide and are going to try and break down the different possibilities and how it'll affect travelling with pets in Europe.
So sit tight as we try to cast some light on it all.
Brexit and pets: a brief breakdown
So currently, you can take your cat or dog to the EU with an EU pet passport as long as they are microchipped, have had their rabies vaccination and have been treated for tapeworm (that one's just for dogs). Sort of simple.
If you are considering travelling to Europe with pets, we'd recommend first going to speak to your vet about it ideally at least four months before you travel.
As the details of Brexit haven't been finalised yet, when it comes to pet travel to the EU, according to the government's website we're looking at three possible outcomes:
A no deal Brexit, in which case we're likely to be classed as an 'unlisted' country.
A deal resulting in us being classed as a 'Part 1 listed' country.
A deal resulting in us being classed as a 'Part 2 listed' country.
Any country not part of the EU is classed as a 'third country' and gets one of the above 'listings'. Still with us? We hope so.
Scenario one: no deal and being 'unlisted'
For those who travel to the EU with a cat or dog, this is probably the worst-case scenario. If you currently have an EU pet passport that was issued in the UK, it would no longer be valid.
Before your dog or cat can travel, there are a few things you need to do to prepare. Keep in mind that these steps will take a minimum of four months, so you need to make sure you're ready well in advance of your travels.

To prepare your pet, you'll need to:
Get them microchipped (if they aren't already) and vaccinated against rabies.
Have a blood test at least 30 days after their final rabies vaccination and have this sent to an EU-approved lab.
If the blood test results show the vaccination has been successful, you'll need to wait a further three months before travelling.
If the blood test results show the vaccination hasn't been successful, you'll need to start the process again.
Once you've completed the above, on the day you travel you'll need to have an animal health certificate (AHC). You'll need to get one of these from your vet within 10 days of travelling. In order to get one, you'll need to provide proof of:
Your pet's vaccination history.
Your pet's microchip date.
Your pet's successful rabies blood test result.
Tapeworm treatment (this is only for travel to certain countries).
Phew. It's a long process, so make sure you prepare well in advance. You can read the Department for Environment, Food & Rural Affairs and Animal and Plant Health Agency's full advice on the government's website.
Scenario two: a deal with 'listed' status
If we leave with a deal, there's a chance we'll become a 'listed third country'. This in itself is then split into two possibilities: Part 1 listed and Part 2 listed (we're getting there). A current EU pet passport will no longer be valid.
Both are fairly similar with small differences, so whatever happens make sure you double check before you start preparing.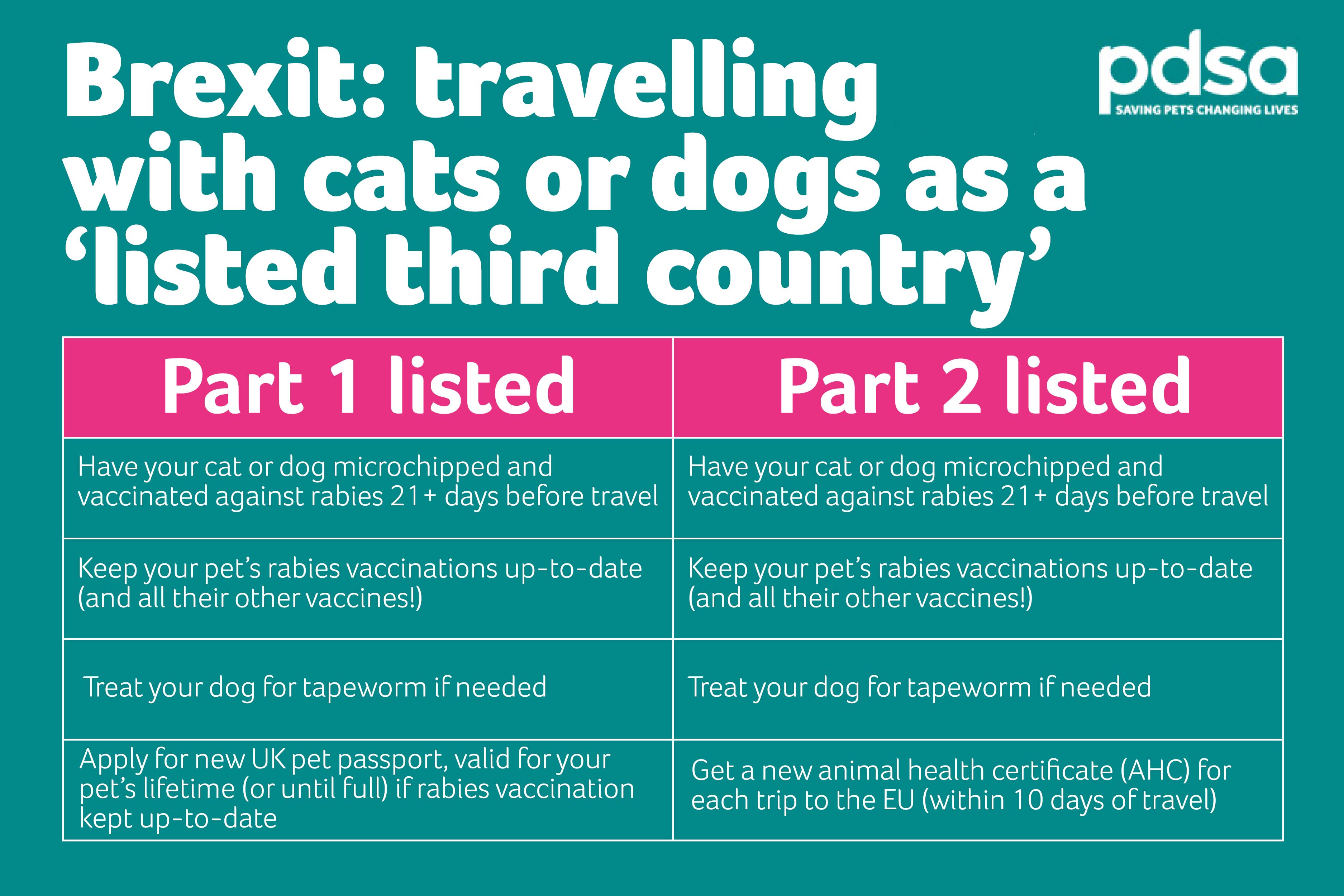 The only real difference between Part 1 listed and Part 2 listed is that for Part 1 listed you'll need to apply for a new UK pet passport, but for Part 2 listed you'll need to get a new AHC every time you visit the EU with your pet. Otherwise, for both 1 and 2, you'll need:
To have your cat or dog microchipped and vaccinated against rabies at least 21 days before you travel.
Rabies vaccinations to be kept up-to-date.
Tapeworm treatment for your dog (if needed).
Returning to the UK
According to current government advice, there will be no change to the current system for pets entering the UK from the EU. In order to return to the UK, your pet will need one of the following:
An EU pet passport (issued in the EU or in the UK before Brexit)
The AHC issued in the UK you used to travel to the EU (you can use it up to four months after it was issued to return)
A UK pet health certificate.
Don't forget to check routes before you travel as you can only travel with pets on certain approved routes. Your pet's microchip and documents will be checked when entering England, Scotland or Wales.
Until Brexit happens, the current system in place will carry on. If you're in the mood to find out more and you've not had a Brexit travel overload from all this, visit the government's website for official advice.
Got more questions? You can contact the government's pet travel helpline directly by emailing pettravel@apha.gov.uk or giving them a call on 0370 241 1710.
If you decide not to take your furry friend abroad with you, don't forget to check out our advice on holiday care and boarding for pets.