We recently caught up with Brian (a proud dog dad) to understand the events that inspired his PDSA journey and what his initial volunteering role meant to him.
When did your PDSA volunteering story begin?
My PDSA journey began in 2019 when I applied for the Lead Volunteer role at the Loughborough shop after seeing some posters in the window. I was a Lead Volunteer for 18 months before I moved into employment and became Assistant Shop Manager in 2021. In 2022, I became Shop Manager at the Long Eaton shop, which remains my role today.
Why did you want to volunteer at a PDSA charity shop?
I was a very grateful PDSA client!
Before I became a Lead Volunteer in 2019, my older Labrador, Rex, needed major surgery to treat his broken foot. If it wasn't for PDSA, I wouldn't have been able to afford the cost of his operation. The stress around Rex's surgery was already a lot to cope with, so it was a huge relief to know that I didn't have to deal with any financial worries too.
I knew I wanted to do something to say a big 'thank you' to PDSA for being there for us both, so volunteering felt like the right thing to do.
What did a typical day volunteering at PDSA look like for you?
When I became a Lead Volunteer, I had plenty of training to do various tasks, including cashing up, managing volunteers, operating the till, and sorting stock. My days would differ depending on how much stock needed organising or how busy the shop floor was with customers, which kept things interesting. I also helped spread the word about PDSA, telling customers about the charity to help build our reputation within the local community.
At the time, I volunteered around 28 hours a week, which was perfect for me.
What is the most unusual item you've come across at a PDSA shop?
I've come across many odd things while sorting through donations, but it's definitely the scary, old dolls that I don't like!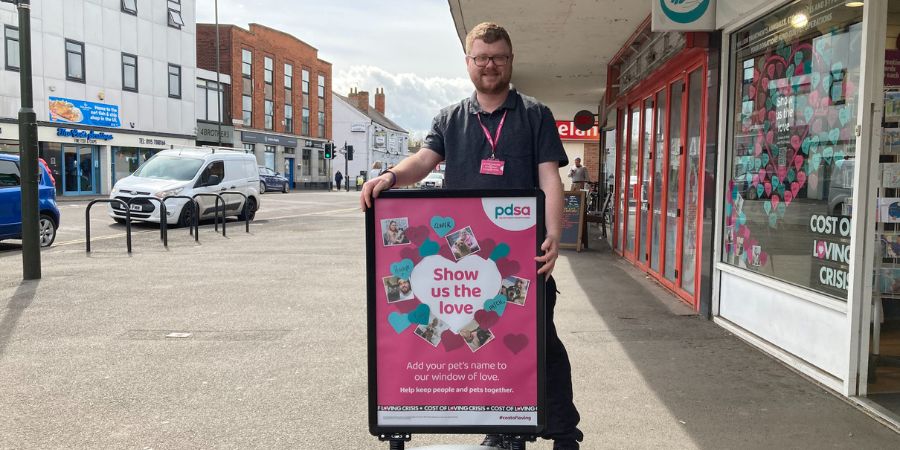 Do you think PDSA is a meaningful charity?
Very much so.
Having been a client myself, I know exactly how important PDSA is in keeping people and pets together – they always supported my doggies whenever we were in need. Without PDSA, many families would struggle to pay for vet treatment if their pet got sick or injured. Luckily, PDSA is there to help treat those pets so they can go back home to their owners.
I've always felt strongly about charities – particularly PDSA – because you never know when you may need their help. The money we receive from selling goods in our charity shop goes to helping more poorly pets, like my Rex, in the PDSA Pet Hospitals, so I always do my very best to drive as much income as possible.  
Do you recommend volunteering at a PDSA charity shop?
Yes, I would absolutely recommend volunteering at PDSA to friends, family, or anyone thinking about gifting some of their time.
PDSA also supported me in my journey as somebody who wanted to progress my volunteering role into employment. At the start, it was a way of showing my appreciation, but now it's become my career – and one that I'm very proud of. I always said I would like to work up to Shop Manager of a PDSA shop one day, and now I have!
What would you say to someone considering volunteering at a PDSA charity shop?
It can be a challenge… but an enjoyable one! Each day is different as the shop has many roles – from the till, to the shop floor, to the stockroom – so you're bound to find something that suits you. The hours are flexible, and the people you meet along the way are brilliant. Volunteering at PDSA was one of the best things I've done!
Find a rewarding volunteering opportunity at a PDSA shop near you