For years, our four-legged and feathered friends have served alongside our armed forces, providing skills humans cannot replicate. During World Wars I and II, they proved themselves to be reliable messengers, fearless fighters and brave companions helping people throughout the war efforts.
The PDSA Dickin Medal was created to recognise the heroic actions of animals in war.
We've answered some quick-fire questions below to help you learn more about the honour.
What is the PDSA Dickin Medal?
The PDSA Dickin Medal is known as the animals' Victoria Cross. It's awarded to animals who showed outstanding acts of bravery and devotion while serving in military conflict.
Who founded the PDSA Dickin Medal?
PDSA's incredible founder, Maria Dickin CBE, instituted the award in 1943. She believed that if animals were more respected they would be treated better. So she decided to help highlight the amazing contributions they make to our lives.
How many animals have been awarded the PDSA Dickin Medal?
The medal has been awarded 71 times since 1943 to 34 dogs, 32 pigeons, 4 horses and 1 cat. A posthumous Honorary PDSA Dickin Medal was also awarded to World War I war horse, Warrior, on behalf of all animals that served in the Great War.
Who was the first animal to be awarded the medal?
The PDSA Dickin Medal was first awarded to three pigeons called White Vision, Winkie and Tyke. They each delivered important messages which resulted in many lives being saved.
Who's the most recent animal to be awarded the medal?
The last animal to receive the PDSA Dickin Medal was Military Working Dog Kuga, who served with the Special Air Service Regiment in Australia. Kuga identified an enemy ambush while on patrol with his unit in Afghanistan. While he pursued the enemy, he was shot five times with semi-automatic fire. His actions undoubtedly saved the lives of his unit.
The next recipient of the PDSA Dickin Medal will be British Military Working Dog, Kuno, a Belgian Malinois who bravely fought off enemy attackers in an overseas mission in 2019. He's due to receive his medal in a special virtual ceremony this month. Read more about Kuno's story.
Who are some of the best PDSA Dickin Medal recipients?
We think all our medal recipients are incredible and very deserving of their award. You can have a look at all of the animals who have been awarded the medal on our website and read some incredible stories from when we celebrated 75 years of the PDSA Dickin Medal.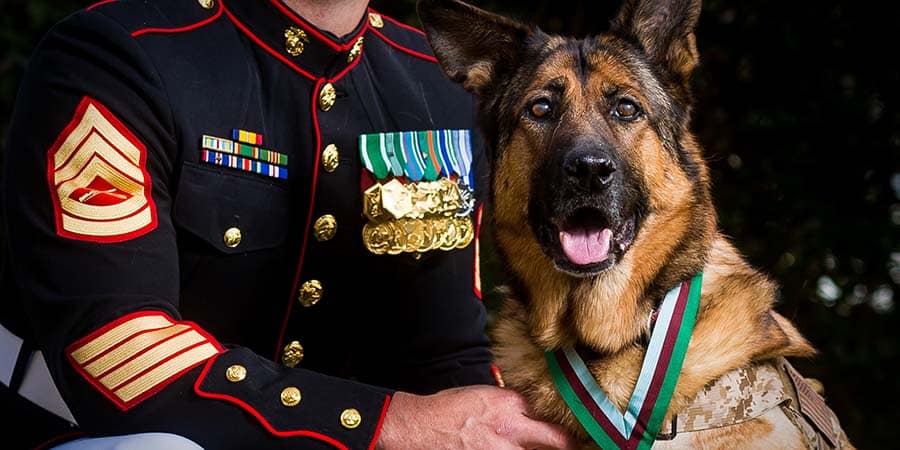 How do you decide who is awarded a medal?
First, an animal has to be nominated by a human (remember, the medal can only be awarded to animals who have served in military conflict. We have other awards for animals who show bravery and devotion who aren't military animals).
Then, this nomination goes to PDSA's Council who look at the citation and a witness statement and they decide if the nominated animal's actions align with the strict criteria we have for the award. Only 74 have been awarded in the 77 years since the medal was instituted, which shows just how special the medal truly is.
What happens when an animal is awarded the PDSA Dickin Medal?
In pre-COVID times, there would be a special event held in the recipient's honour, where members of PDSA would be joined by the animal, their handler and members of their military unit, to formally present the award.
If the award is being made posthumously, the recipient will be represented by a canine (or equine) colleague or equivalent, who will act on their behalf on the day of the presentation.
Do the animals actually get a medal? Can they wear it?
Yes! We have a special medal made for every animal who is honoured and many do get to wear them (as long as their handler thinks they will be happy to). We've had lots of handsome hounds and proud horses wear their medals over the years. Even a pigeon or two have worn theirs briefly!
The recipient's handler also receives a miniature PDSA Dickin Medal.
Do you have any other animal awards? How can I find out more?
Alongside the PDSA Dickin Medal, we have three other honours in our Animal Awards Programme. These are:
PDSA Gold Medal – known as the animals' George Cross, this is the non-military version of the PDSA Dickin Medal.
PDSA Order of Merit – known as the animals' OBE, this is awarded for outstanding service to society. Past recipients include Police dogs and horses, assistance dogs and Medical Detection Dogs.
PDSA Commendation – this is to celebrate and honour the animals who bring love, devotion and enrichment to our lives.
Find out more about the PDSA Animal Awards Programme.