Since the outbreak of the coronavirus pandemic, a lot of us have had to get used to a new normal of, well, staying at home. However, with the government recently announcing the final stage of lockdown easing, we can finally celebrate the summer! While it's not quite the French Riviera or a sunny beach in Spain, it's much easier to take your dog on holiday in the UK for a staycation.
Here are our top tips for planning a dog friendly holiday.
Location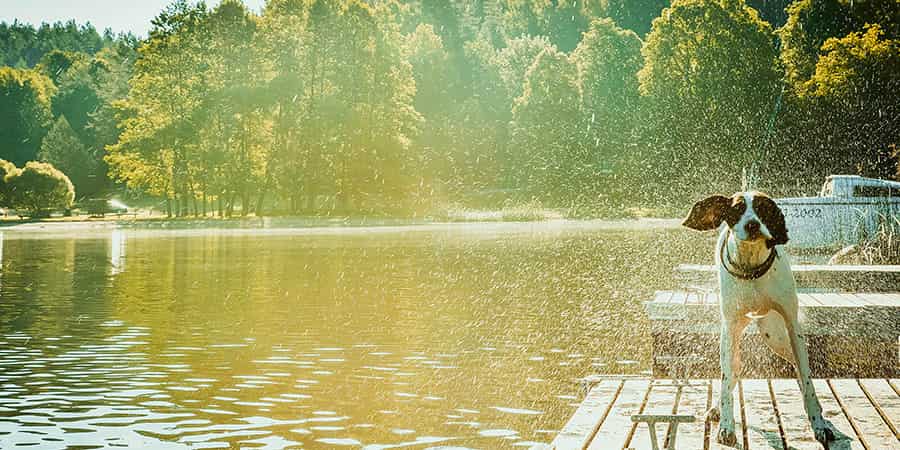 Firstly, you need to decide where exactly you want to go. Research the areas you're thinking of to make sure there's lots for all the family (dogs included!) so you never have to leave your pooch out of the fun. It might be worth making a list of dog friendly activities and places to eat so you're well prepared before you get there and make a note of the local vet practices in the area. We've put together some of our favourite dog friendly beaches around the UK which might be a good place to start.
Accommodation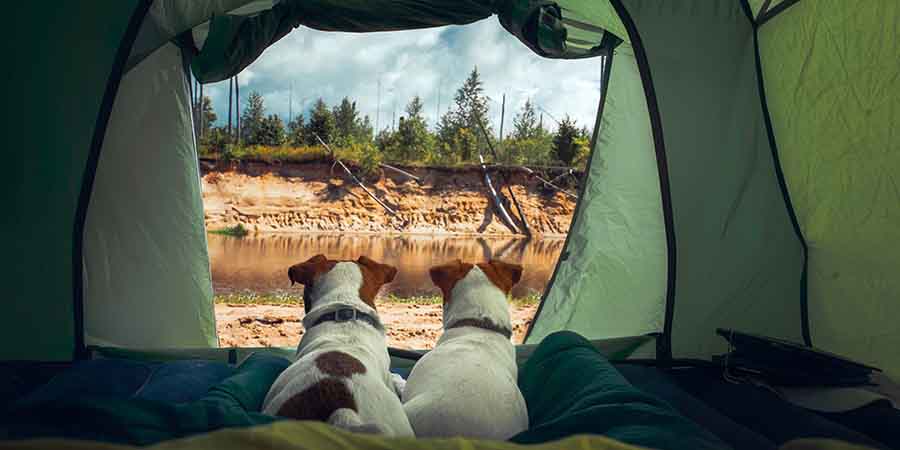 Wherever you stay, you need to make sure your dog is welcome. There are loads of pet-friendly places willing to welcome dogs with open paws. Most booking sites will have a filter you can select so you only see pet-friendly places to stay. Also remember to check if there is an extra cost for your dog wherever you are staying as some businesses will charge a little more for your furry friend.
All accommodation is different, but here are some of the key things to look out for depending on where you choose to stay:
Hotels: check whether there's an extra cost for your dog. If you stay at a B&B, see if your dog is allowed in areas you'll be eating breakfast so you don't have to leave them in the room. Make sure there is somewhere on-site or very close by you can take your dog to the toilet in case of a late-night wee!
Caravan and campsites: a lot of campsites allow dogs, but it's always best to check before you go. Ask if there are any areas your dog won't be allowed and remember to always keep your dog on a lead around campsites. Check if they have places you can safely dispose of your dog's waste on site.
Holiday cottages and lettings: there are a lot of self-catering holiday homes out there. Check the house rules to see if there are areas your dog won't be allowed (for example, some will not allow pets on furniture or in the bedrooms). See if there's an enclosed garden your dog is allowed in and somewhere to dispose of their waste.
Travel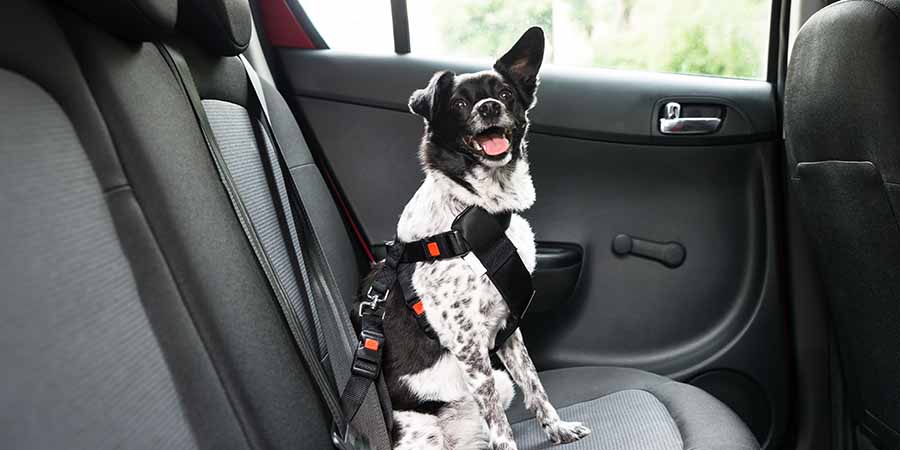 Always make sure your dog is safe in the car. Ideally, a harness and seatbelt are perfect for keeping your furry friend safe, but you can also use a crate secured in your car or a boot guard (but beware that these won't protect your pet in an accident). Take a look at our full advice on safe car travel before setting out.
We might be fine travelling for hours in the car, but it can be more than a little uncomfortable for our dogs! Plan plenty of stops into your route for your dog to stretch their legs, go to the toilet and have some water. On warmer days, cars can quickly heat up, so consider leaving early in the morning or late in the evening to avoid the hottest parts of the day and make sure you keep your car as cool as possible.
Supplies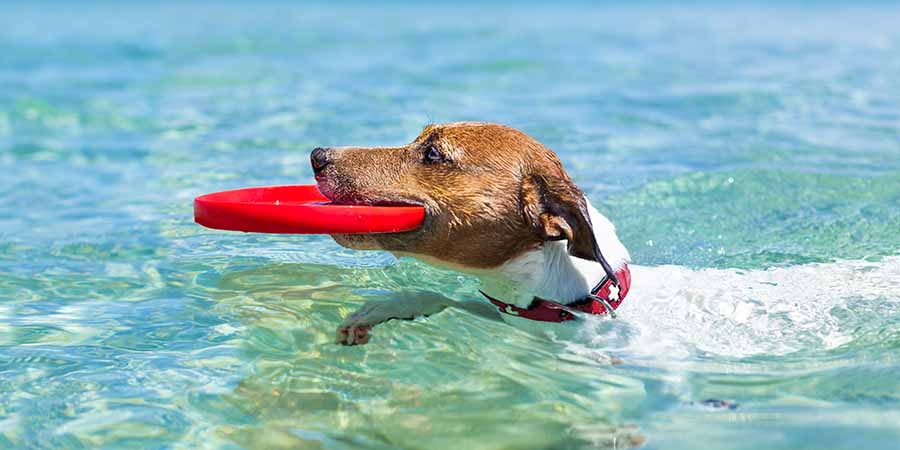 The best way to make sure you don't forget anything while packing is to make a list, and this should also include everything you'll need to take for your dog. There's probably lots you'll need, but some of the essentials are:
Plenty of your dog's normal food so you don't run out
Any medication your dog is on
Lots of poo bags
Toys for playing on the beach or out on walks
Your dog's bed
A spare lead in case of any accidents.
If you need to stock up, take a look at our online pet store!
Forward planning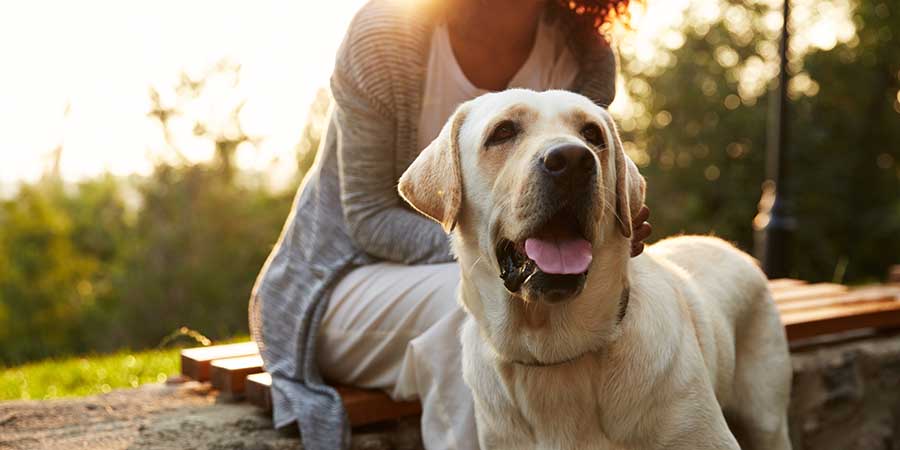 Wherever you go, it's really important to look up local vet practices in the area so you know where to take your dog if there's an emergency. Make sure your dog's microchip details are up-to-date and they always wear a collar and tag.
We can't always guarantee the weather, so make sure you check the forecast before you go and plan the right dog-friendly activities. In warmer weather, your dog may struggle to cope so make sure they have plenty of access to shade and fresh, cool water throughout the day.
Never leave your dog in the car or tent/hotel/wherever you're staying. Firstly, leaving your dog in a hotel room could be against the hotel's policy. Tents, cars and caravans get incredibly hot during the day (not to mention your dog may well chew their way out of a tent) which could be deadly to your dog. You can read more about heatstroke in dogs on our Pet Health Hub.
If you're planning to travel during warmer weather, take a look at our range of products to help keep your pup cool.