Working on Christmas Day is a normal and expected part of being a vet, like other public services. Our vets need to be available 24/7 to provide emergency care to sick and injured pets.
Here's what Olivia had to say about working at PDSA on Christmas Day.
What does a typical shift look like on Christmas Day?
"A Christmas shift for me involves getting up early to get ready for work, leaving the family in bed (because I'm nice!) and working from 9am to 6pm at the Pet Hospital.
"We work Christmas on a rota, making it fair for the nine vets that work at Shamrock Street.
"Last time I worked Christmas, my brother was also working (he's a chef), so we had our 'family Christmas' on Boxing Day and just pretended it was the 25th!
"Some of my colleagues have their Christmas dinner or leftovers with their families when they get home. Others don't mind the day at work as a break from the madness! And of course, we have some staff that don't celebrate Christmas."
Does it feel like Christmas Day in a Pet Hospital?
"It depends how busy it is - but there's always a festive atmosphere.
"Before Covid-19, our volunteer, Stefan, would take charge of decorating the non-clinical areas like the staff room at the start of December. He'd put up tinsel, a Christmas tree, the works.
"We play Christmas tunes throughout the day to get into the festive spirit! We try to take lunch at the same time, so we can all sit down and eat together (we usually order food), but it depends on how busy we are. If there's emergencies left, right and centre, sometimes all you can do is grab a quick bite and keep working to help the animals!
"And while festive hats are fun to wear, it doesn't feel right to wear them when we're trying to save pets' lives, so I tend to avoid them when I'm working over Christmas."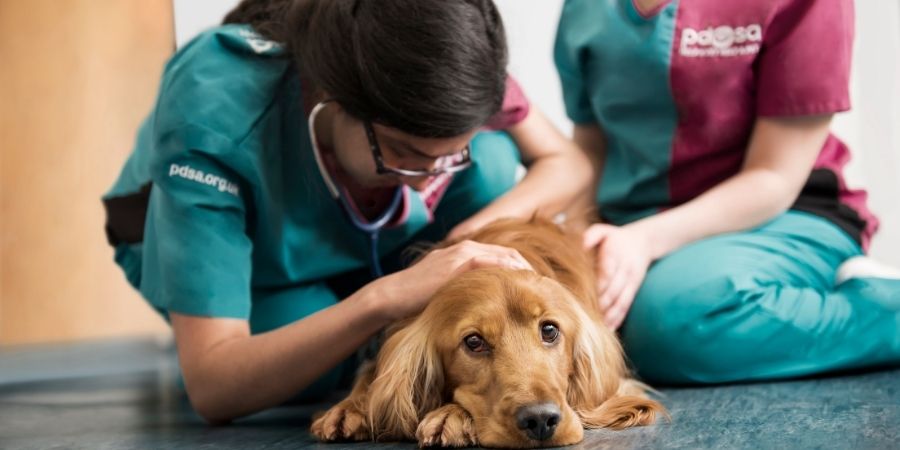 Do poorly pets stay in the hospital over Christmas?
"Yes! We have staff working to help care for and treat pets staying at the hospital on Christmas Day, the same as we would overnight or on the weekend.
"Our out of hours service means pets who need emergency care can be treated whenever they need it, 24/7, 365 days a year. So if your pet needed to be hospitalised, we'd keep them in and give them the treatment they need.
"Of course, we only keep in pets that need to be here for treatments or monitoring that can't be done at home. We'd much rather get them home to their families for Christmas if we can!"
How can a pet owner get help in an emergency on Christmas Day?
"Don't worry if your pet has an emergency over the festive period. All vets provide 24-hour emergency care for their patients – even on Christmas Day. Services might be provided from your usual practice or from another local practice. Call your vets' usual phone number to find out in an emergency. Even if they're not there to answer the phone, there will be an automated message telling you how to get help.
"This is no different if you are a PDSA client. Your out of hours services will either be provided from your usual Pet Hospital or another local practice. Either way, calling your Pet Hospital on the usual number will get you the help you need.
"If possible, check your vet's website for their festive opening hours/out of hours services in advance, so you're prepared in case of an emergency."
Discover 8 of the oddest Christmas-themed objects our pet patients have eaten.