Pet care advice for Winter
Just like us, our pets might need a little extra TLC over the winter months! It's important they stay safe, warm and active as temperatures start to drop, whether you have a dog, cat or something smaller!
We've put together some of our top tips for taking care of your four-legged friends this winter, so you're prepared whatever the weather.
Staying safe and warm on winter walkies
As the winter nights draw in, it's really important for both you and your dog to be safe and seen on the roads. We recommend walking your dog in the day but if that isn't possible there are lots of ways you can stay safe by using bright LED collars, hi-visibility coats and taking a torch out on your evening adventures.
Does your dog feel the cold? Find out about winter coats and keeping paws safe.
Active cats
All this wet and cold weather can mean that your cat would prefer to stay inside as much as possible. If you're worried your cat isn't as active as usual, try encouraging them to play with some cat-friendly toys. It will help keep them in shape over winter and it's a great way for you to bond with them, too. Read more about the toys we recommend to keep cats active.
Does your cat like to go outside all year? Make sure they have a warm, dry place to shelter while they're outside. You could also fit a cat flap so they can go out when they fancy and come back in if they get too cold. If you're worried about other cats getting into your home, choose a microchip cat flap which will only open for your cat.
Keeping small pets warm
As the temperatures drop, it's really important to make sure all pets stay warm and cosy:
If your pets (like rabbits, guinea pigs and ferrets) normally live outdoors, think about bringing them indoors or into a sheltered area, such as a shed or car-free garage.
Make sure other small pets, like hamsters or mice, are kept away from any cold drafts.
All small pets should have extra bedding and ferrets will love piles of fleecy blankets to snuggle in. Read more about keeping small pets warm and cosy over the colder months.
Healthy chickens should cope well with most weather but there are still lots of things you can do to make their hen house warm and comfortable in the cold.
Check your indoor fish tank regularly over the winter months to make sure the temperature doesn't get too low.
Don't let your outdoor pond freeze over – float a large ball on the surface so if the pond does ice over you can remove it and your fish will have a handy air hole to keep their water topped up with oxygen.
Older pets
Our older pets can feel the cold more, so it's important to pay a bit of extra attention to them over winter. Read our full advice on winter care for older pets and always contact your vet with any changes or concerns.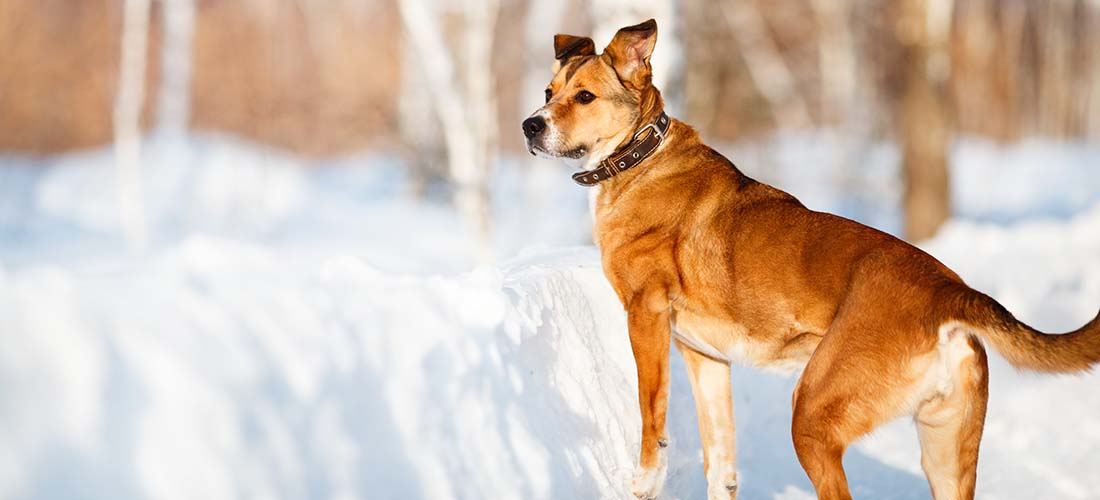 Storms and floods
Winter weather can cause havoc, especially if we're caught up in a big storm or flood. It's a good idea for all pet owners to be prepared for bad weather, so you can keep your pets safe during storms or floods.
Read our advice on how you can keep your pets calm and safe in stormy weather and what to do if your home is at risk from floods.
Hypothermia: what can you do if your pet gets too cold?
Hypothermia is a really serious condition that your pets can get if they get too cold. Luckily there are lots of things you can do to stop your pet from getting it.
Read more about the signs and symptoms of hypothermia and what to do if you think your pet is suffering from it.
Winter hazards
There are lots of hidden hazards round our homes, gardens and streets that could harm curious paws. Here's some things to watch out for in winter:
Antifreeze and de-icer. These are often used to stop cars icing up in winter but they are very toxic for pets. Cats are most at risk from antifreeze because they like the sweet taste it has. Keep antifreeze out of the reach of pets and mop up any spills. Read our full advice on keeping pets safe from antifreeze.
Salt and grit. The salt and grit we use on roads in winter can irritate pet's paws. If you use salt around your home, choose a pet-safe product. Wash your pet's paws if they come into contact with salt and grit and you could apply a thin layer of paw butter to your dogs' pads to keep them from drying out.
Cars. Cats often shelter under cars in cold and wet weather. Always check your car for visitors who may have climbed up inside the engine, before you get in.
Poisonous plants. Festive favourites like holly, ivy and poinsettia are all toxic to pets if they eat them. Keep them out of your pet's reach or use artificial plants to decorate your home.
Festive food. Lots of our winter treats – raisins, chocolate, alcohol – are toxic to pets. It's tempting to give your pet a festive treat but stick to ones meant for pets (and make sure they don't overeat!)
Icy surfaces. Just like us, our dogs can slip and fall on icy surfaces. Always be extra careful on walks particularly if your dog has arthritis as these slips can cause serious strains.
Festive gifts and decorations. Our pets can love our decorations but these can pose serious risks. Always be cautious with fairy lights, baubles or tinsel which can easily be chewed or swallowed and cause serious problems. Likewise, our pets can be very interested in the gifts we've exchanged over Christmas such as soft toys, small toys or anything nice and chewy! If your pet has eaten anything they shouldn't have – contact your vet immediately for advice.