Walking is great exercise for dogs. It keeps them healthy, happy and gives them a good chance to sniff around (which they love doing). It's also a great opportunity for us to get outdoors, too, and can be the perfect way to bond.
Now, before you think of taking on mountains with your Chihuahua, have a chat with your vet if you don't already know what your dog is able to handle. They'll be able to give you a good idea of the sort of exercise your pooch should be getting according to their current fitness levels, age and breed.
The next thing you need to do before getting started is make sure you have all the right supplies. Check out our blog on packing for a walk with your dog for some handy tips on what to take so you're well prepared. Remember to keep your dog on the lead, especially during the current pandemic.
I've put together some walks in England you and your pooch may enjoy!
Jump to:
Easy walks
Ideal for: Older dogs who can't go as far, flat-faced breeds, puppies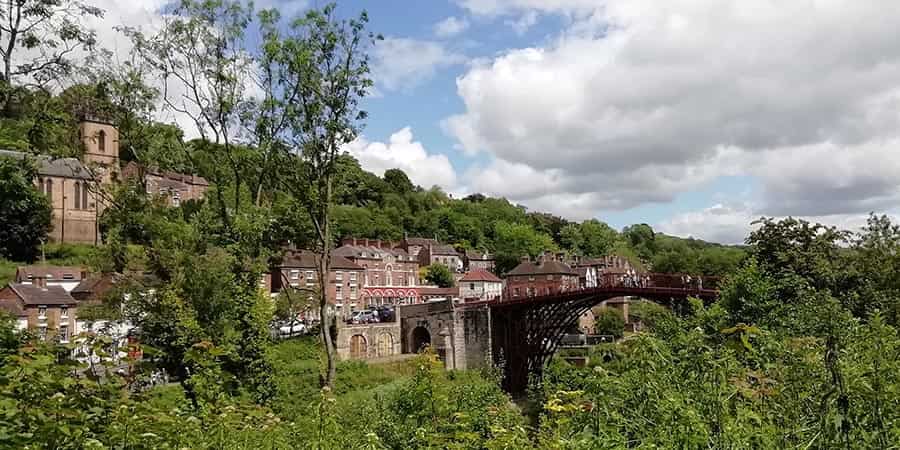 Speech House, Coleford
Route info: 2.5 mile circular forest walk with gentle inclines
Speech house is a nice circular forest walk between Coleford and Cindeford. It's a fairly level walk with some fantastic forest scenery and only very gentle inclines, so is ideal for stiffer joints that can't cope with hills anymore. You can also learn a little about local history on your way around!

Roundham Head, Paignton
Route info: 0.9 mile circular beach walk
This short route around Roundham Head is perfect for exploring the area without going too far. You'll get to take in some fantastic views with the option to take a walk along the sandy beachfront. As this is mostly pavements, it might not be so good for older paws that prefer walking on soft ground!

Watersinks to Malham Tarn, North Yorkshire
Route info: 2.6 mile linear walk past Malham Tarn
This route is a nice, gentle walk through the very scenic Malham Tarn Nature Reserve. You should expect to see a lot of birds and wildlife along the wetlands (and livestock at certain times of the year, so it's best to keep your pooch on a lead!). It's mostly grass and gravel paths, but beware the mud in wet weather! Also as a linear route, you'll need to be prepared to walk back along it or organise a lift at the other end.
Moderate walks
Ideal for: More active breeds, such as terriers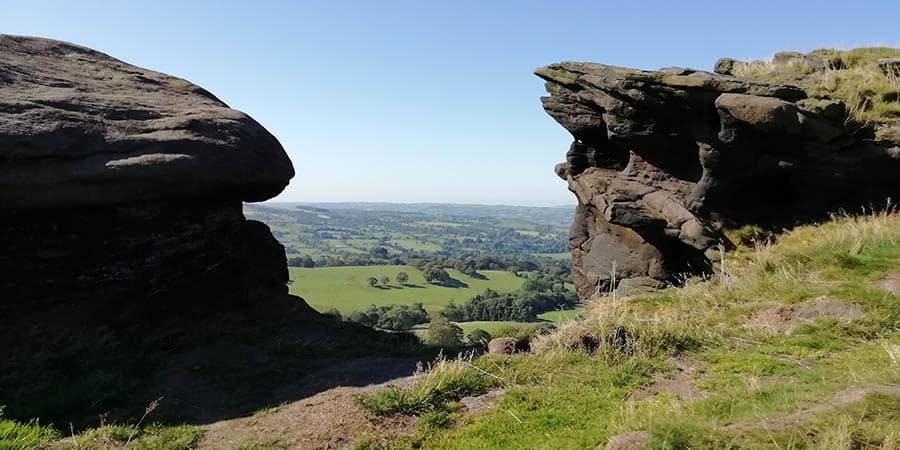 Cheddar Gorge, Somerset
Route info: 4 mile circular walk with a few steep climbs (it is a gorge after all!)
The Cheddar Gorge walk has the perfect combination of wide open spaces and fantastic views, with a few more sheltered, forest-y parts. Perfect for adventurous pups, beware that there are a few stiles along the route so make sure your dog can cope with those. When you're done, you could even stock up on some of Cheddar's cave aged cheese (maybe not to share with your pup though!).

Cleeve Hill, Cheltenham
Route info: 6 mile circular walk with some steep climbs
Cleeve Hill offers some amazing views right across to the Malvern Hills. There are no stiles on this route so aside from some steeper parts it's ideal for active dogs. If you don't fancy the full route, there is also the option to do a slightly shorter, flatter route. Keep in mind that there is livestock along the route, so make sure you keep your dog on the lead!

Rosthwaite, Keswick
Route info: 7.5 mile circular walk with some inclines
Explore some of the famous sights of the Lake District with this circular walk! If you want beautiful scenery and idyllic views, this is the walk for you. There are no stiles, so you just need an active pup. You'll pass Watendlath Tarn on this route if you fancy a quick dip (remember to keep your dog safe around water and be aware that other people may also be enjoying the tarn for fishing and rowing).

The Roaches, Peak District
Route info: 5.5 mile circular walk with inclines
Wide open spaces and amazing views? Check. Fairytale woodland with lots of exciting places to explore? Check. This walk really has it all and plenty for you and your pup to explore! It can get a little windy at the top of The Roaches, so be careful. You'll be walking over paths, through forest and over some rockier parts so make sure your pup's paws are protected if they need it.
Difficult walks
Ideal for: Very active dogs, such as Collies, Lurchers and Labradors (in cool weather!)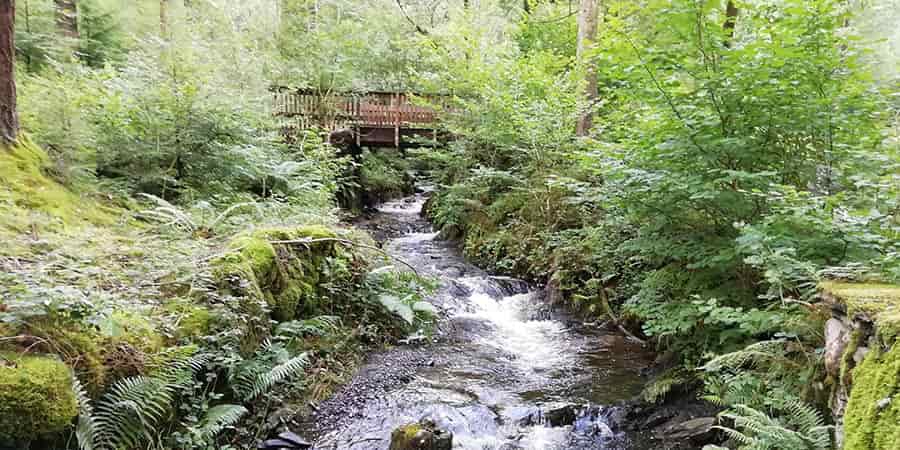 Grizedale Forest, Lake District
Route info: Up to 10 miles (!) circular route on some tricky trails
This one is definitely for the adventurous! Grizedale is every bit the magical forest, but nothing this beautiful comes easy. Walking through the forest, you completely forget you're in the Lake District. The walk winds through woodland paths, up streams and rocky trails, and you can even see some sculptures along the way. This is one for very adventurous dogs with plenty of stops along the way if you're taking on the full 10 miles.

Ironbridge and the Wrekin, Telford
Route info: 8.5 mile linear route with some steep inclines
Walk through the scenic town of Ironbridge before making your way up the Wrekin. This is a challenging one as you do a lot of walking before even getting to the mammoth hill that is the Wrekin. You definitely need a tough dog for this and lots of breaks, which will give you the perfect opportunity to appreciate the beautiful scenery and views around you. This is another linear walk so make sure you sort a lift out at the other end!

Baggy Point to Woolacombe, North Devon
Route info: 10 mile circular walk across beaches and through dunes
You can really appreciate the North Devon coastline on this walk. You'll start in Croyde, make your way to Woolacombe and then come back again. It's a scenic walk, especially along the clifftops, but can be slippery so it's best to keep dogs on leads! As it's another long one, make sure to take plenty of stops – you might even find dog-friendly cafes and pubs in Woolacombe itself!
My top walking tips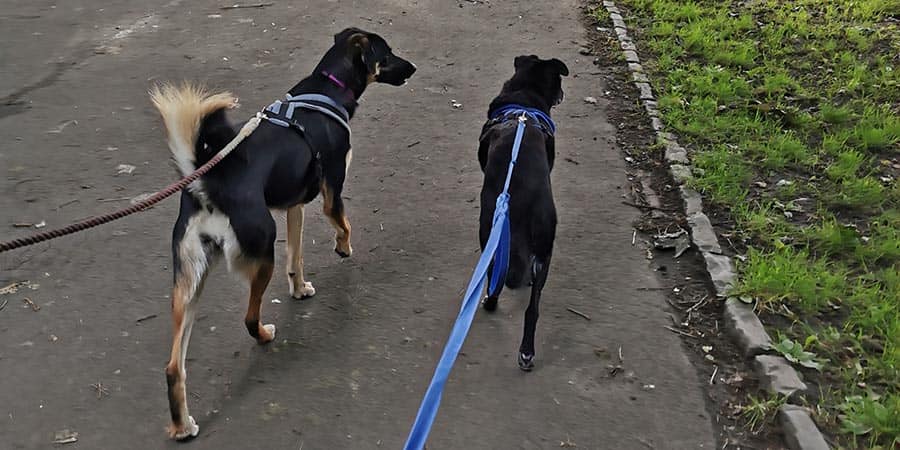 No matter how far your walk takes you, there are a few things to keep in mind:
Pack the right stuff for your walk – check out our tips on what to pack before you go.
Take lots of water for you and your dog. Collapsible bowls are a life (and space) saver!
Don't forget the poo bags. No-one wants to tread in your dog's poop.
Rest when you or your dog need to. It might seem like they have endless energy but even our four-legged friends need to take a break.
Always leave at least an hour between your dog eating and going on a walk to reduce the risk of bloat. You can read more about the condition on our Pet Health Hub.
Check the weather before you go – our walking boots might have a lot of grip, but it can get slippery for paws in the rain and mud.
Always keep your dog on a lead when you're walking near livestock or ground nesting birds. To be honest, it's a good idea to keep them on the lead anyway until you're in a secure space in case they decide to chase after something interesting or greet strangers who may not be as keen on dogs as us!
Check local lockdown restrictions first to make sure it's OK to walk in the area.
Know a great dog walk in Scotland, Wales or Northern Ireland? We'd love to hear about your favourite routes! Let us know yours on our social channels!
Join us for the World Big Dog Walk!
Looking to get our and about with your dog, and raise money for poorly pets in need? Join us for the Big Dog Walk this month and help raise money to support our Pet Hospitals! The best part is you can take place wherever you are, whenever you want to, and you set your own goal.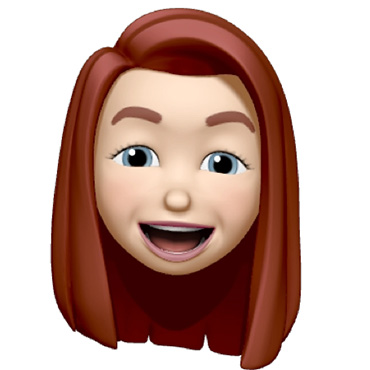 About Mair
PDSA's own content whizz, Mair is here to bring fun and fluff to the blog. Recently adopted an older chap (TJ) and still learning the ropes of dog parenting.